Ever since I wrote Lords of the Horizons: A History of the Ottoman Empire, I've been brooding. On the face of it the Ottomans had precious little to shout about, though they ruled from the castle at Buda to the deserts of Arabia.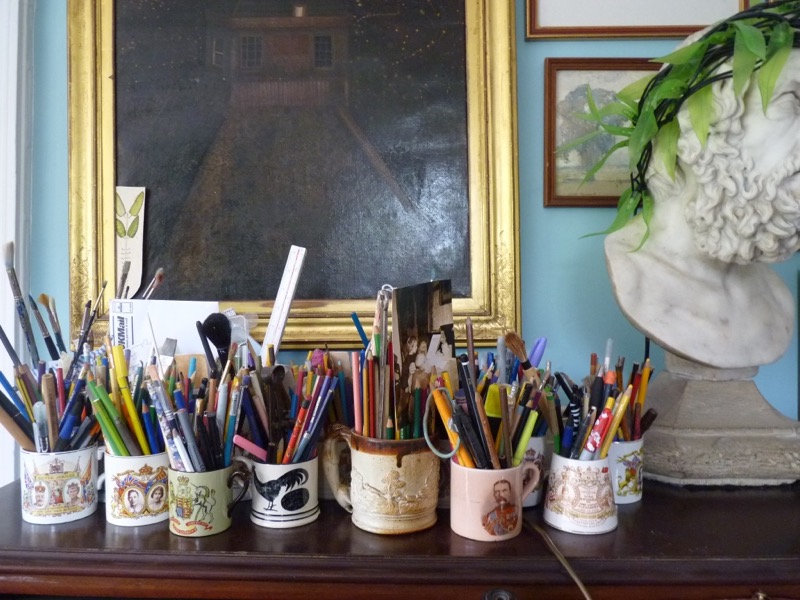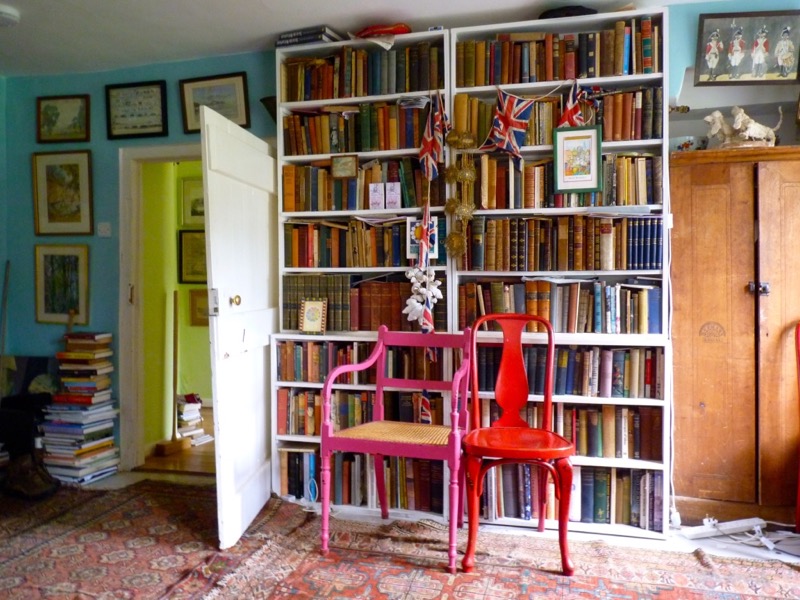 More and more I think that's the only way forward. We have to take charge of what we eat, and reject all that supermarket pap. Write immediately to your MP and ask them to vote against the amendment to the Agriculture Bill which would allow the import of food produced to lower standards than ours.
I've joined the Landworker's Alliance, which runs Farmstart to help people without capital or connections get a start in farming on a small scale. So many industrially farmed acres of land could be broken up and worked by enthusiastic horticulturalists. We need a peasantry again, as wise people have always suggested. One of them was HJ Massingham. I wrote about him recently in my column on Country Life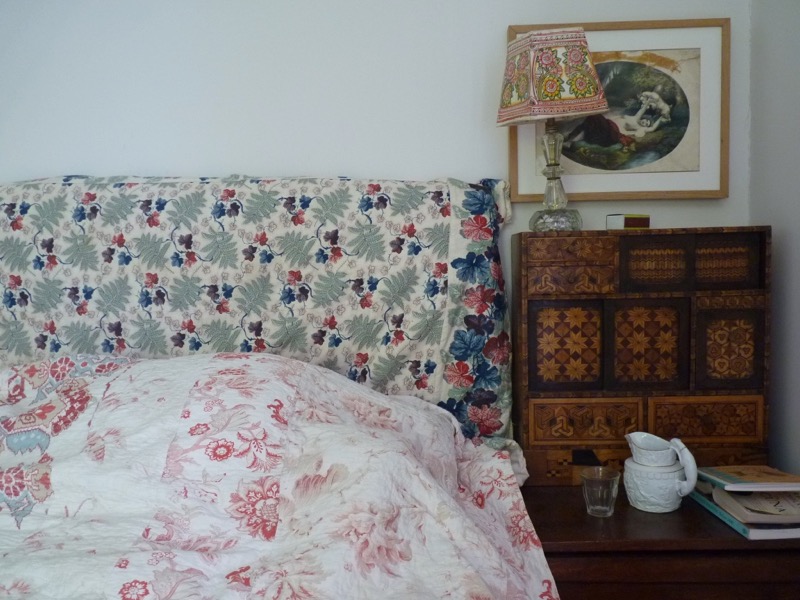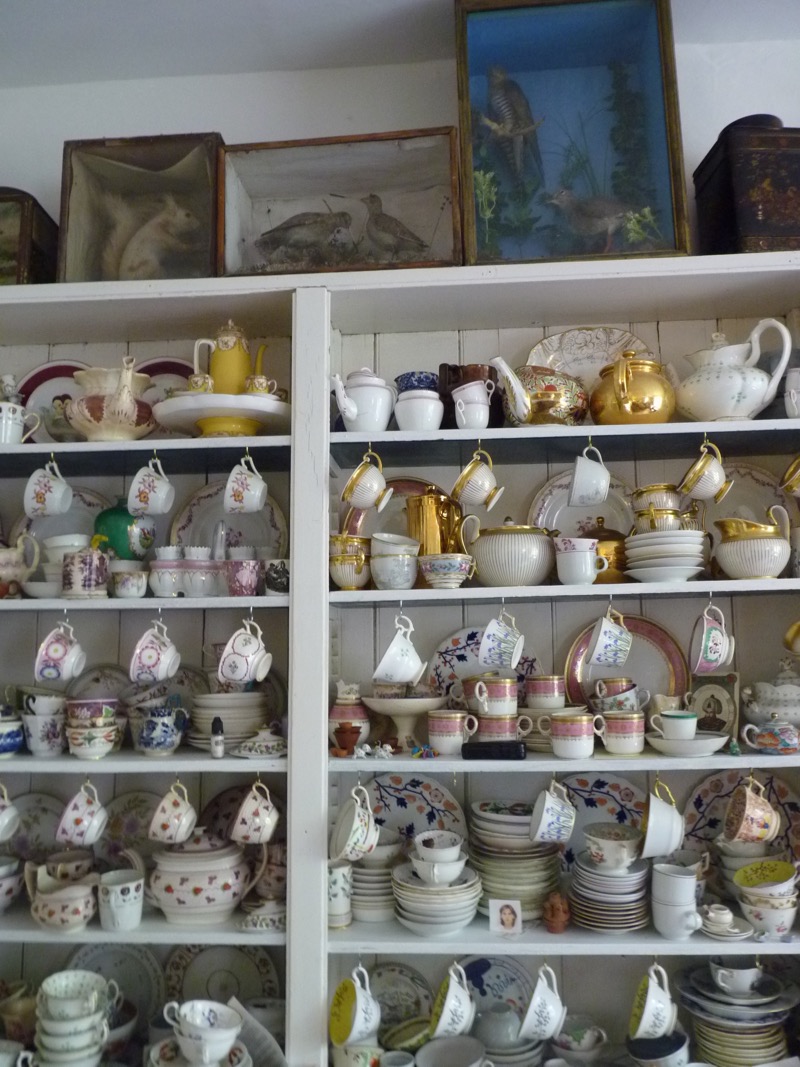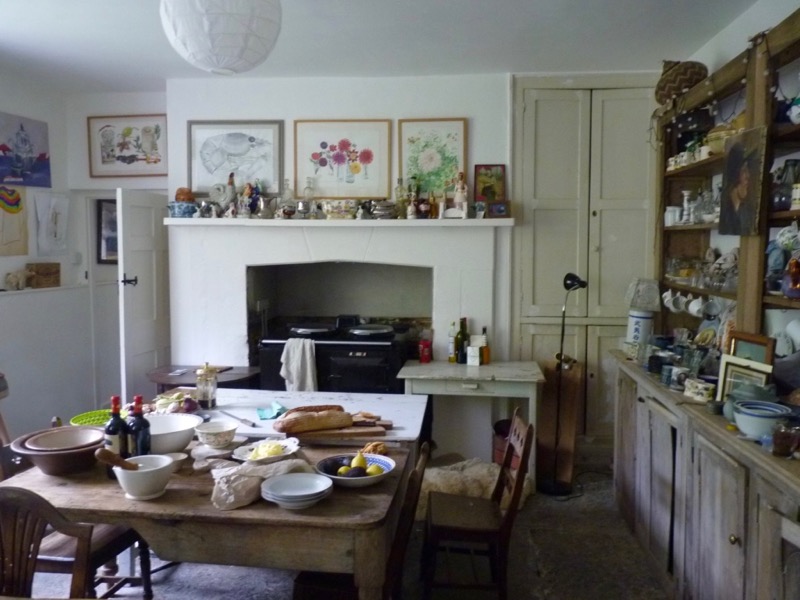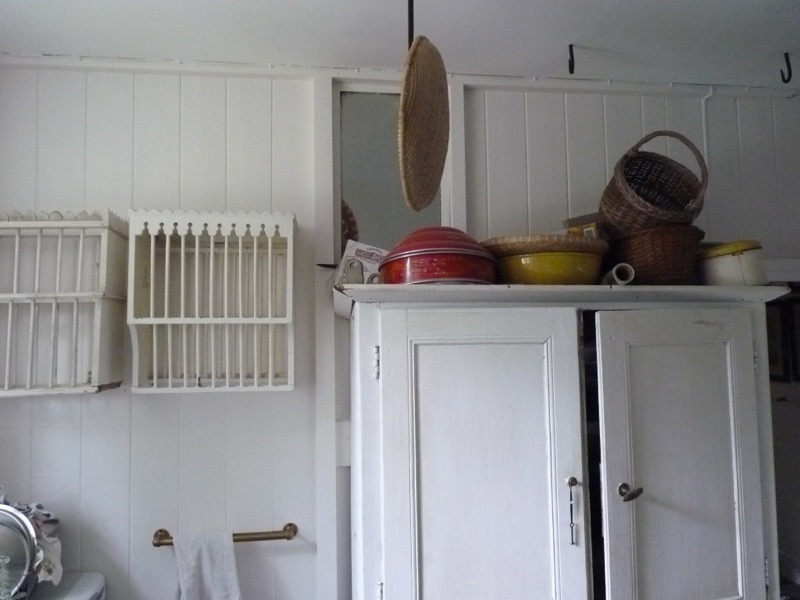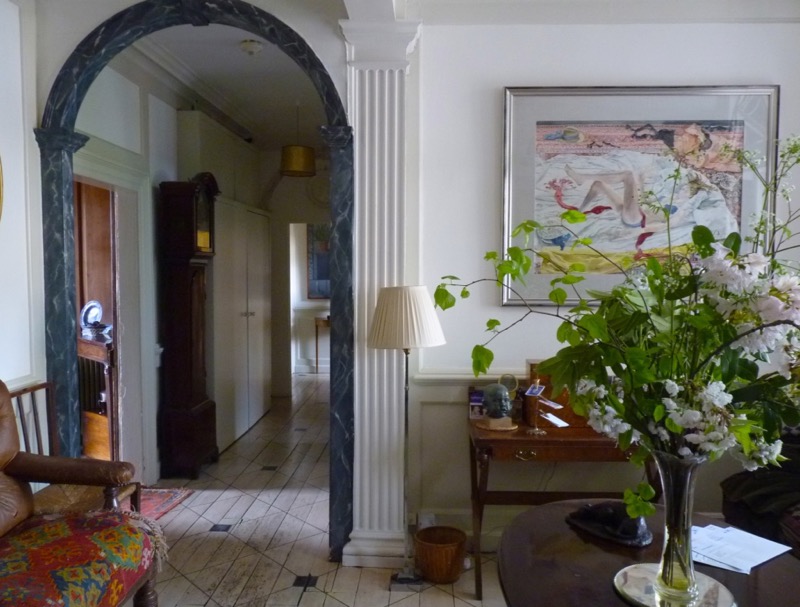 It is an odd thing to find yourself living back in your childhood house at the age of 40 with your parents and your own young family and husband. Sometimes as I walk through the house and garden I slip from mother to daughter and from adult to child.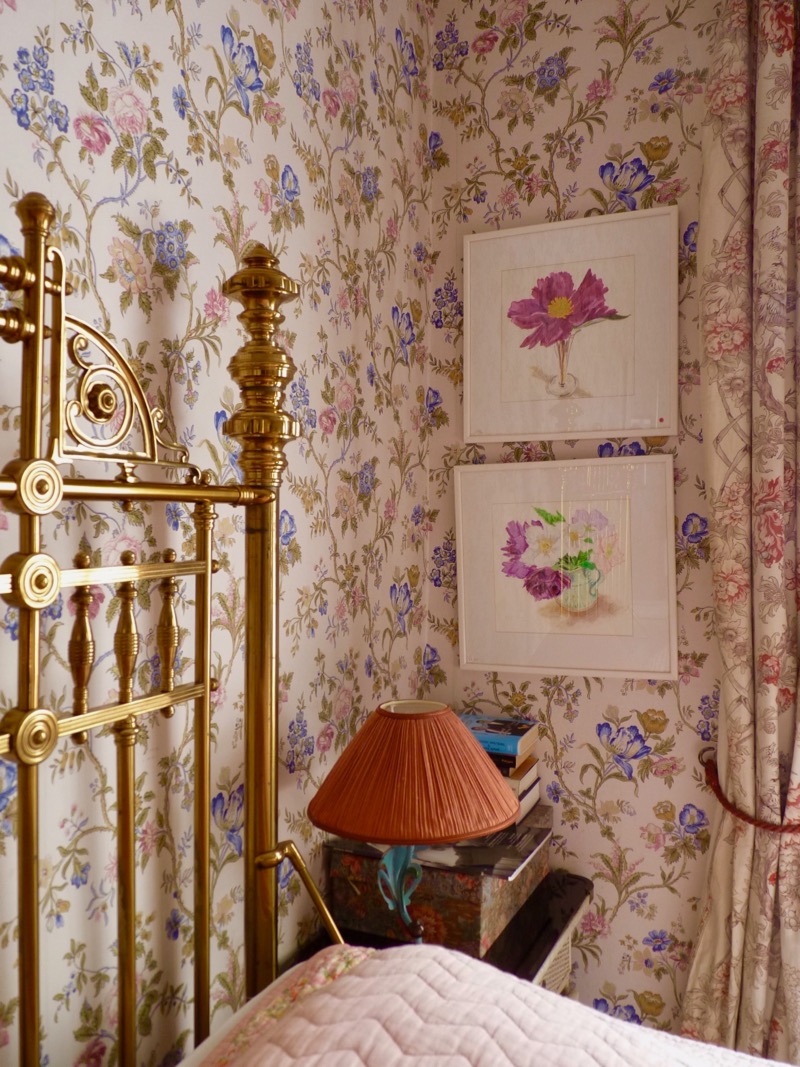 When we first moved here , I was three and my brother was five. My sister was still to arrive and was born some years later in the house . We had left London in the 60's and returned to Scotland where my father had been born and raised and where he had got a job at the Edinburgh College of Art .
The house had lain empty for a while, which is why we could afford it . Before that the old couple who lived in it had emigrated to the basement where the rooms were smaller and the ceilings lower for warmth, and the rest of the house had fallen into a deep sleep. In an effort to make the house at least look a bit warmer most of it had been painted in a heavy , dirty pink. The overall effect was depressing as hell and still freezing, and if my father hadn't bought the house without telling my mother I doubt we would be here.
The first thing my parents did was to knock down all the partitions and return the rooms to their original proportions, install central heating and plumbing, and replace the roof, which left a tiny budget for decorating and furniture.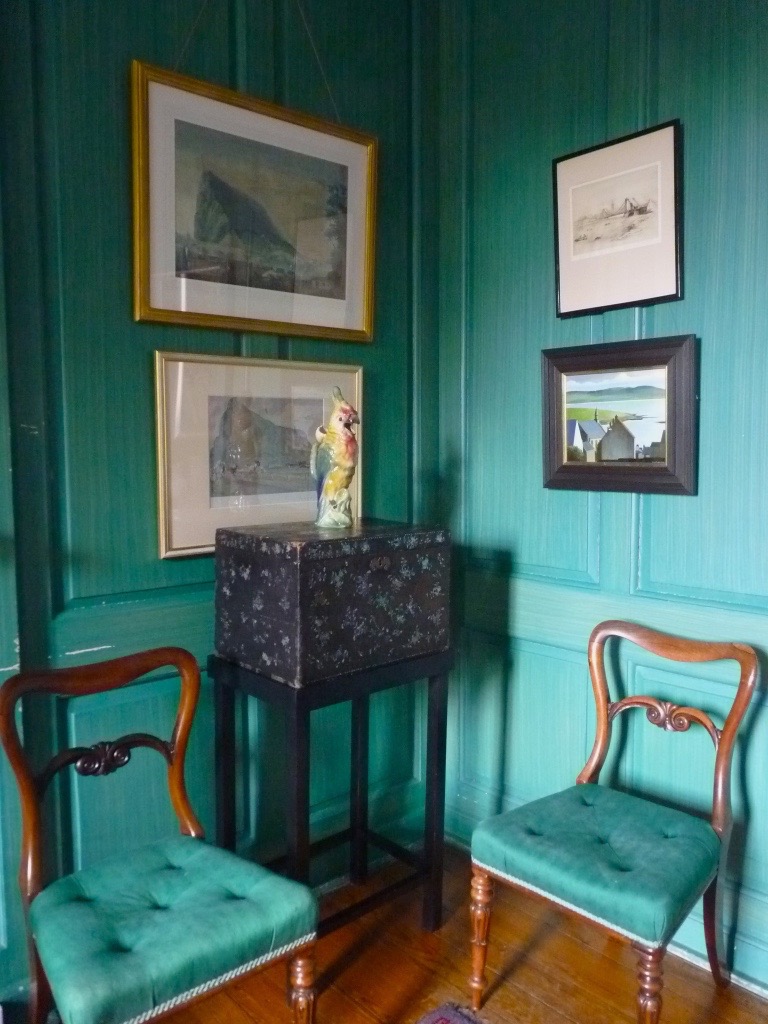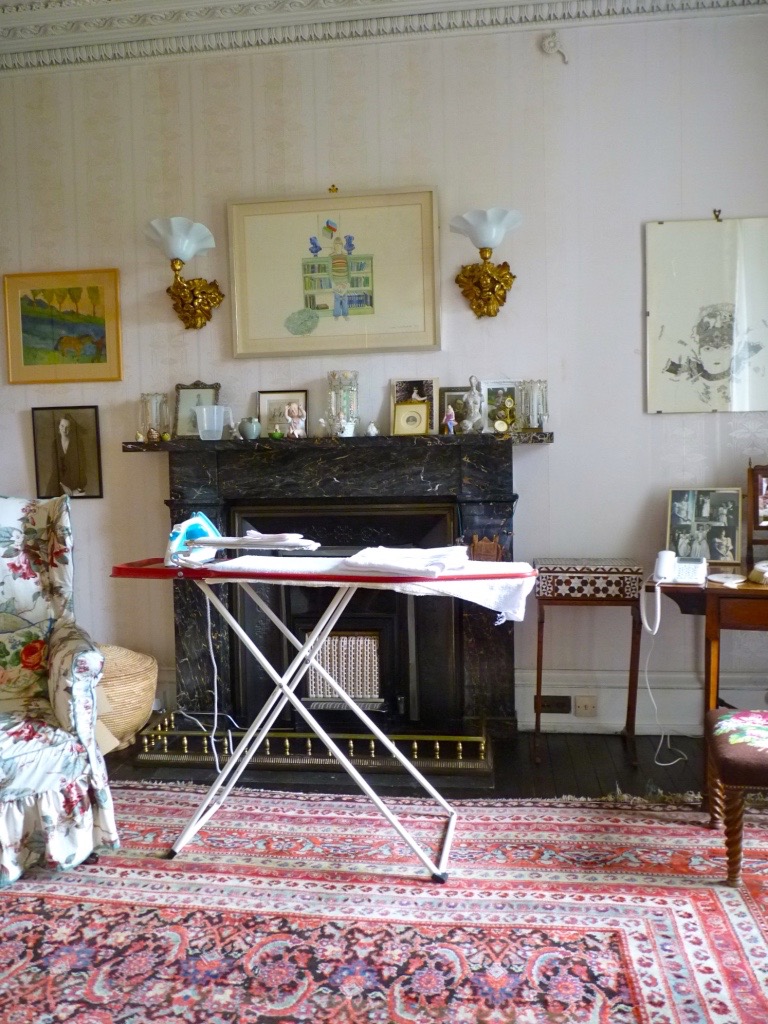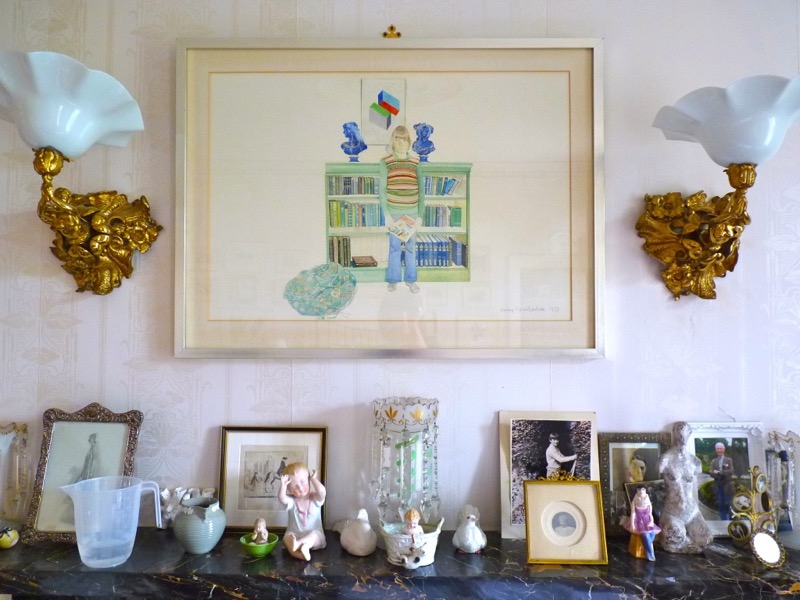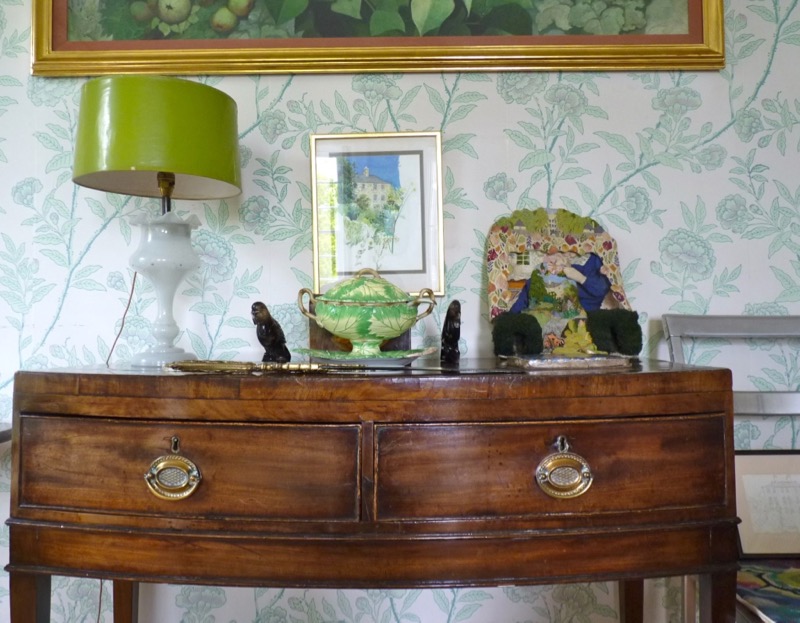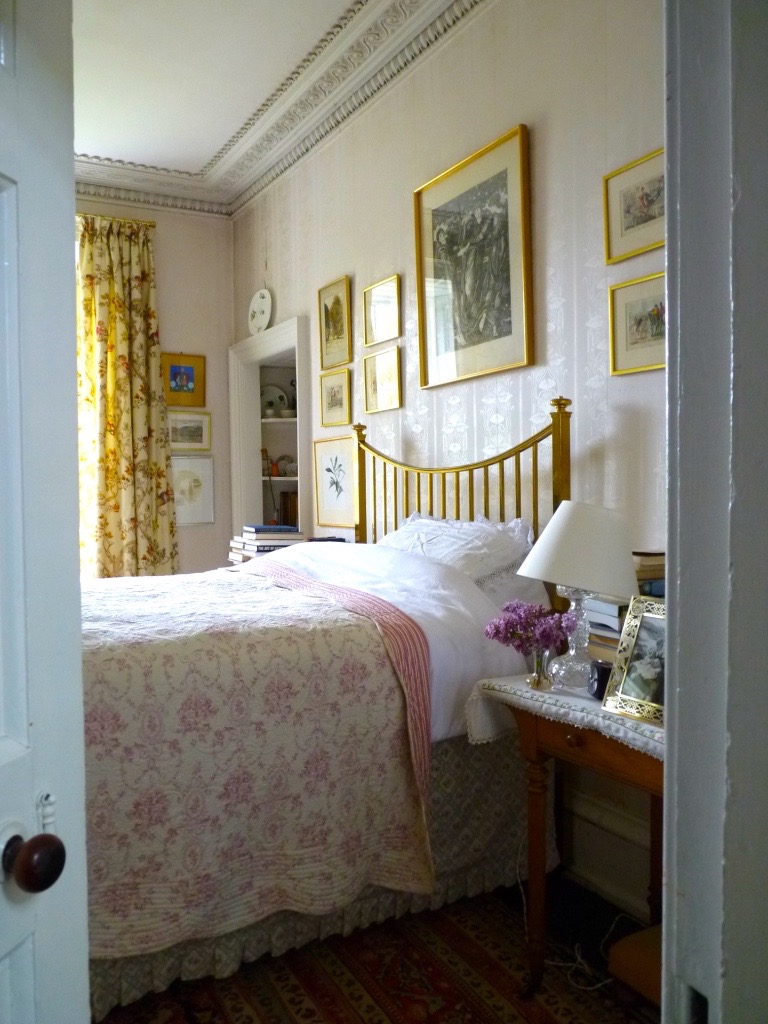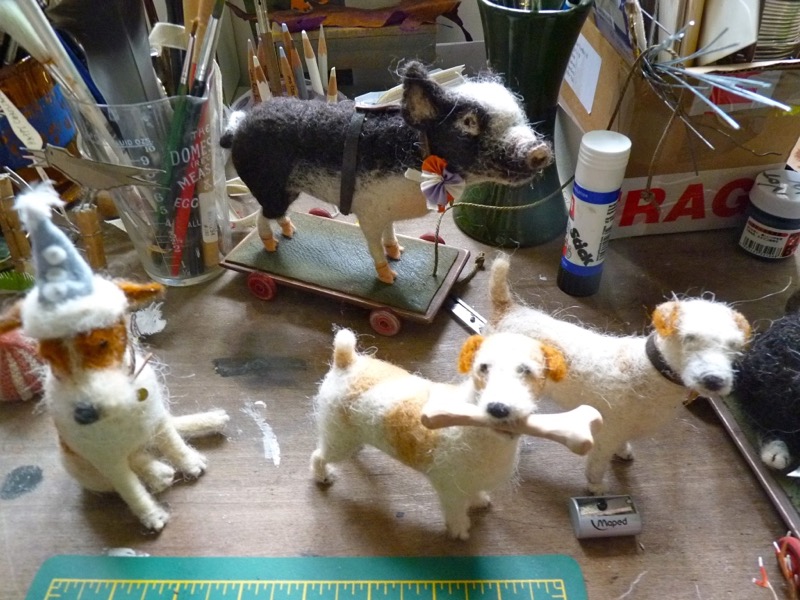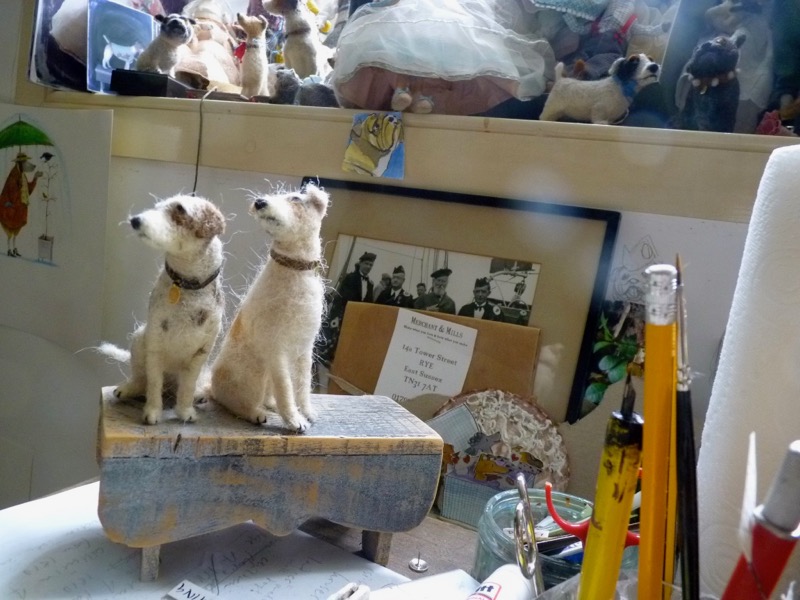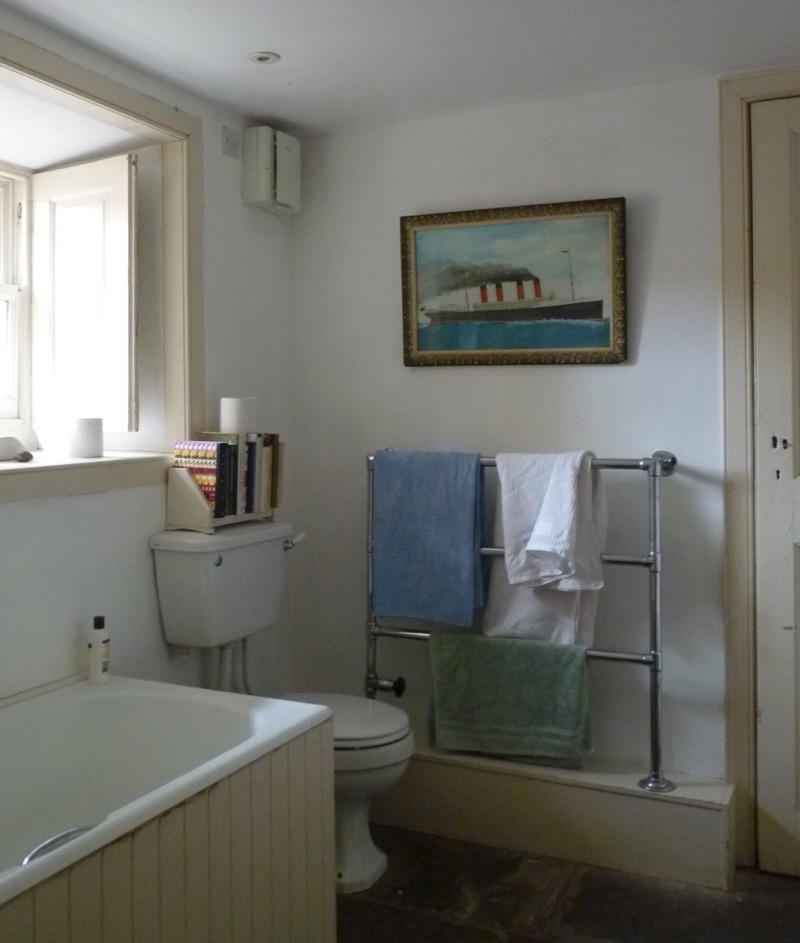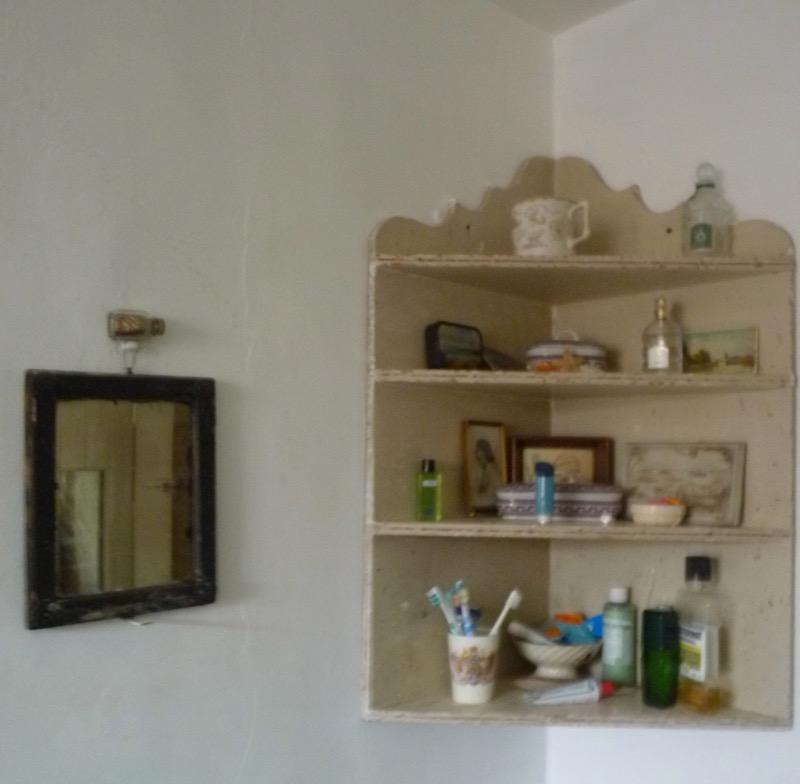 An Argentinian cousin of my fathers once said to me – you do not choose a house – it chooses you. And I have to say she was totally right.
Having moved rather a lot since leaving my home in NZ in my early twenties I have found that some houses gracefully accept you, others grab you by the scruff of the neck and they also turf you out when they are sick of you … or in one case a house woke us in the middle of the night till we left…
The feeling needs to be mutual. I have a strong feeling when I go into a house, part of it is based on the aesthetics and part on the atmosphere which is made up by a myriad of things including light, proportions, ceiling height etc – and with the feeling of a house. I am never sure if that has anything to do the the past inhabitants … or the ones still living on in the ether.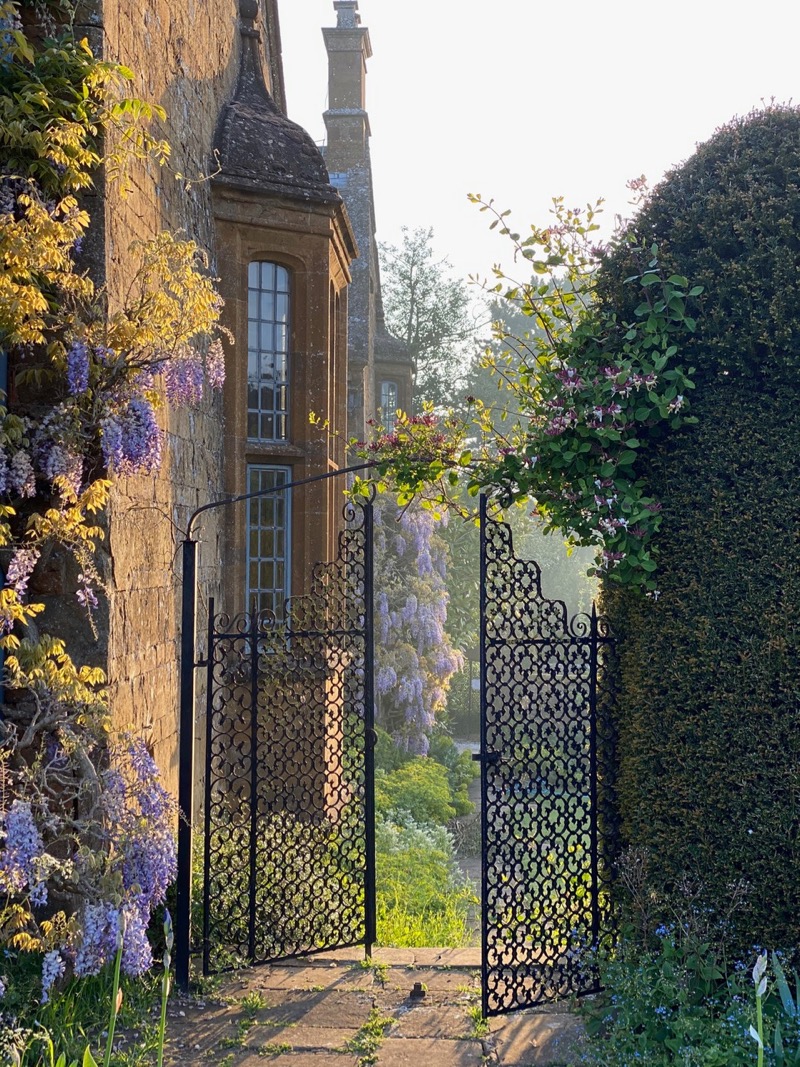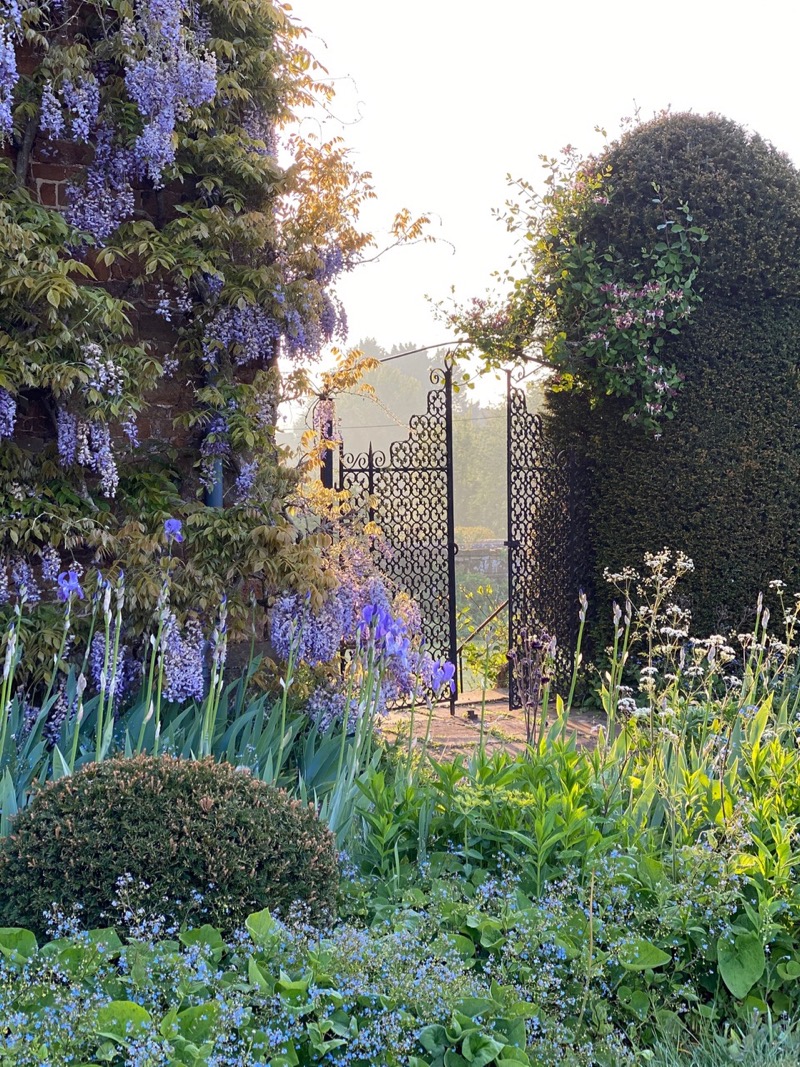 This all makes the house feel alive.
The other important thing for me is books .. their warmth and the endless possibilities contained within them giving you the ability to climb inside them and disappear into another world.
Pictures books and novels … like old friends lining the walls. I always think if I end up in a council flat or an old peoples home I can always line every inch of it with books and textiles.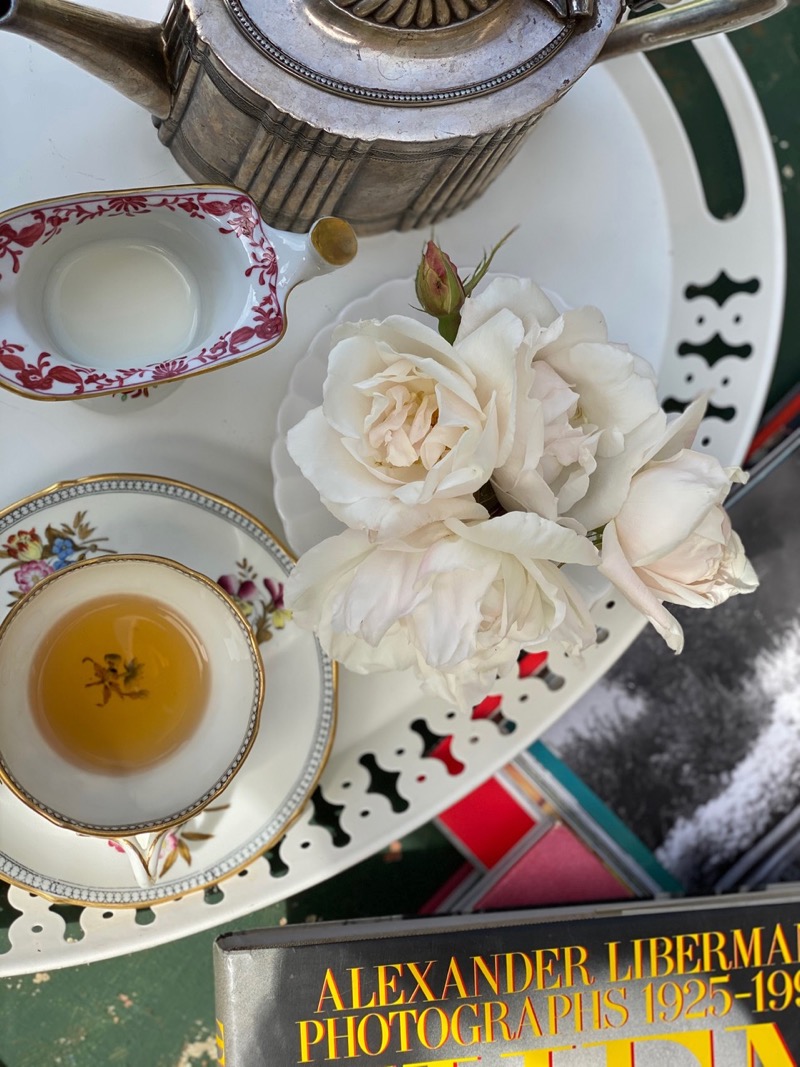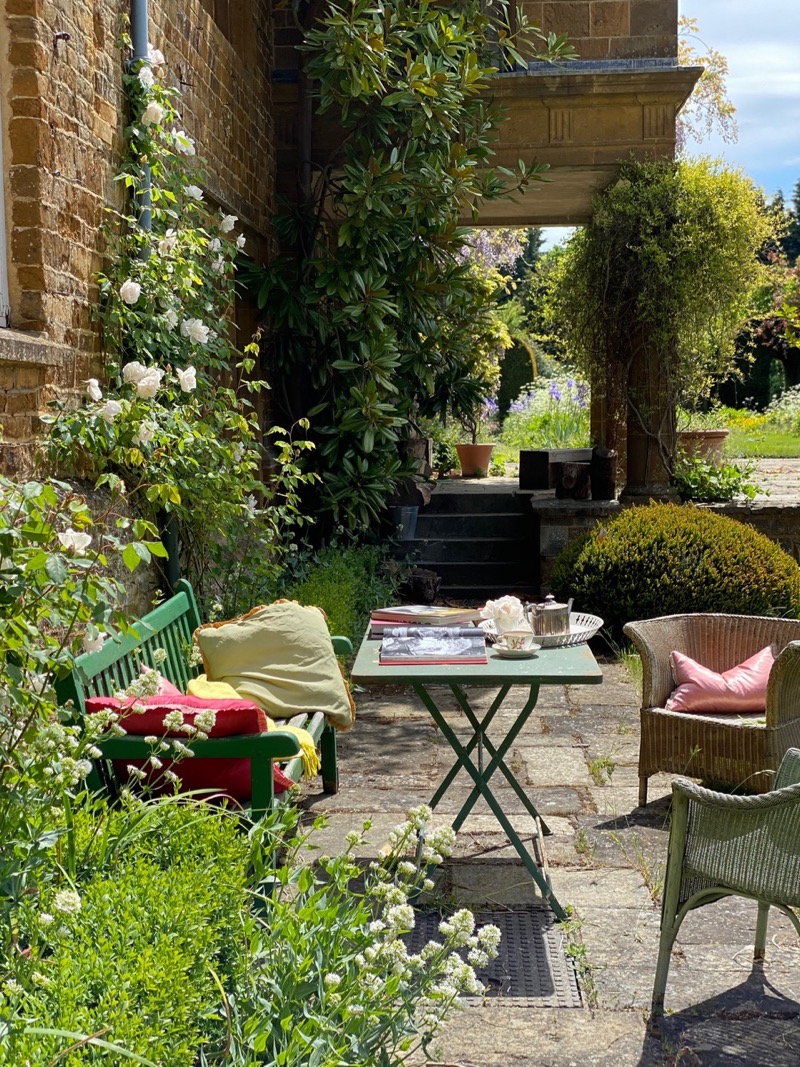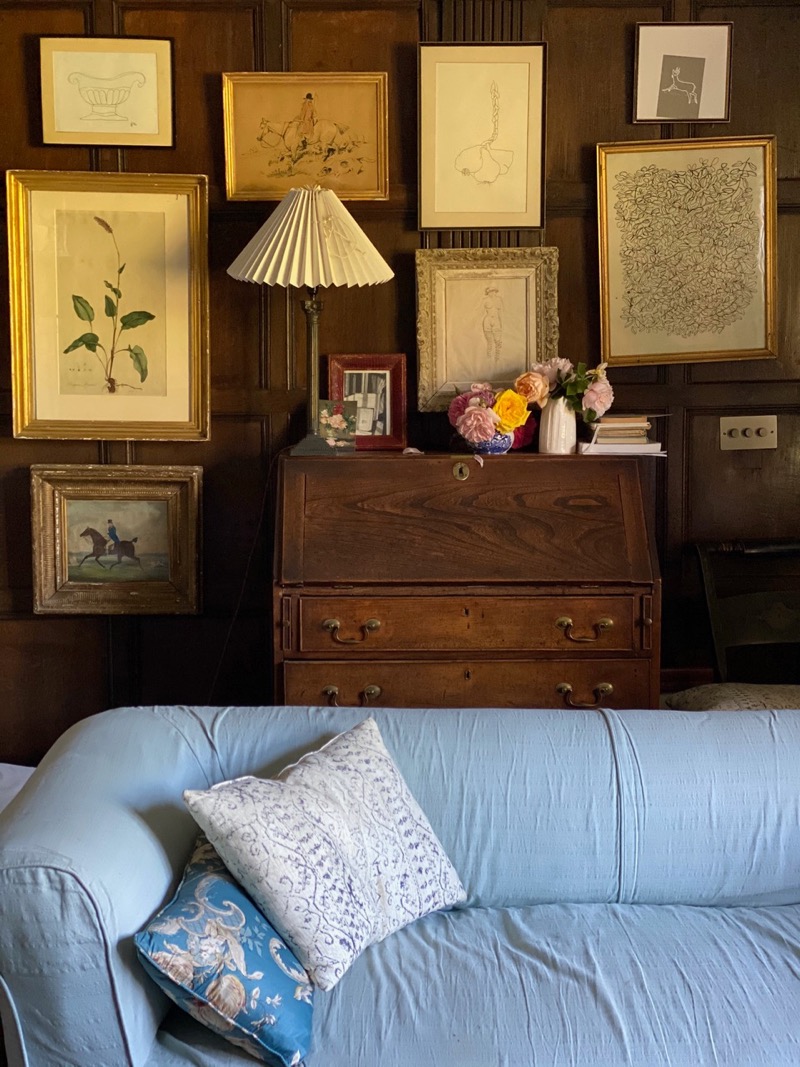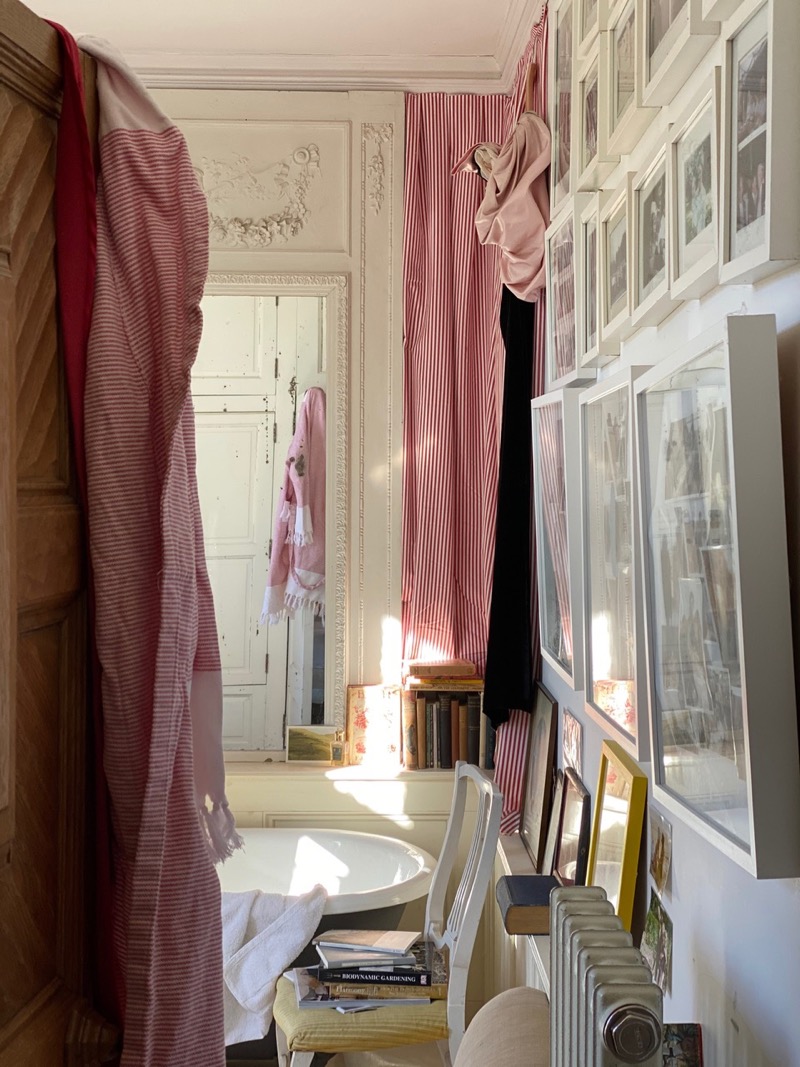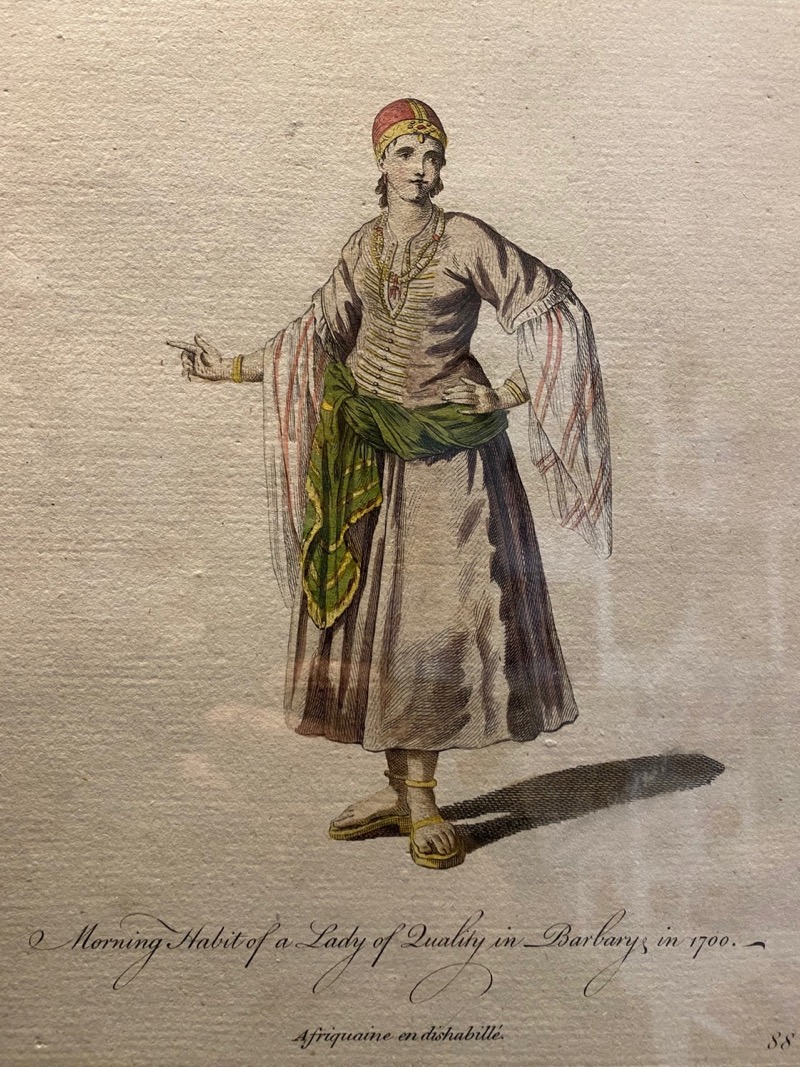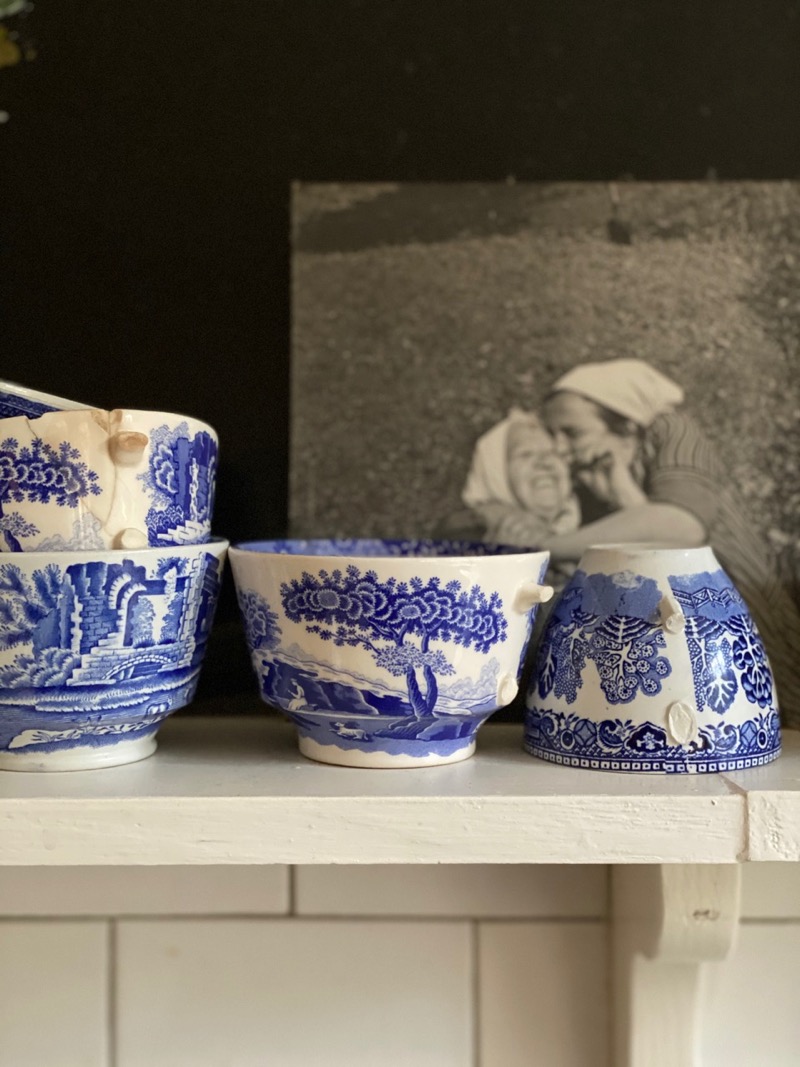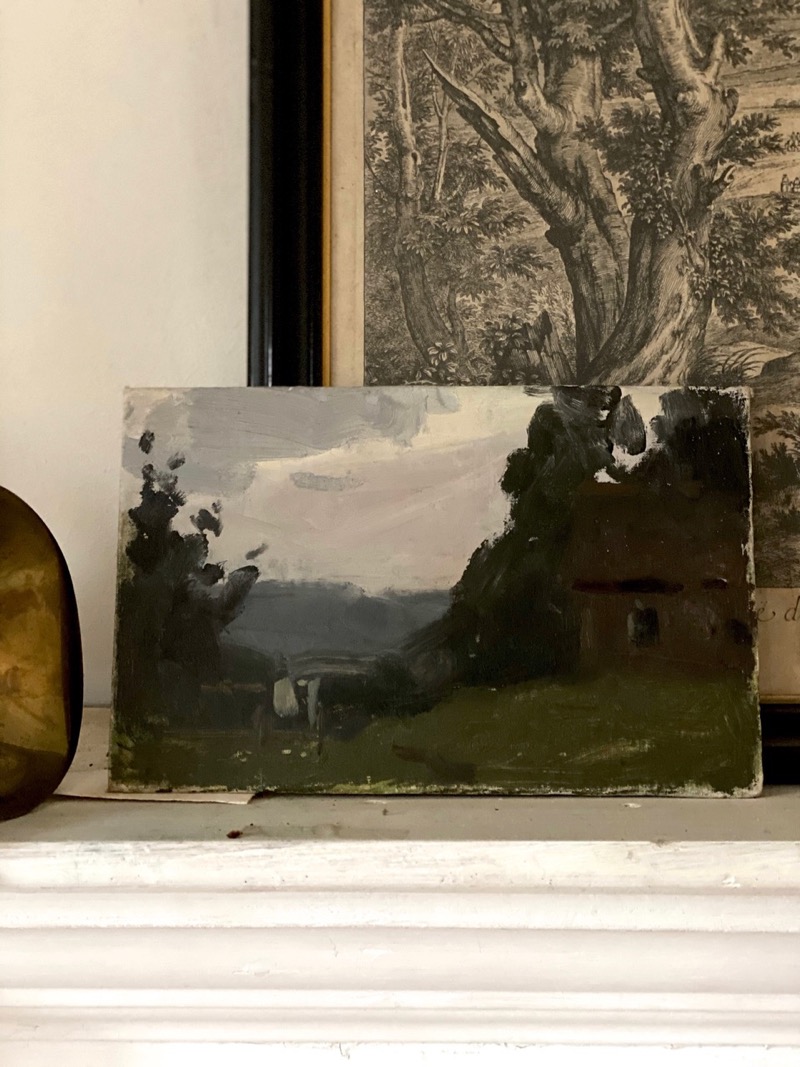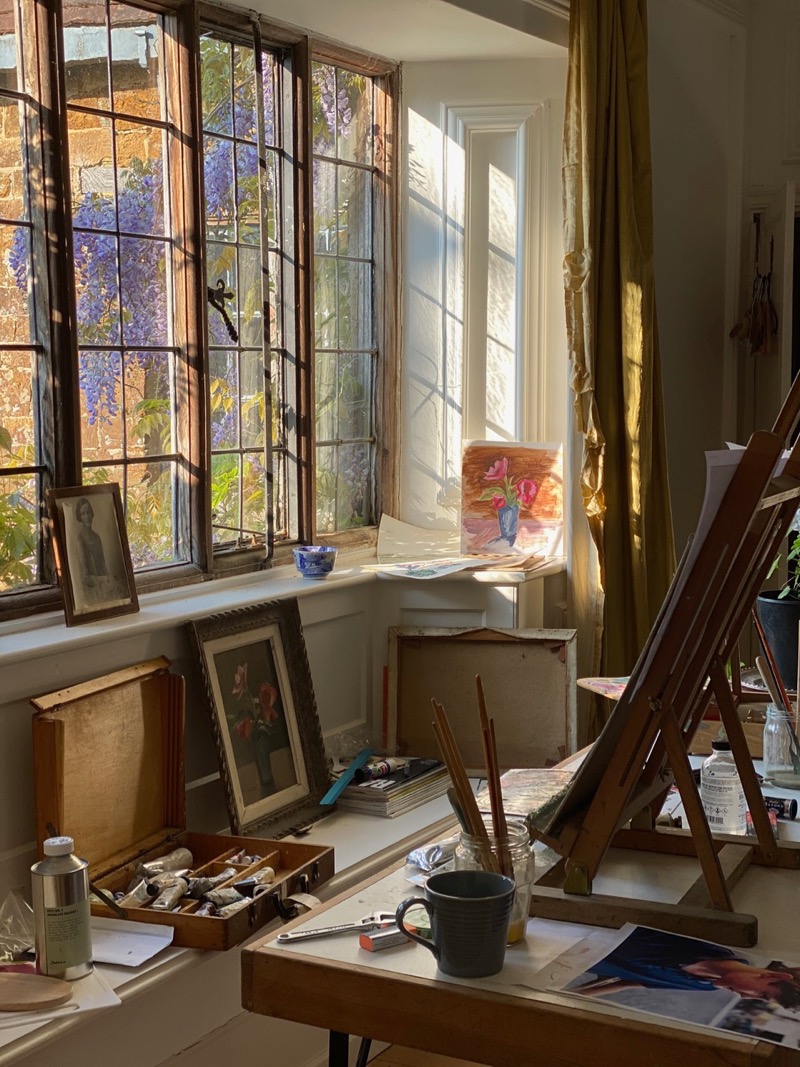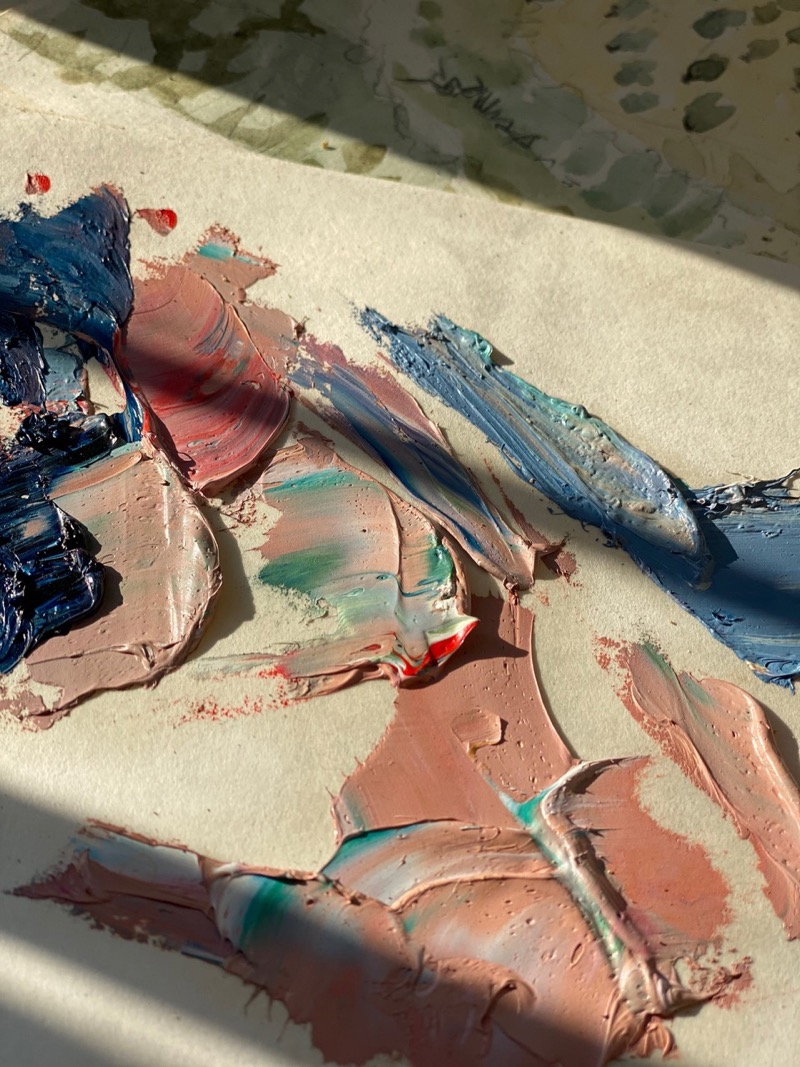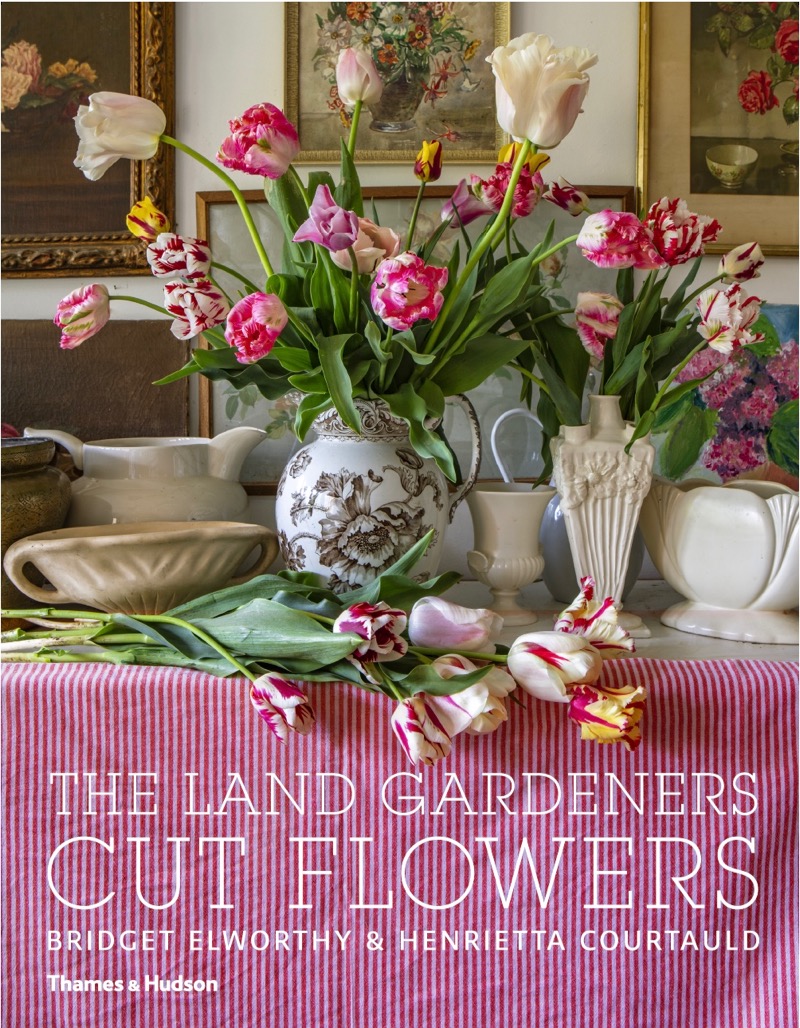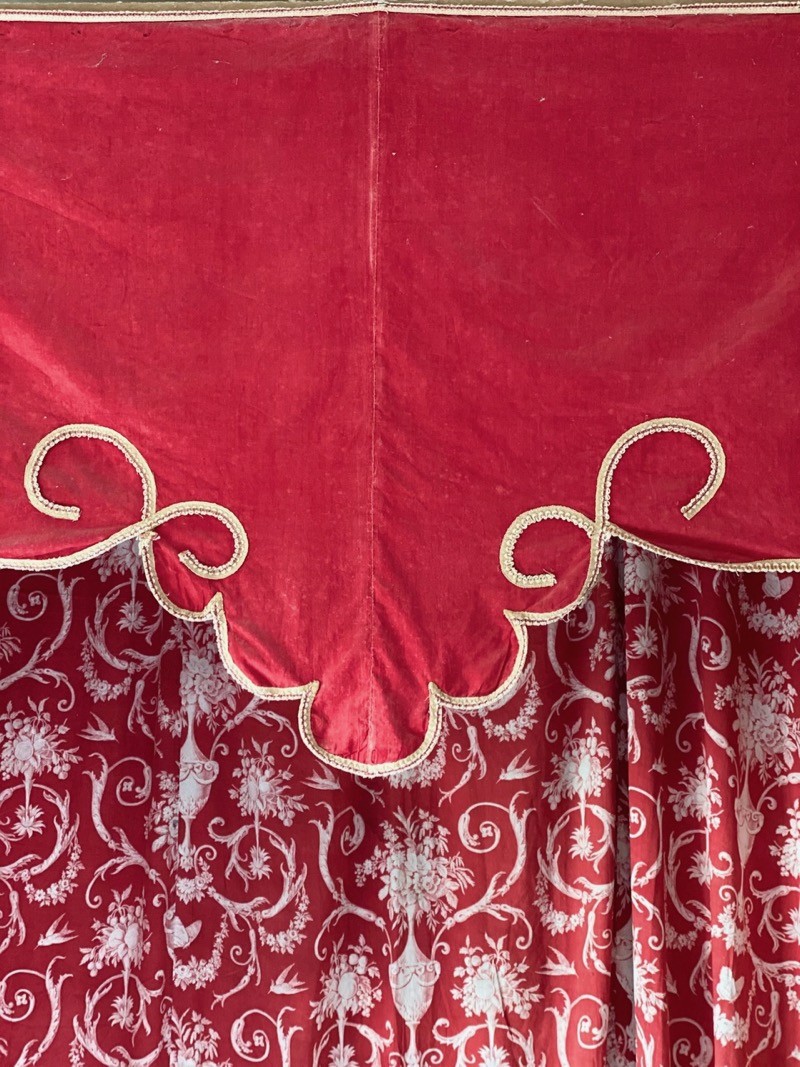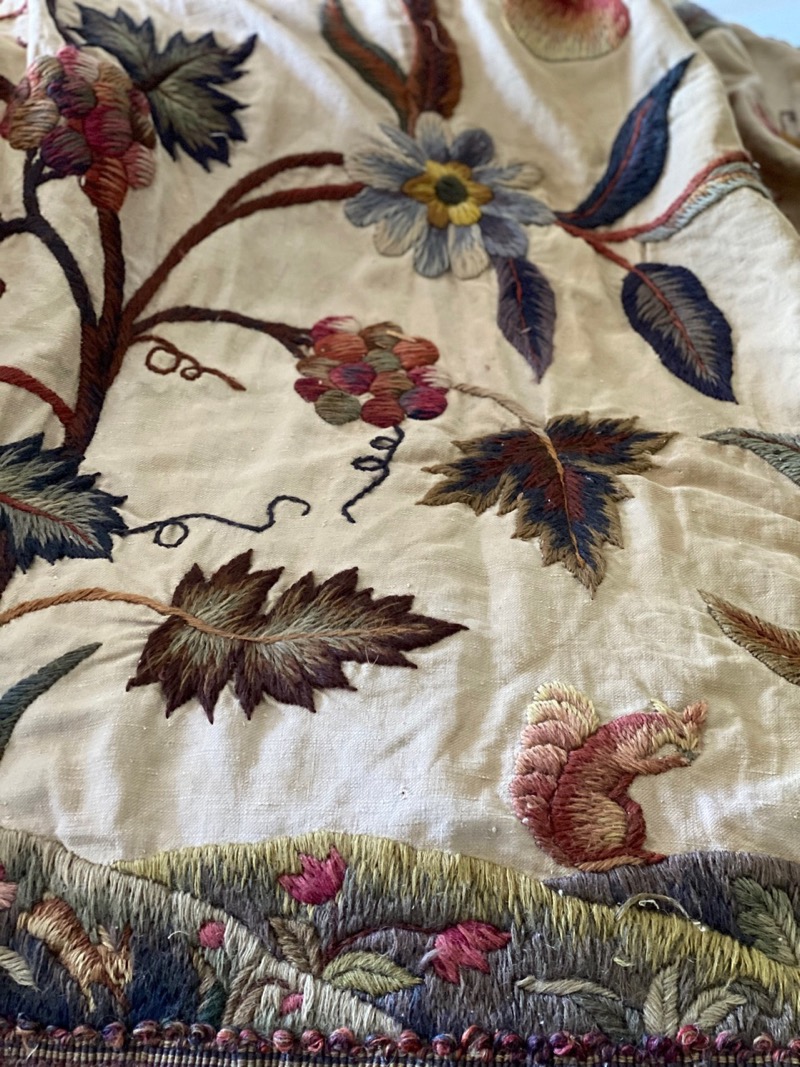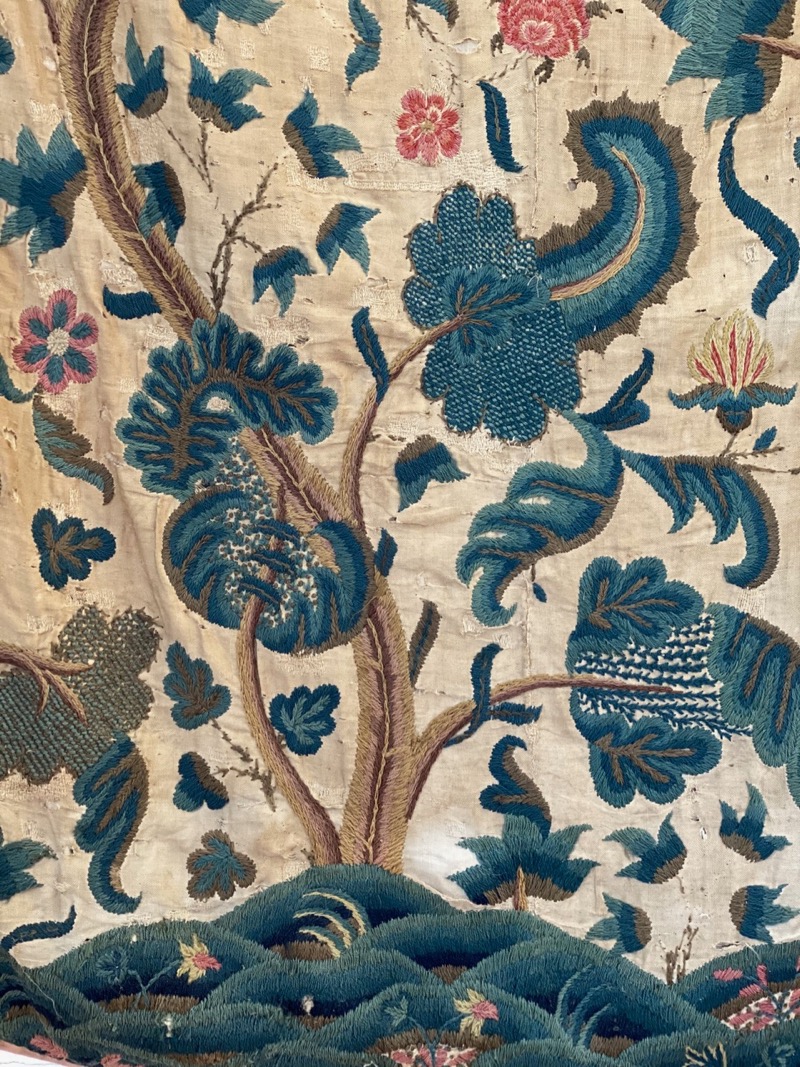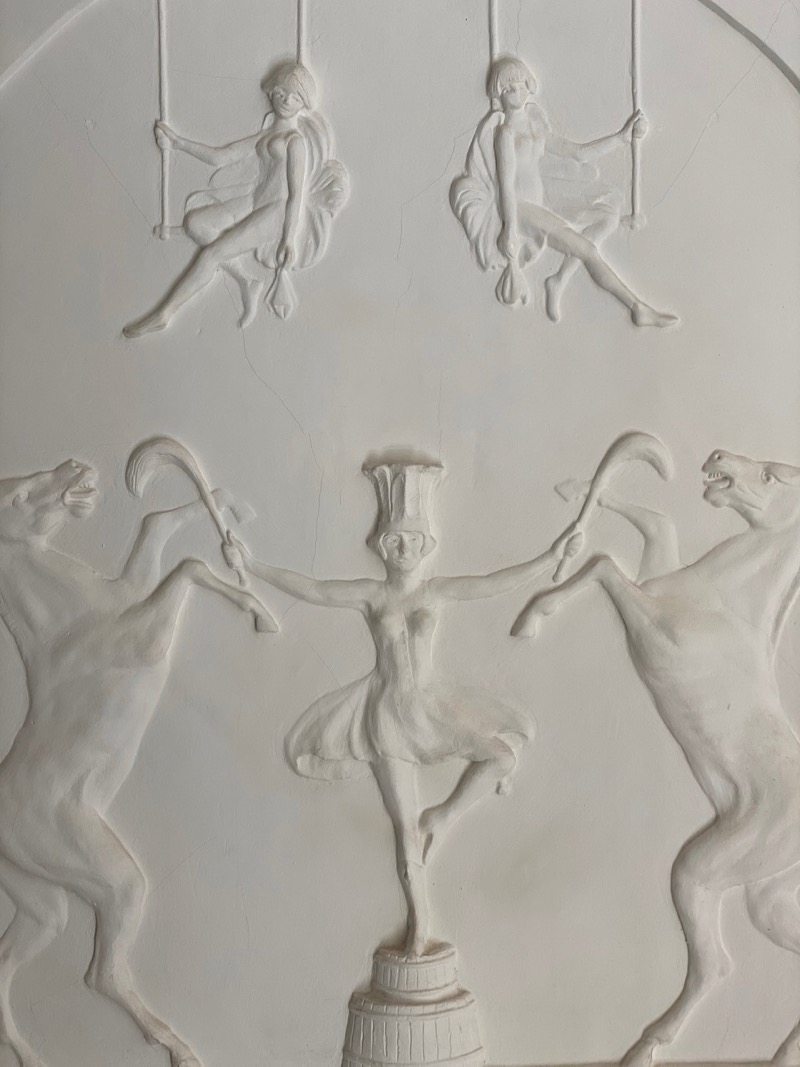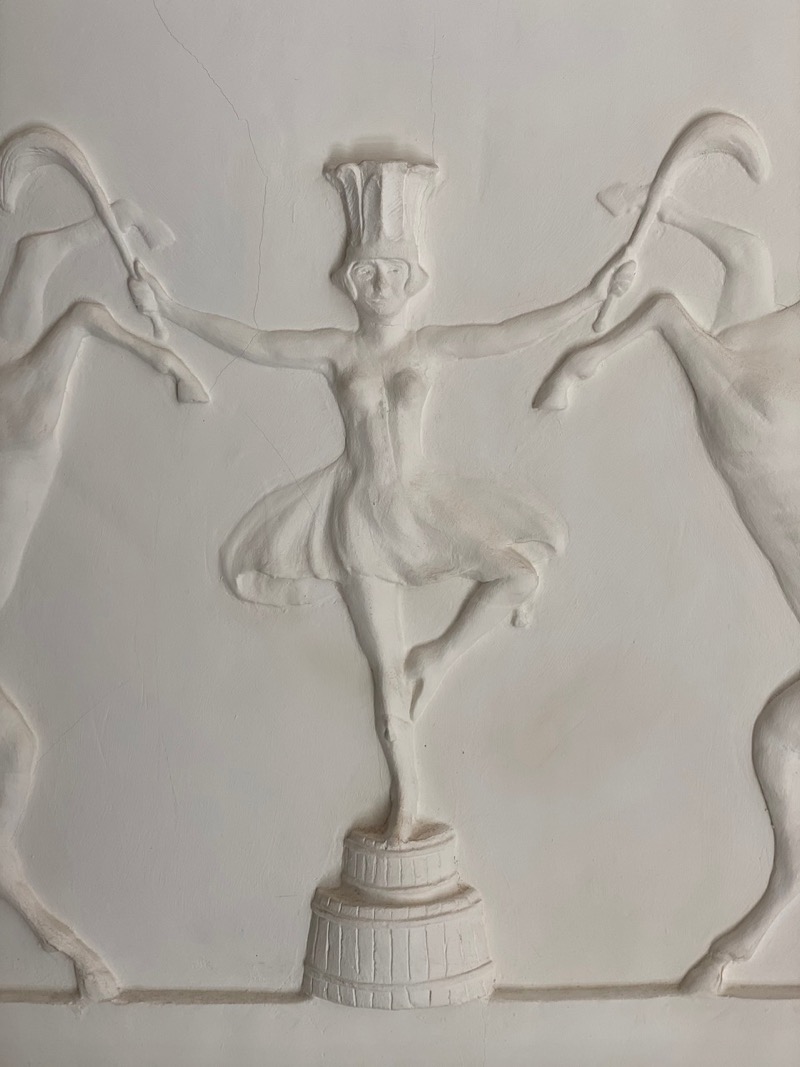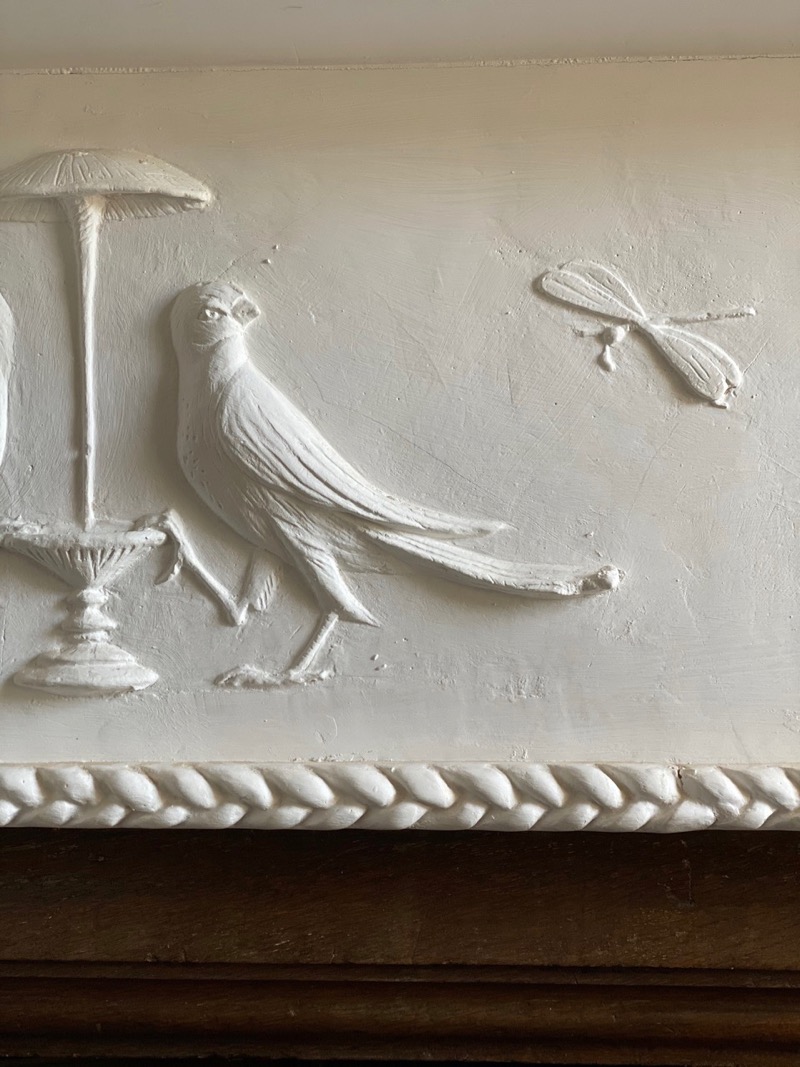 Text and images all by Bridget Elworthy at Wardington Manor
The Land Gardeners : Cut Flowers by Bridget Elworth and Henrietta Courtauld
AND NOW ANNOUNCING !
their brand new online pop up magazine …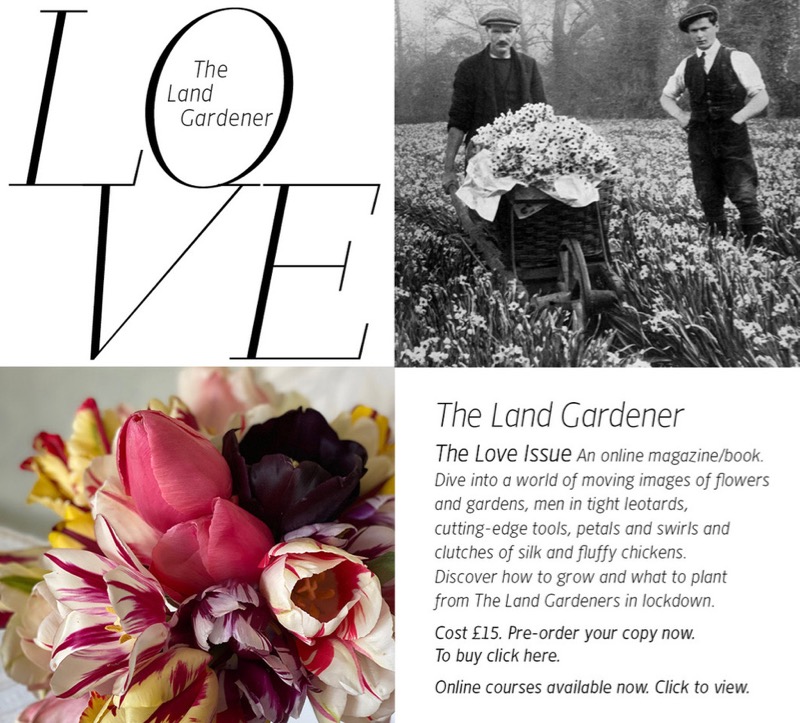 Very grateful thanks to Bridget @thelandgardeners for writing this, the photos and words are all hers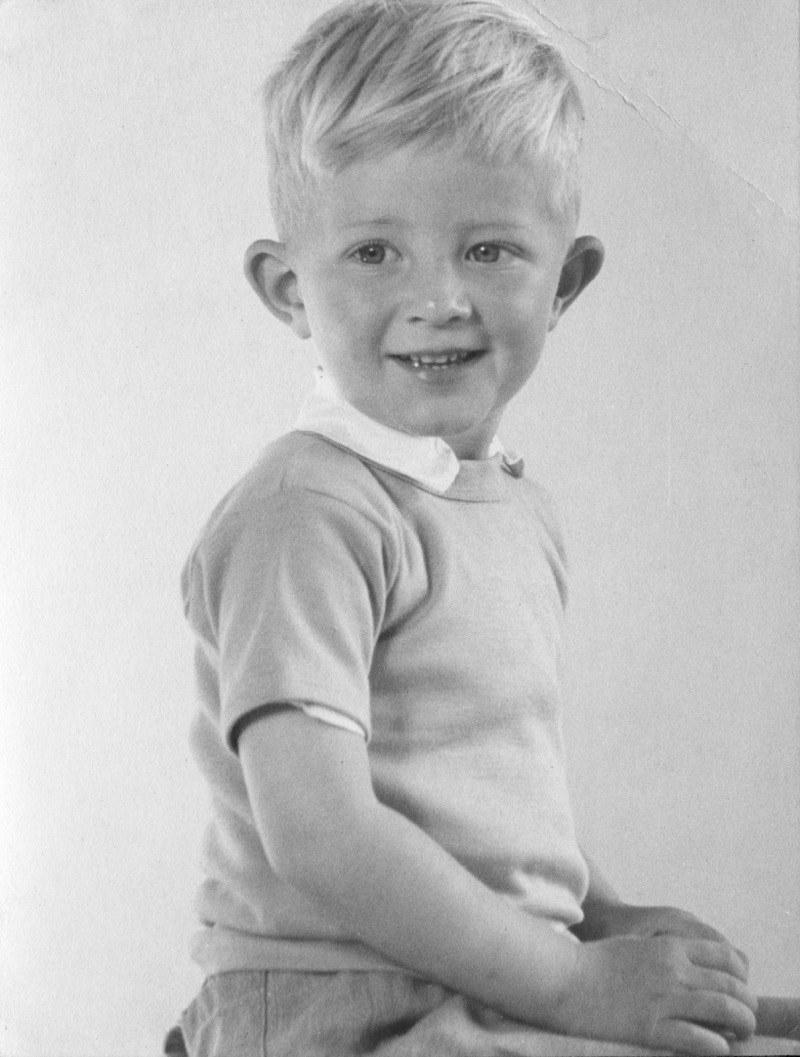 My childhood was in New Zealand, a pleasant and distant land, still rooted in England in all its forms and a society anchored to the land. Affluent but middle class, "Surrey in the South Pacific " yet still egalitarian, thanks to the legacy of its Scottish settlers.Then as now, houses were my abiding interest. Those I looked at and lived in were weather-boarded, with large verandas or inspired by Arts and Crafts, Voysey, Webb and even Lutyens. (Even my school chapel at Kings College was modelled on the alma mater, Kings College Cambridge. ) All were built and designed for comfortable suburban living, with gardens, tennis courts and rose beds. I lapped it all up, dreaming of greater things.I had a voracious appetite to see people's houses, their antiques, the layouts, the patina (if there was such a thing in a new society) – and I heard – from the few who I looked up to – that shabby was OK . I couldn't quite cope with that , and still can't but I understood only too well , even then, that social establishment goes with permanence . My mother loved houses too so we moved a lot, satisfying our shared decorating lust and my dad's quiet pleasure in ascending the social ladder.
But now I found a new definition of what was beautiful and chic. In the English magazines I was reading, David Hicks had begun turning the establishment's houses upside down with geometric patterns and shocking colours. The USA's House Beautiful showed me 'feature walls' and 'conversation pits,' three car garaging and shag pile carpets!
I slept in a large cupboard or closet as friends love to remind me, but soon baled out to live in a single large white room above a beautiful bookshop in Warwick Place, Little Venice. This was my first home of my own in London and the place where I fell in love for the first time. Its decoration was my priority, I hung or draped fabrics from New Guinea, Bali, Malaysia, Burma, Nepal, India, Afghanistan, Iran, Turkey and Morocco on the walls and every surface. I had collected them as I travelled, and any that I couldn't carry became part of my wardrobe.
Squatting
After another prolonged stay in Morocco I returned to London. My second place was a squat in Oxford Gardens. It was a huge house with lots of inhabitants (and many passing through) and my bay-windowed room held remnants of Warwick Place, no chintz sadly,
Then came the 80s and my first real job. Seven years of Portobello and then a shop off Westbourne Grove had taught me about the world of the decorating houses. I knew many of the designers and this was the only world I wanted to belong to. I went to work with Mary Fox Linton – she was still in partnership with David Hicks – and I entered a new modern world of chic, sharp decorating with subtle palettez of mauves, pale pinks and green and lilac. These were used with ethnic patterned dhurrie rugs that we designed, Perspex furniture or pale limed oak – a new and exciting look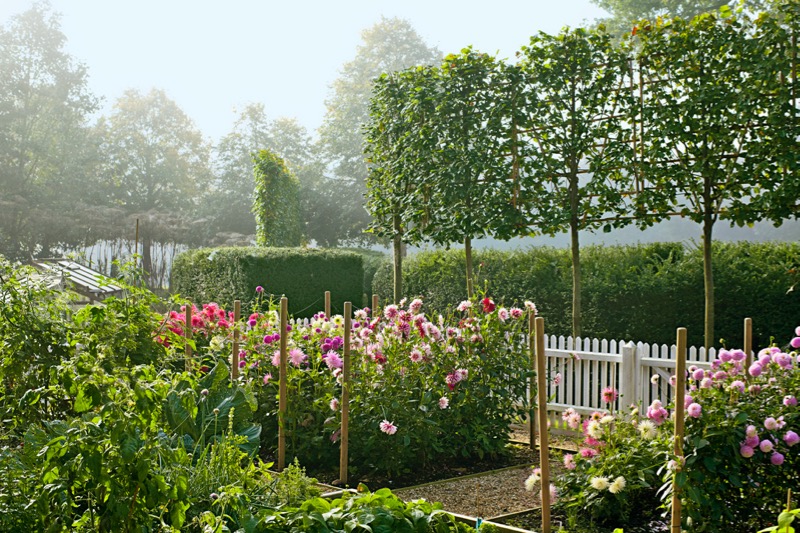 I think a huge amount of time should be spent on bedrooms, particularly the mattress and the linens. I like bedcovers and simple sheets and blankets, not duvets…. I also dislike pillows or cushions all over the bed. What do you do with them when you are getting into the bed? Throw them on the floor? A bed should look inviting and when it's covered in pillows, it's not.
Very many thanks to Veere. Veere Grenney Associates, www.veeregrenney.com
(and to Lavinia, who helped a lot too, and Rita)
These have been very long days sitting at my makeshift desk (3 Nigerian batiks draped over a folding picnic table) writing endless emails and communicating on zoom.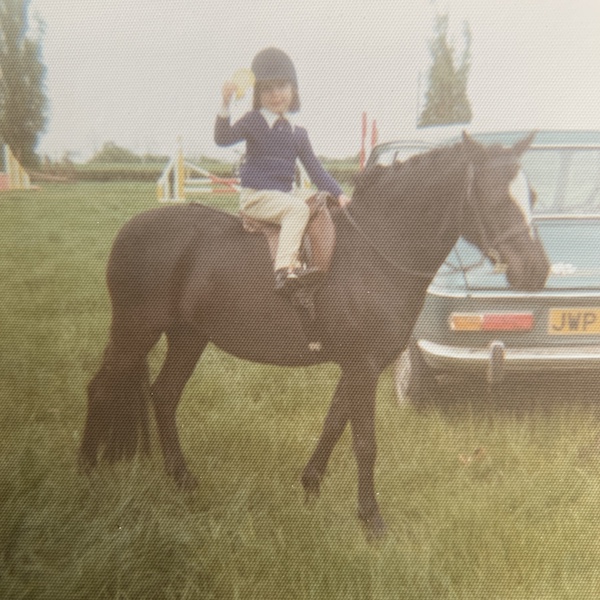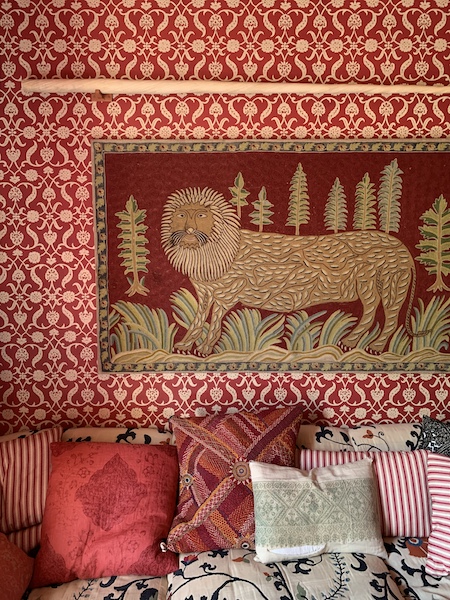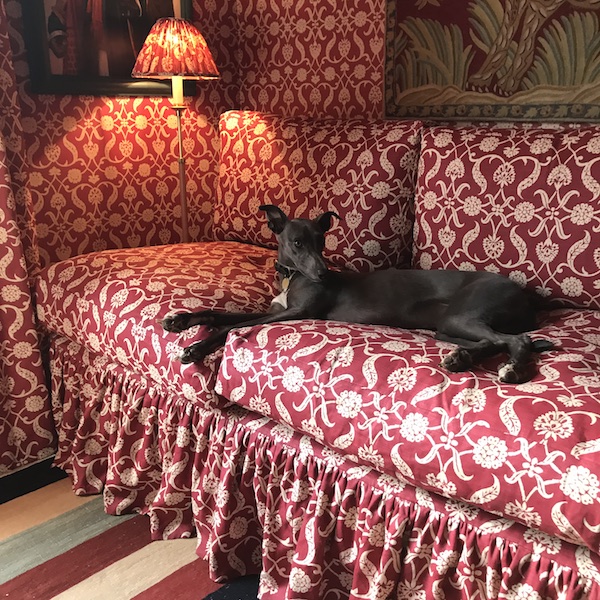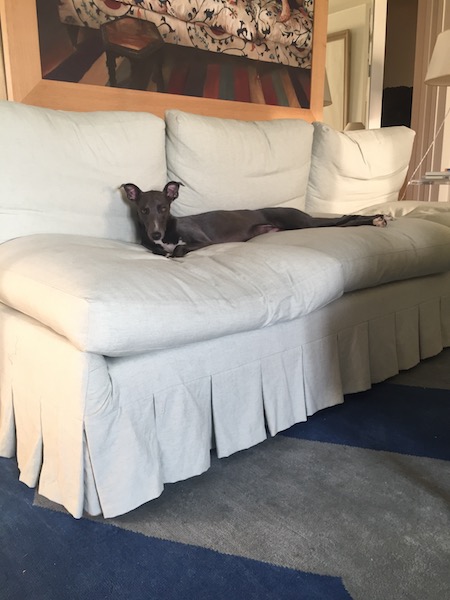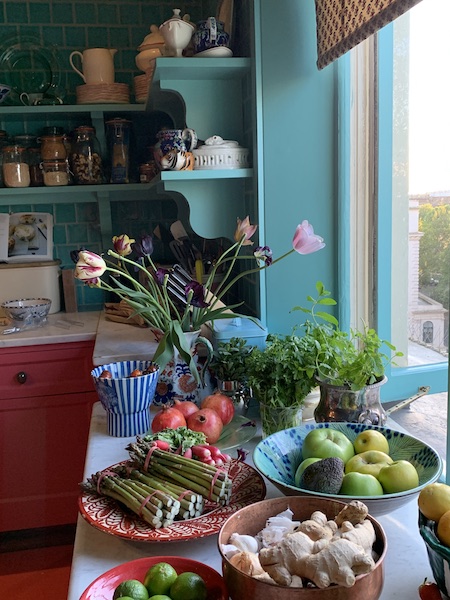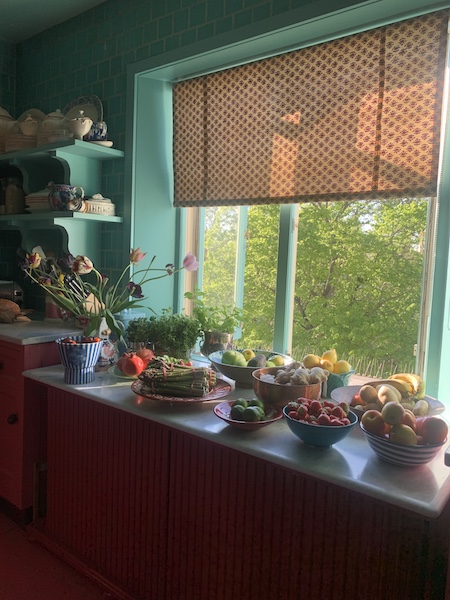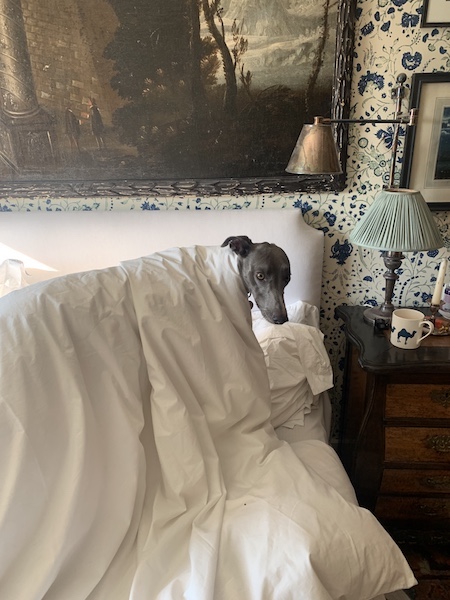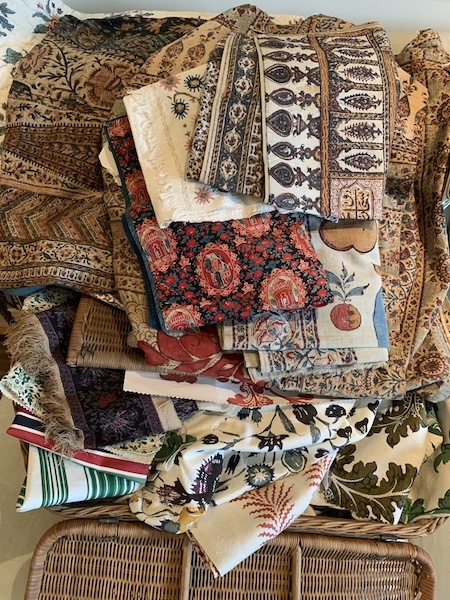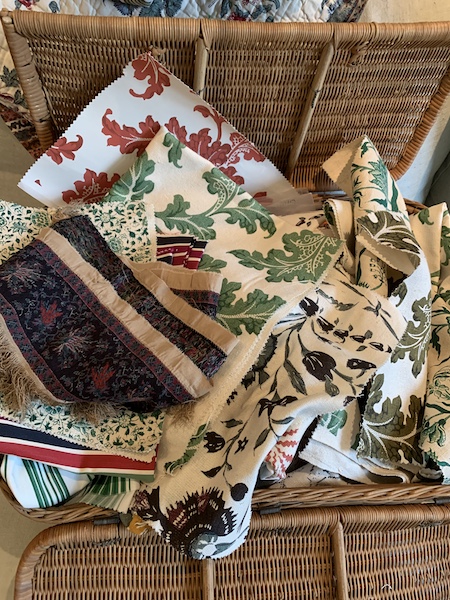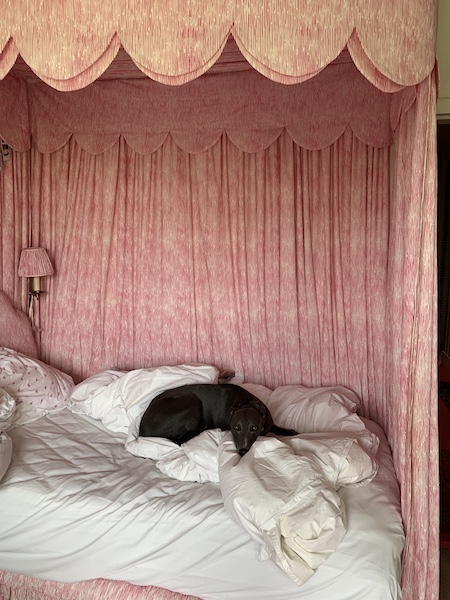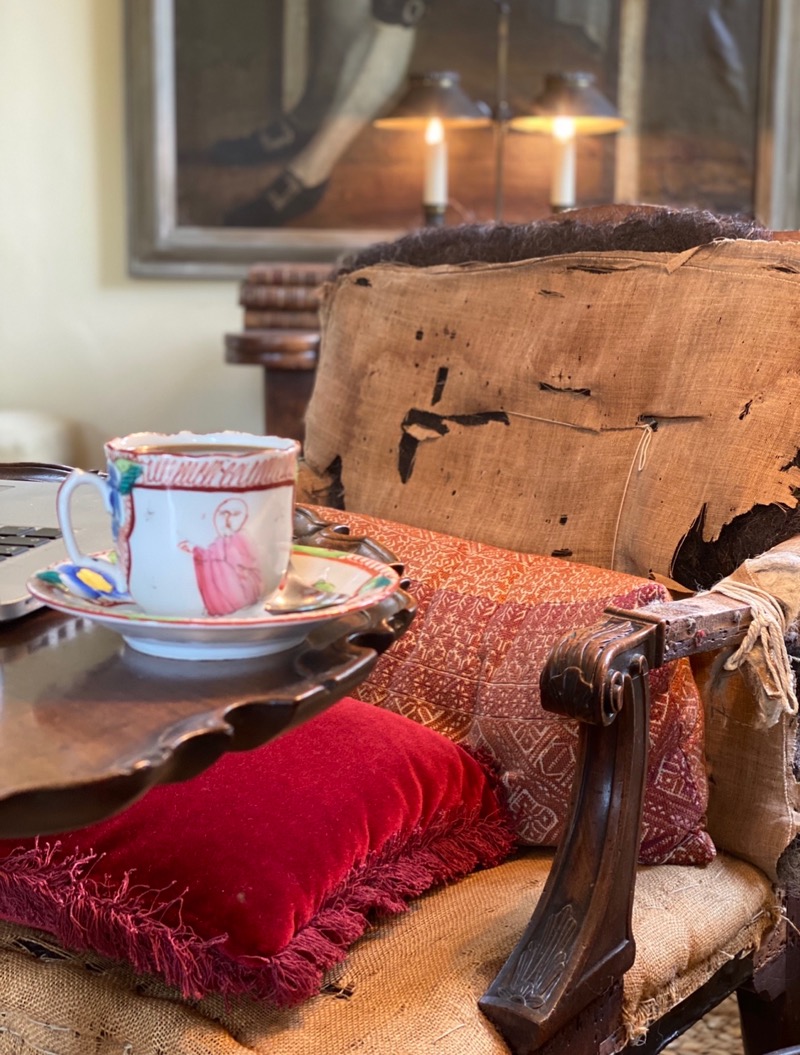 Waking up this morning I realised that our house, the things in it and I have much in common. We are mostly chipped, frayed at the edges, quite old and sometimes, especially in my case, desperately in need of restoration.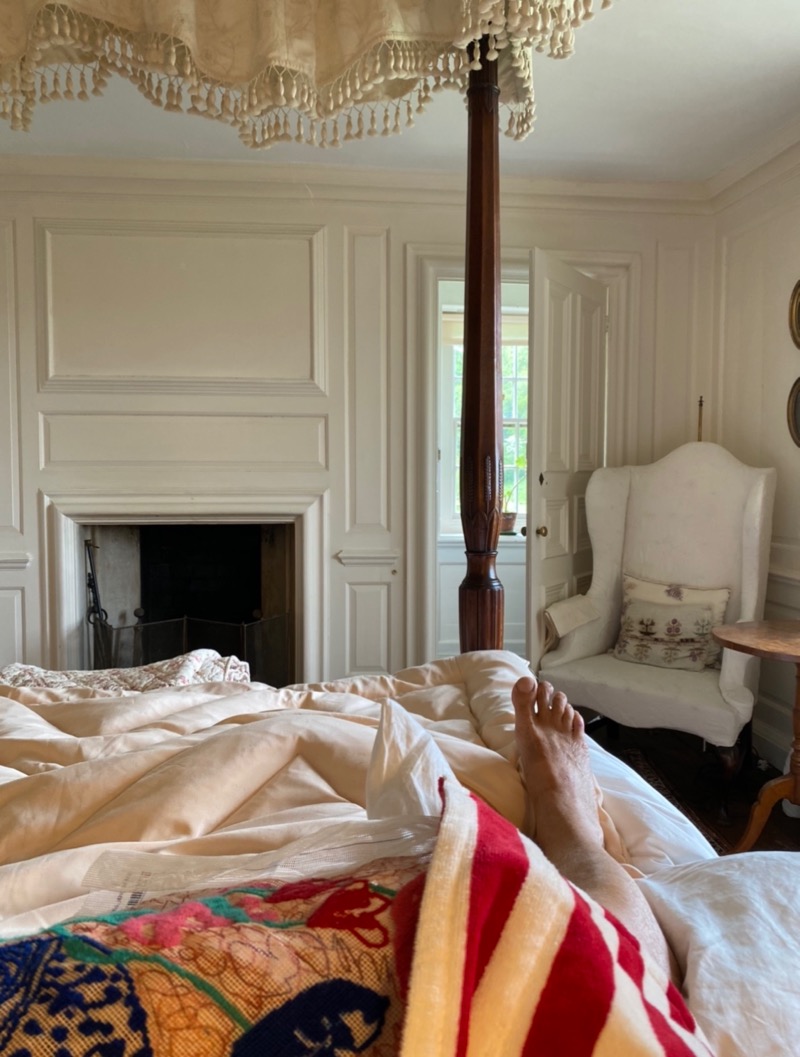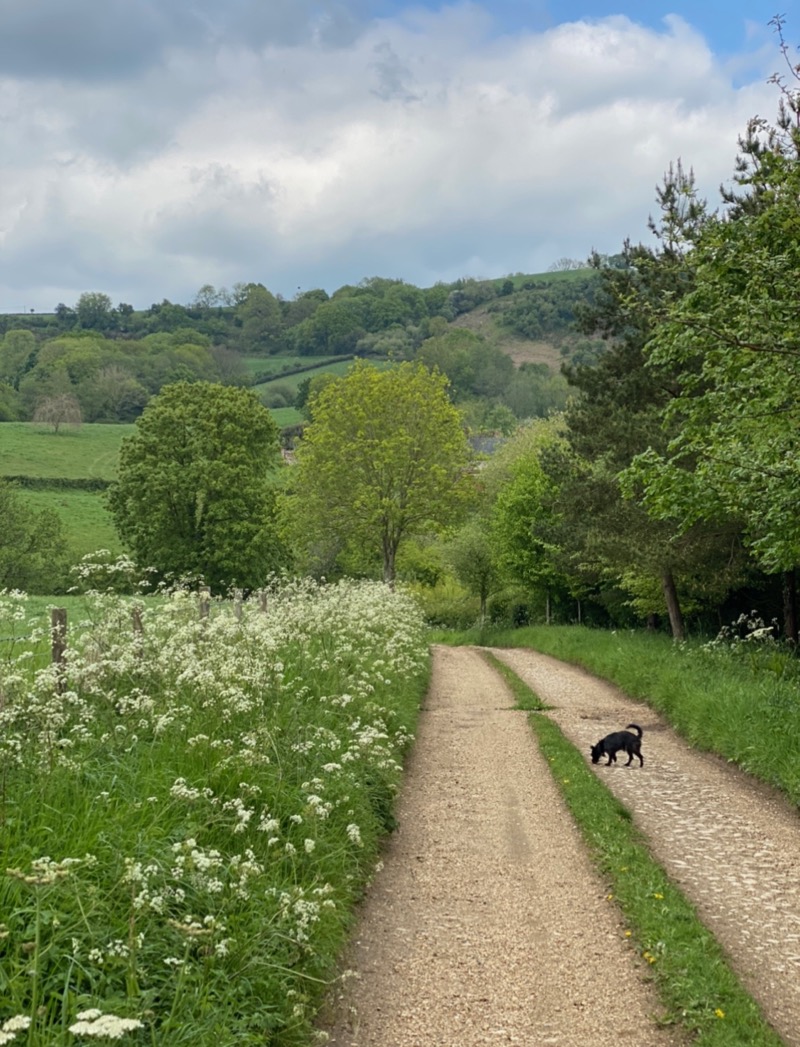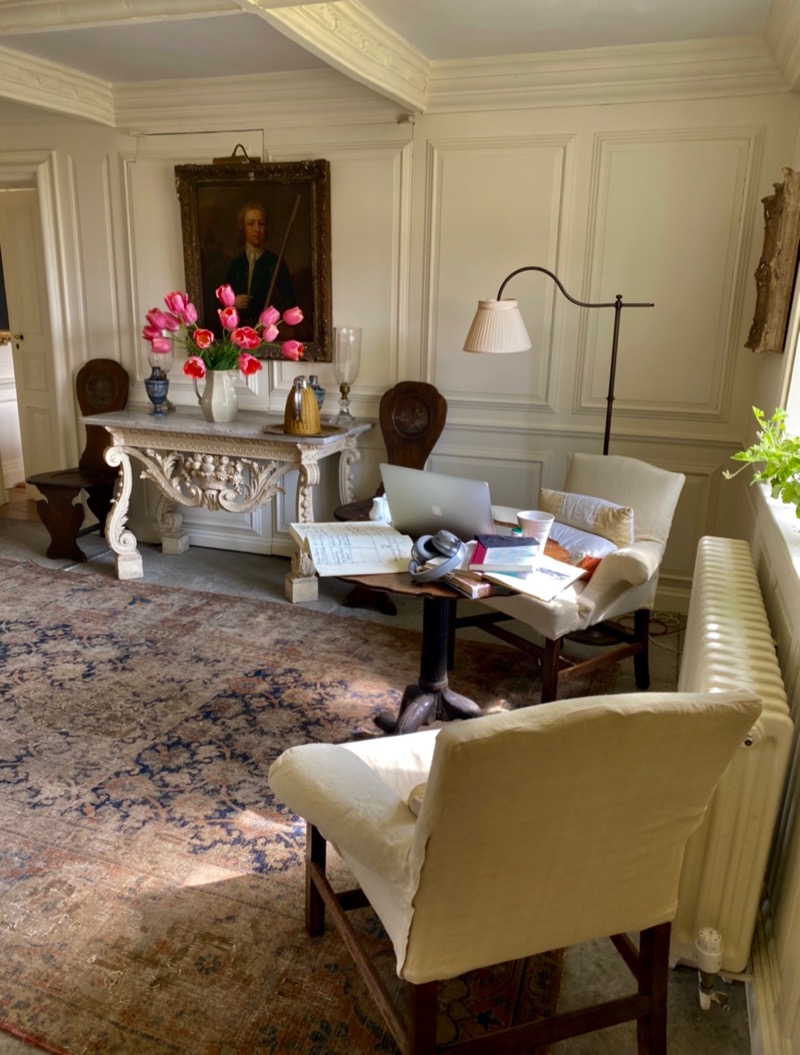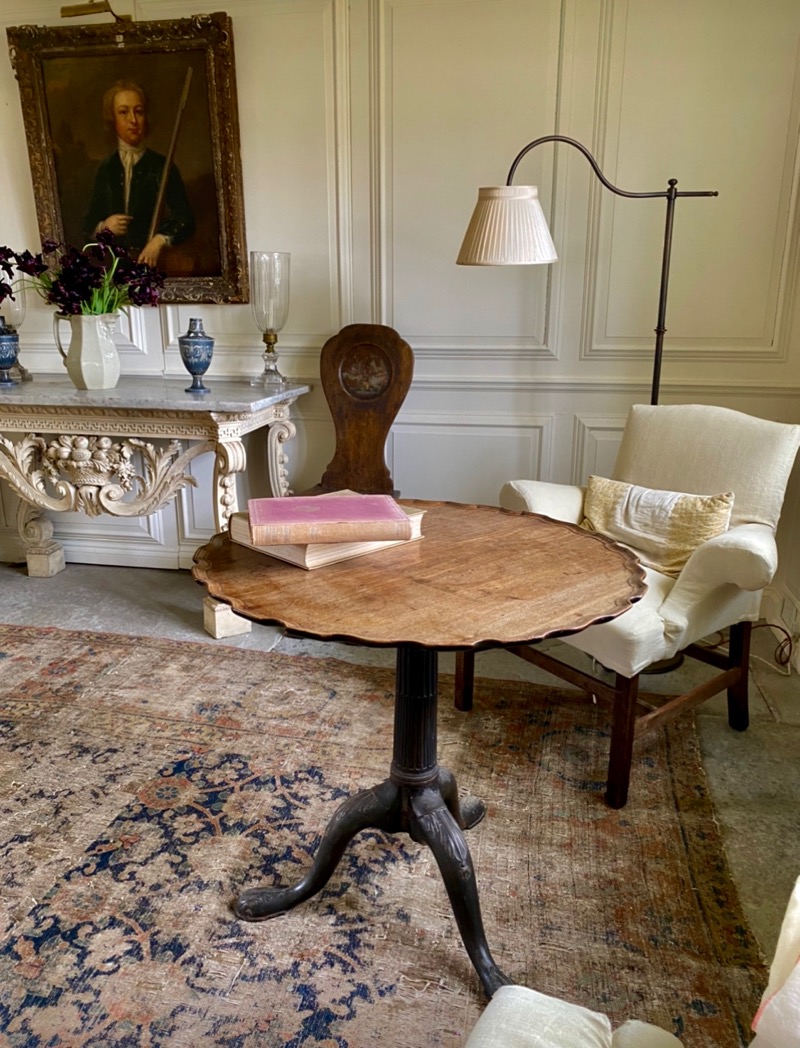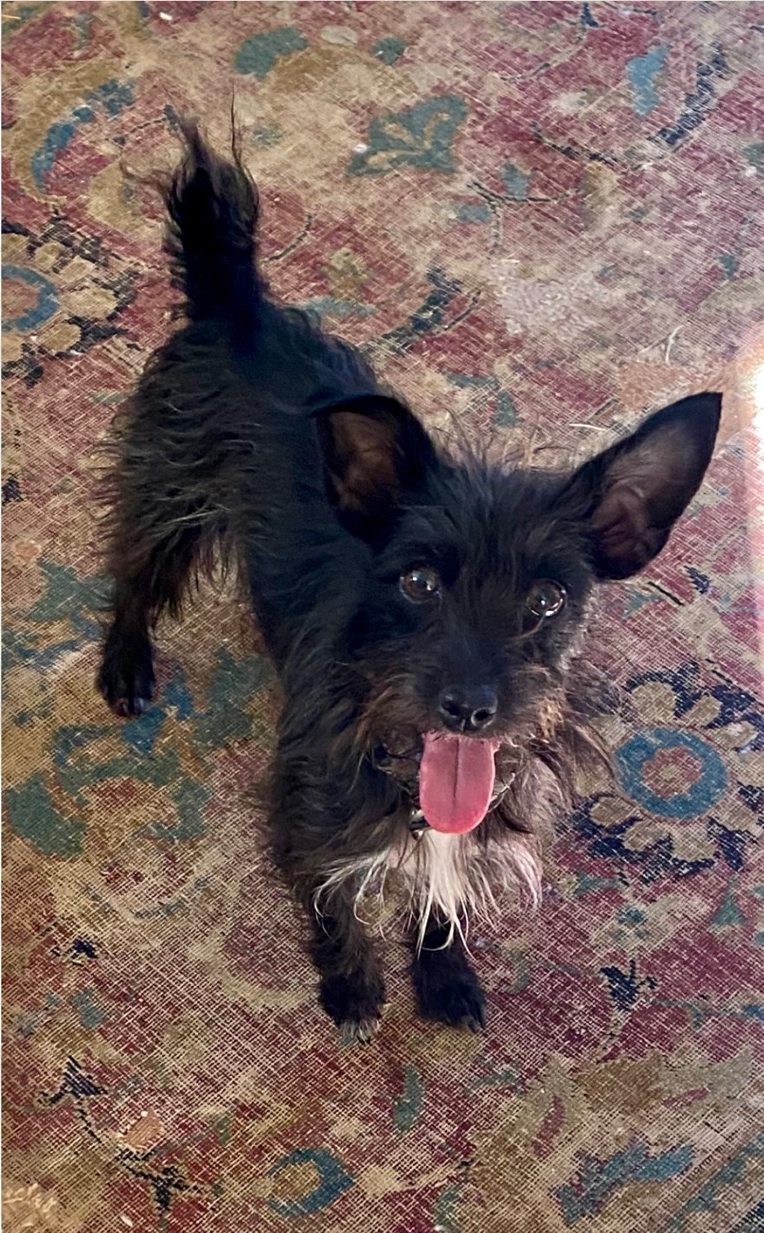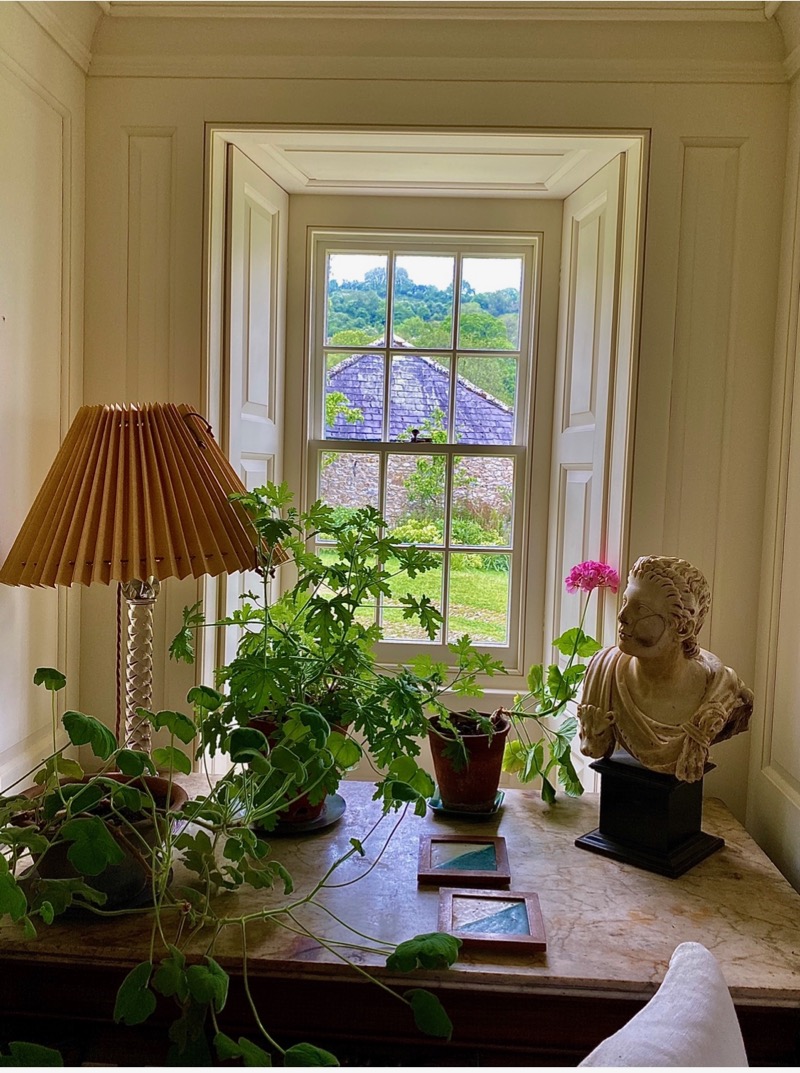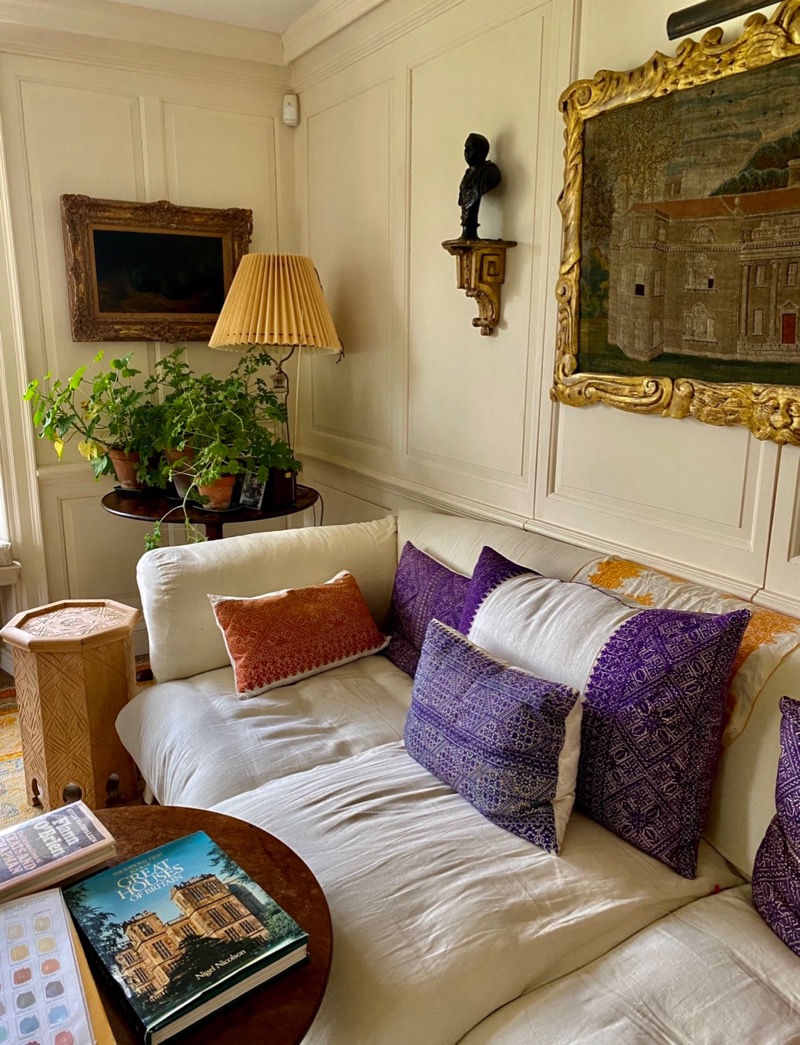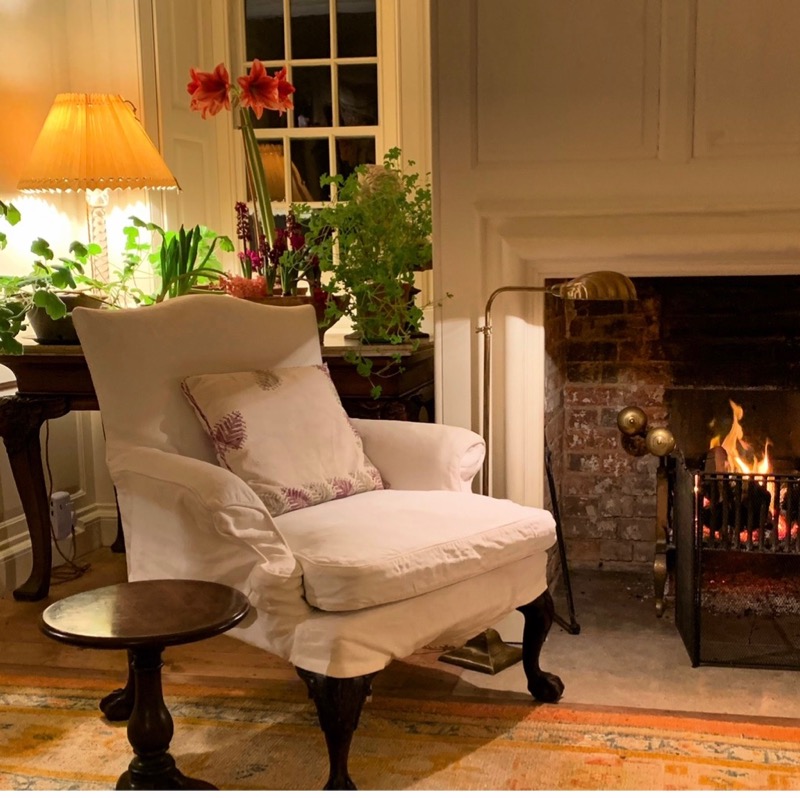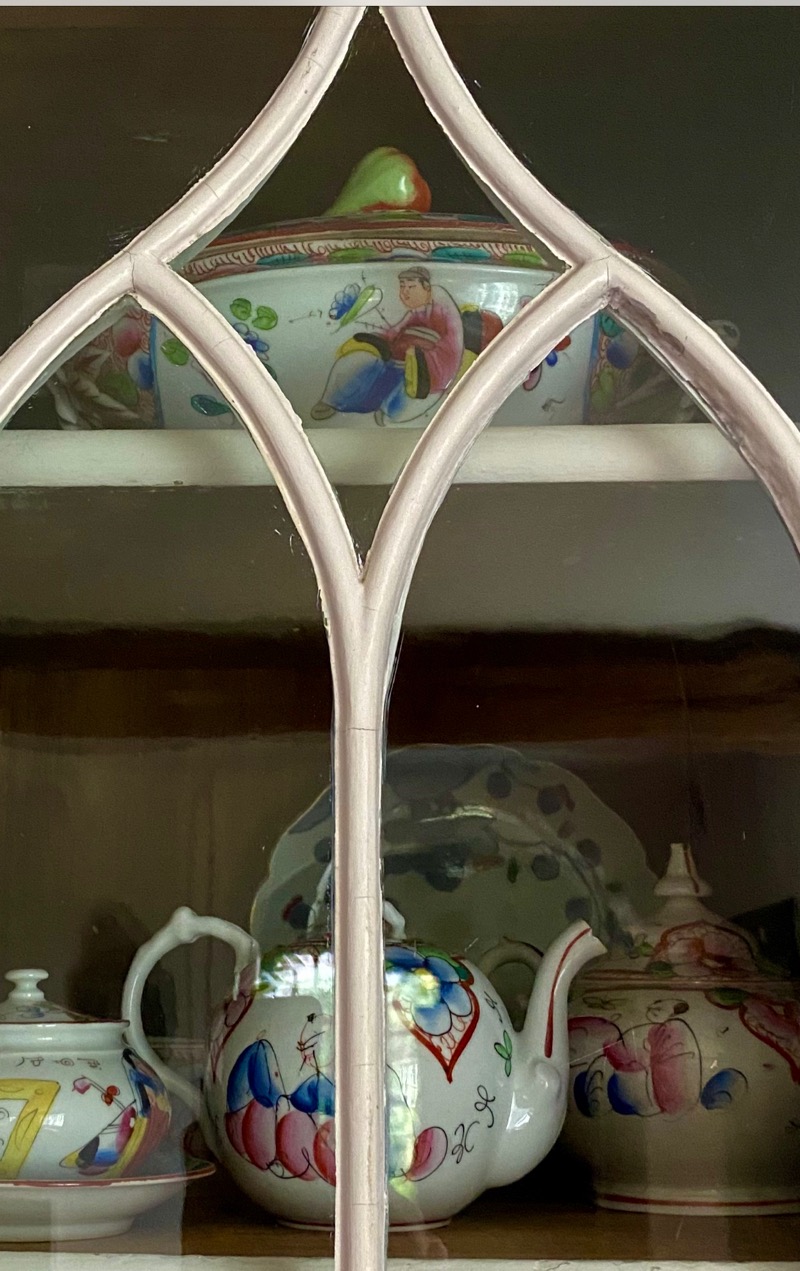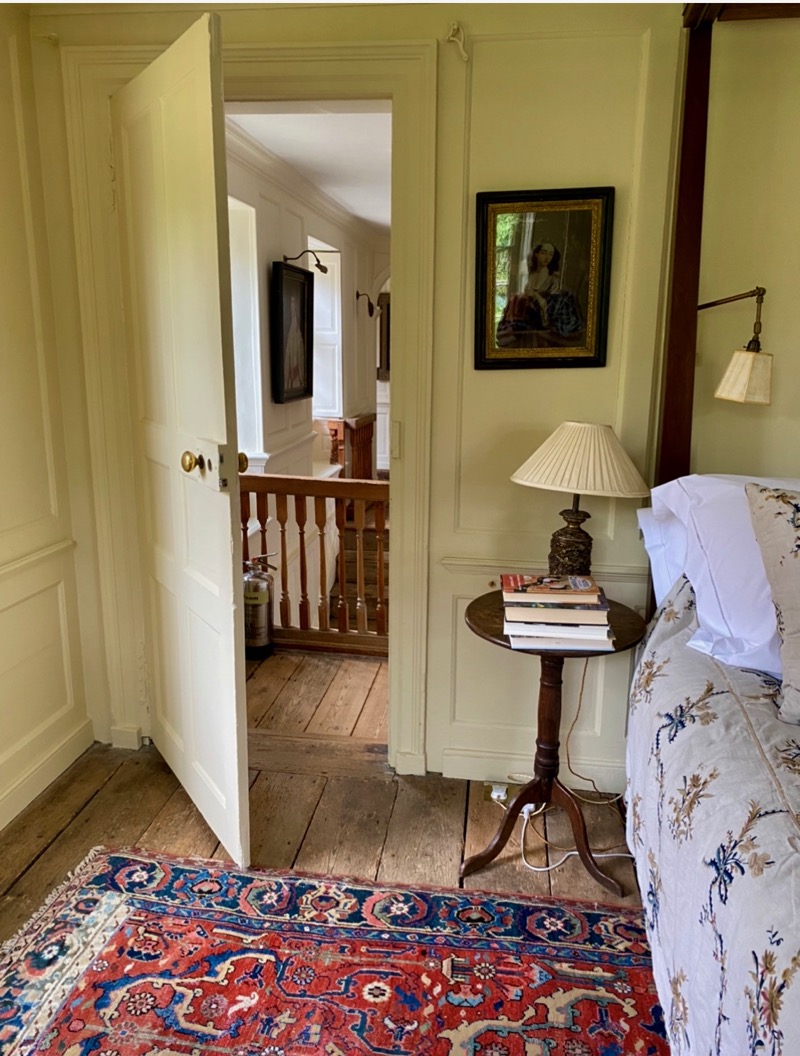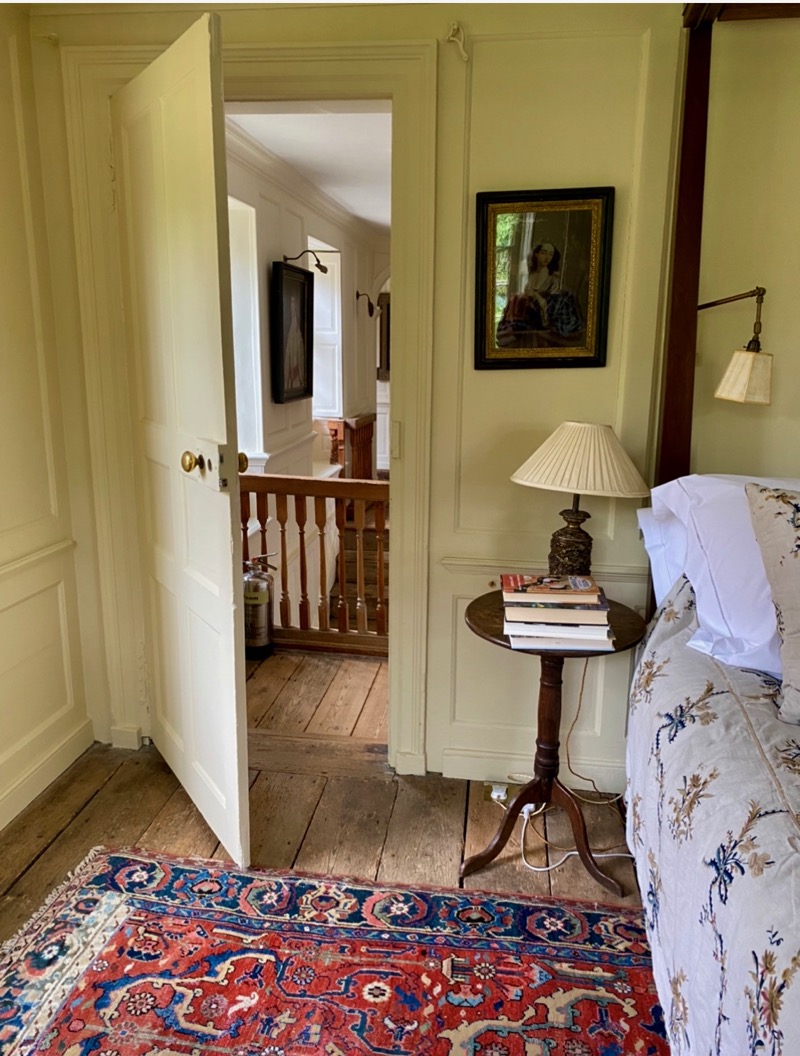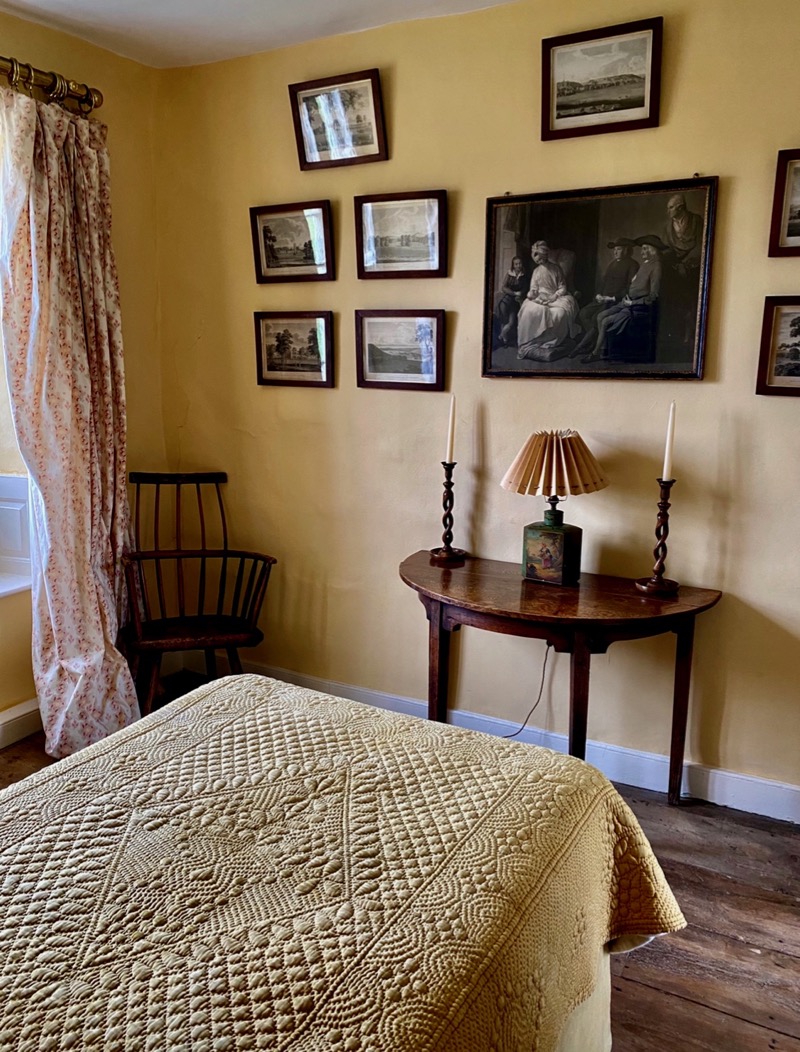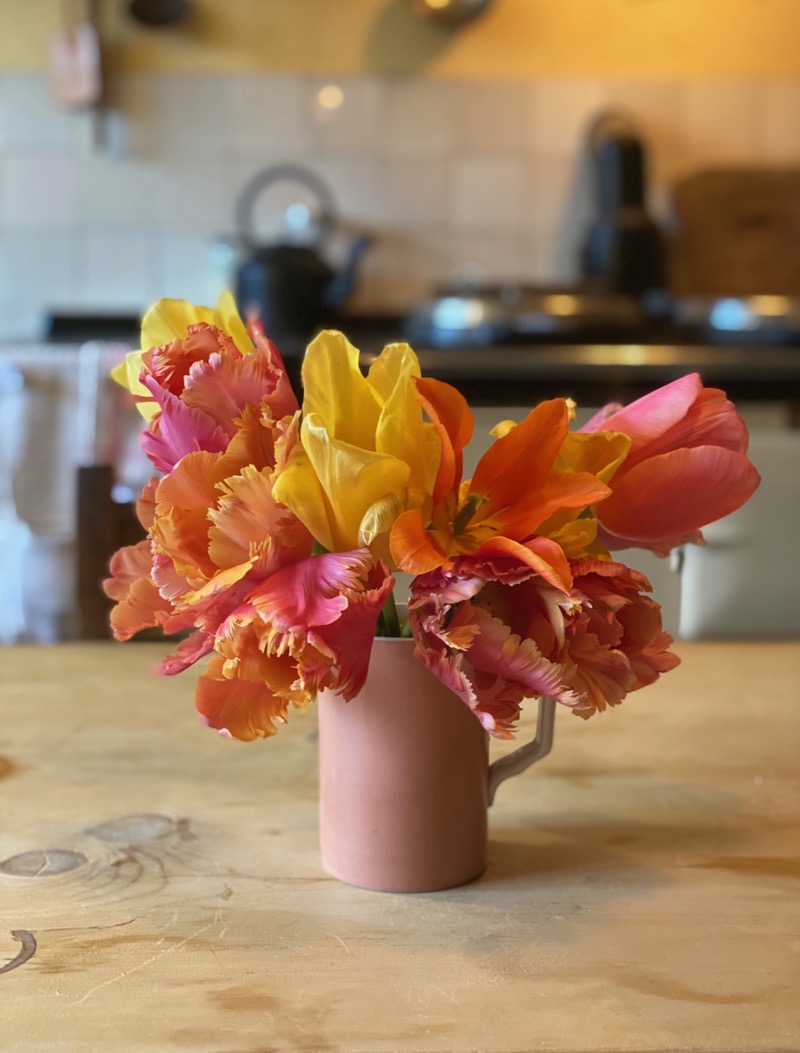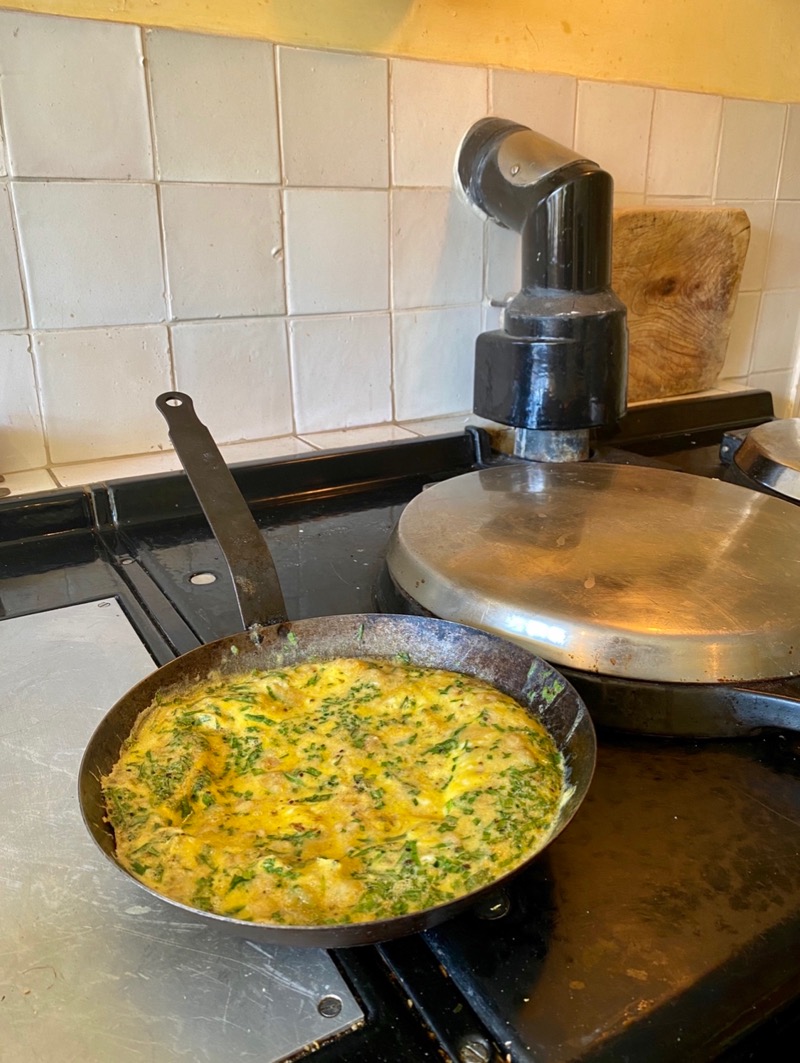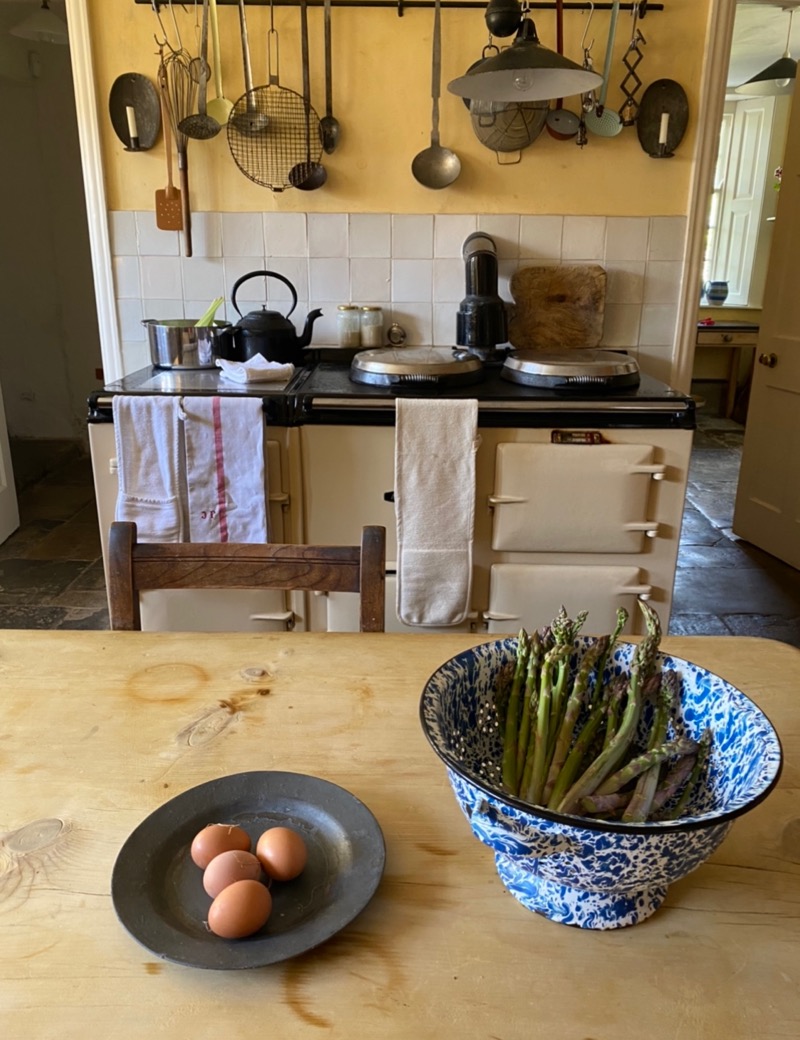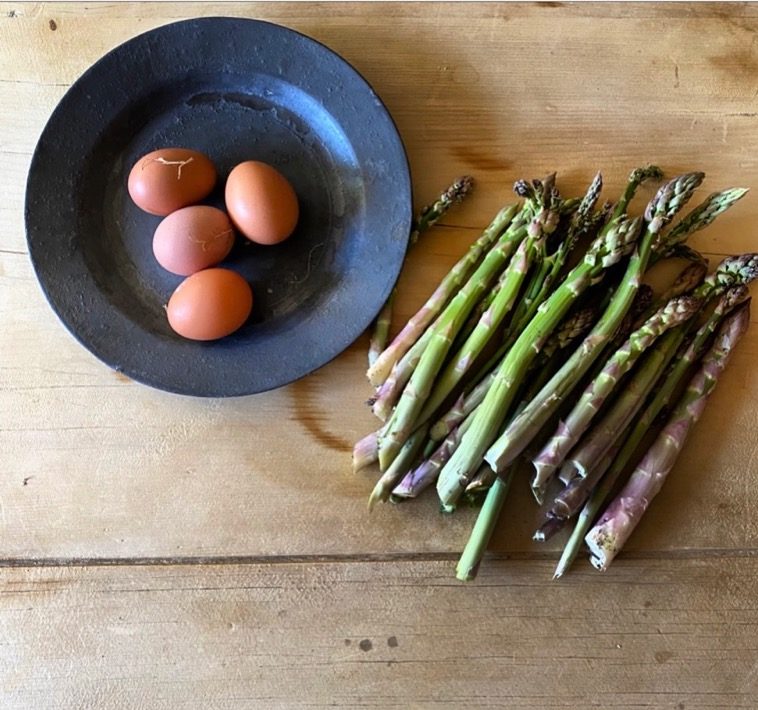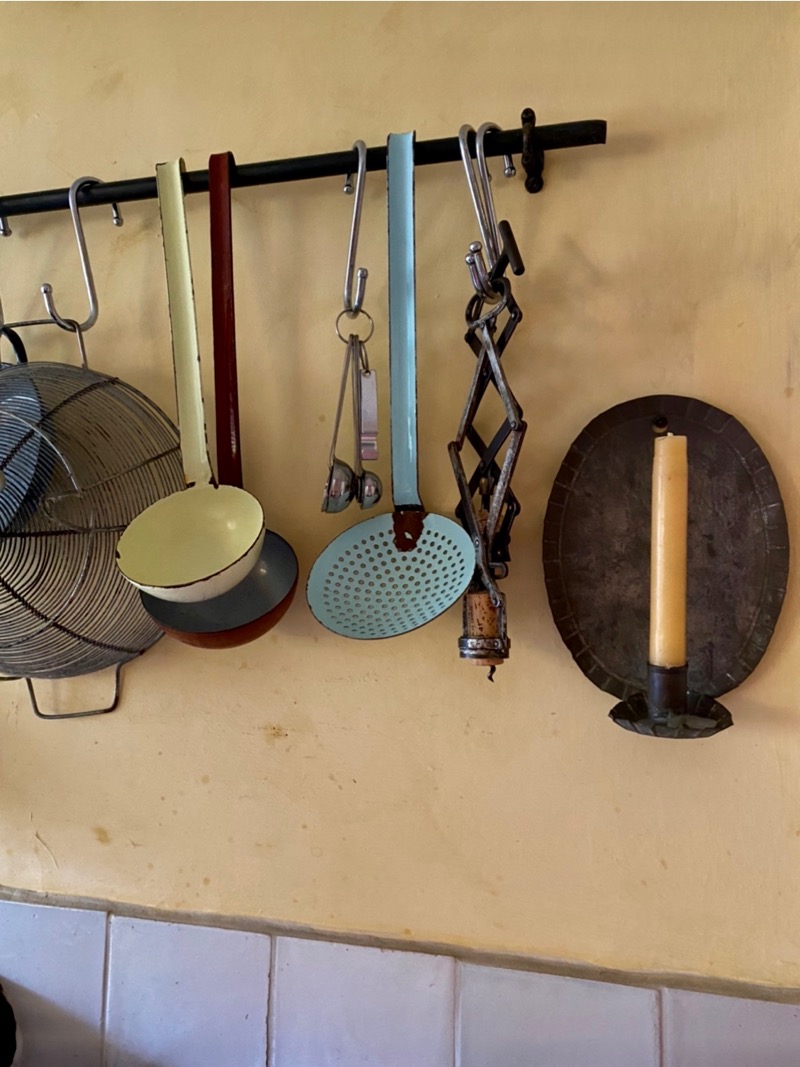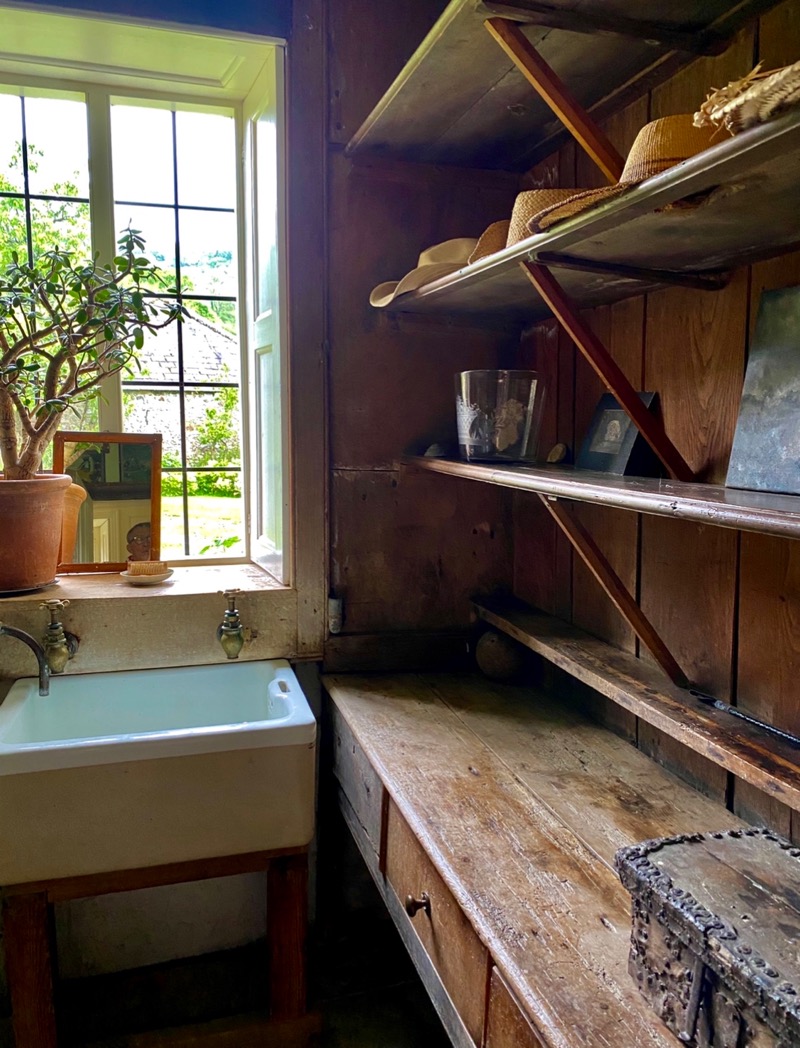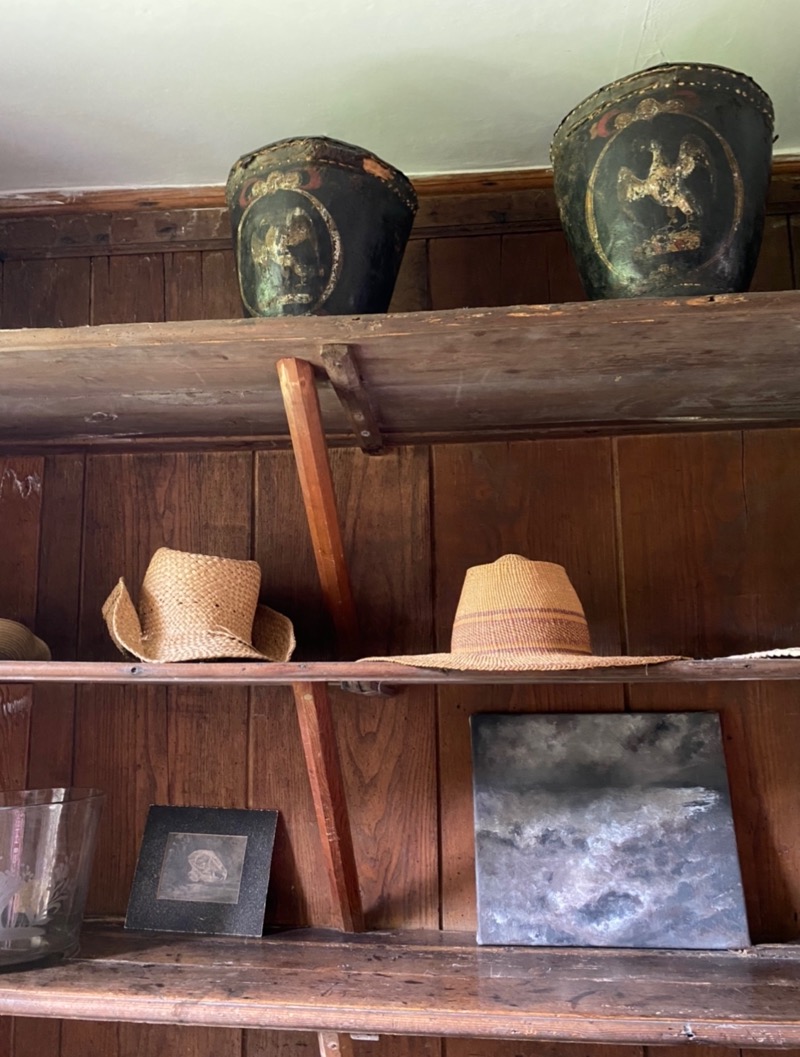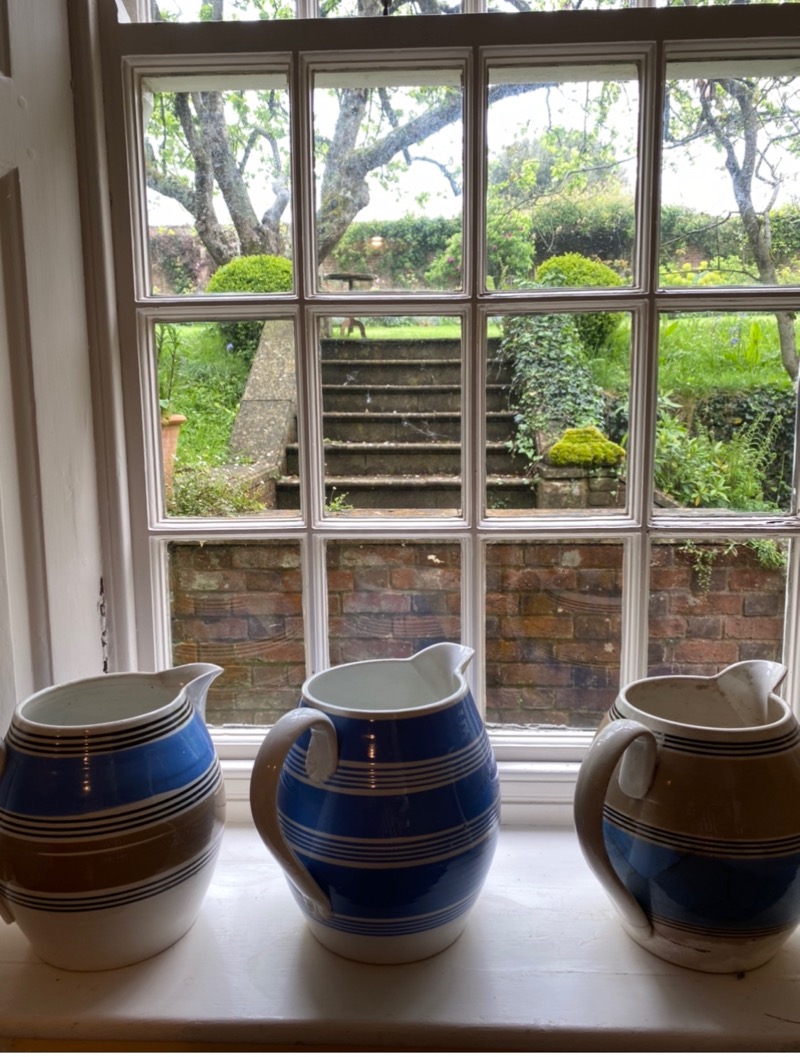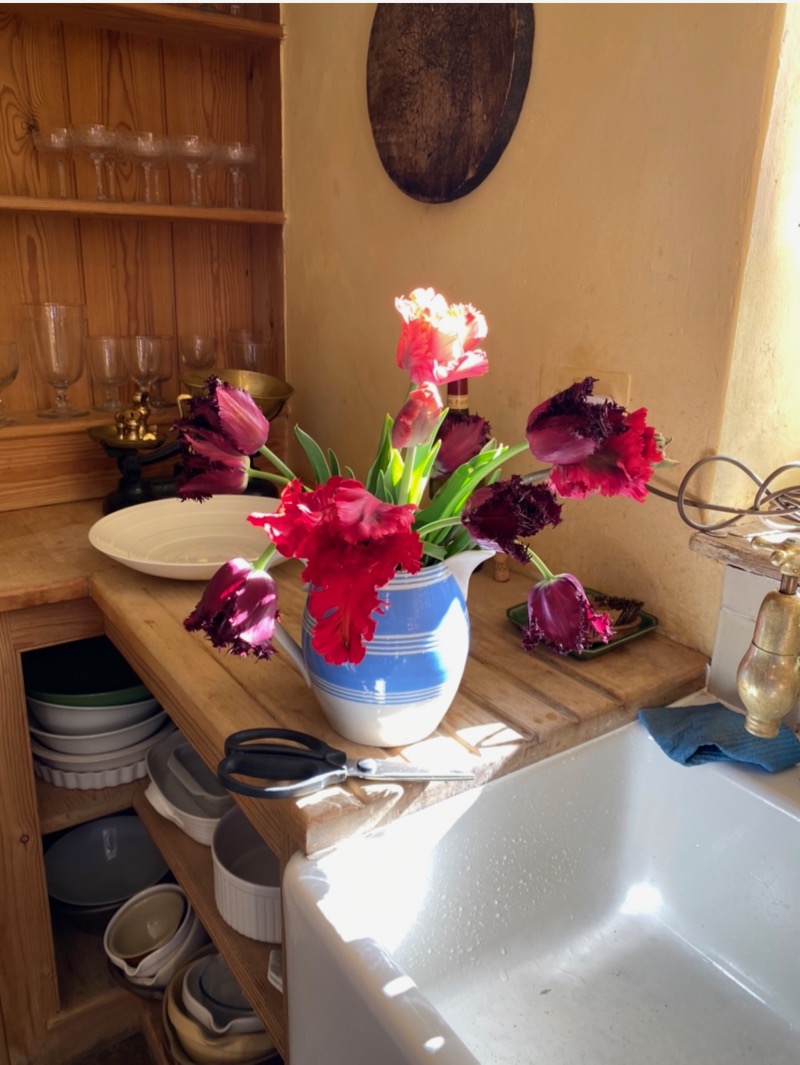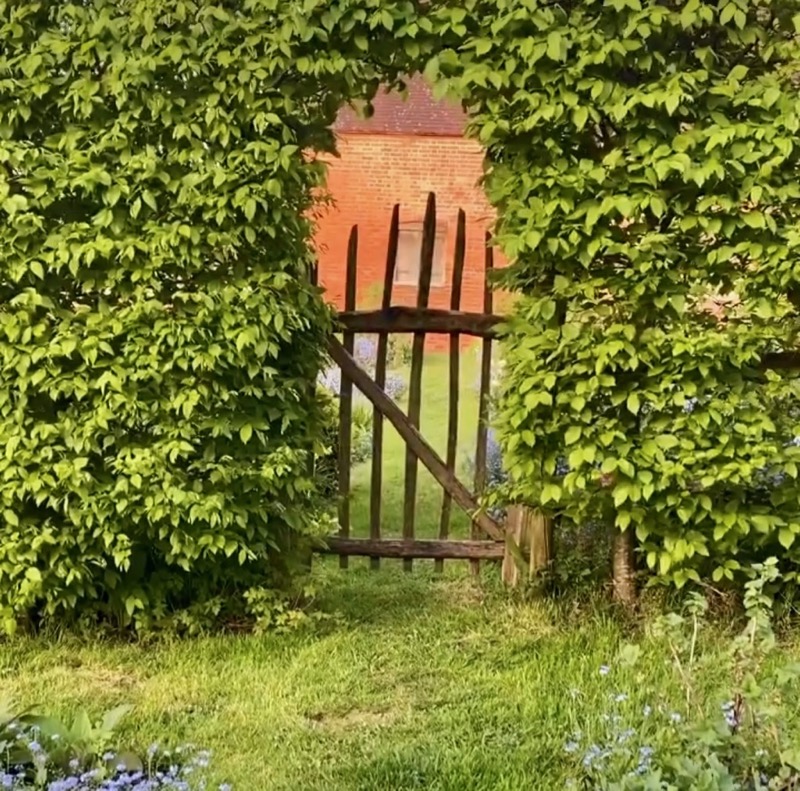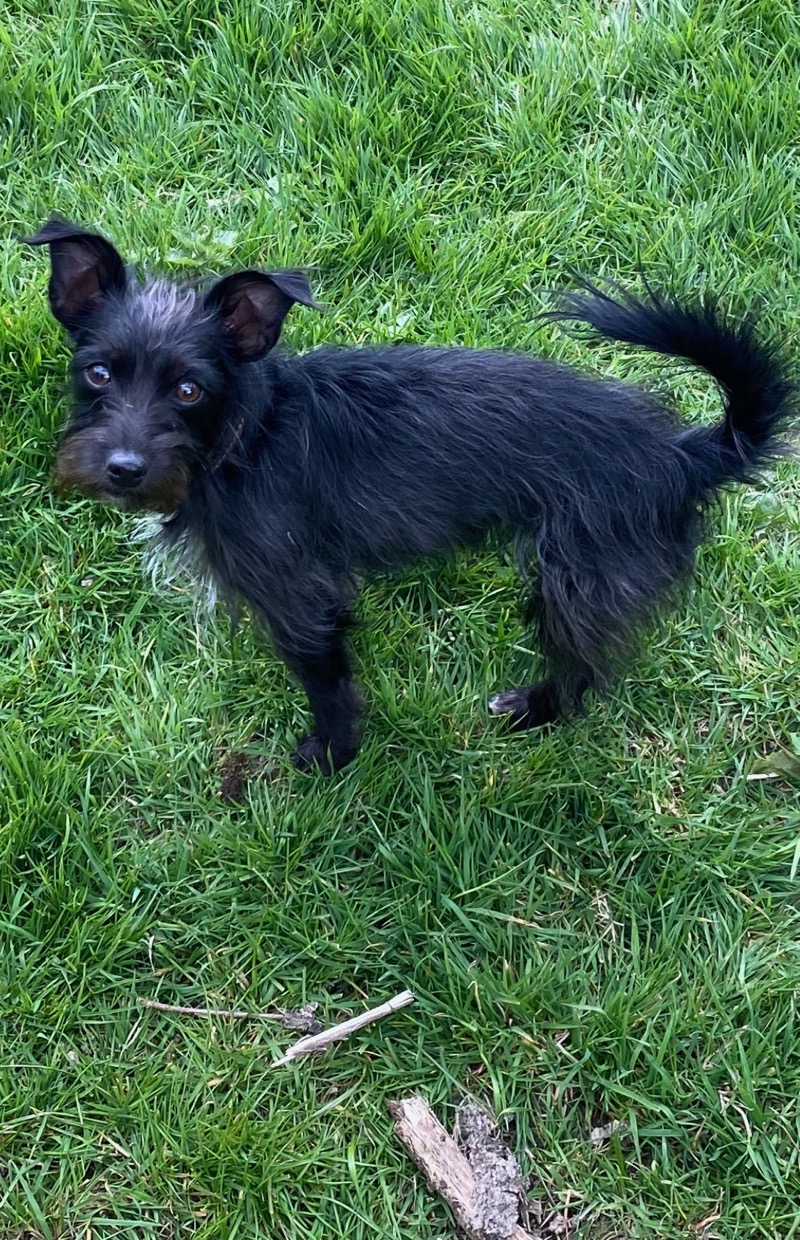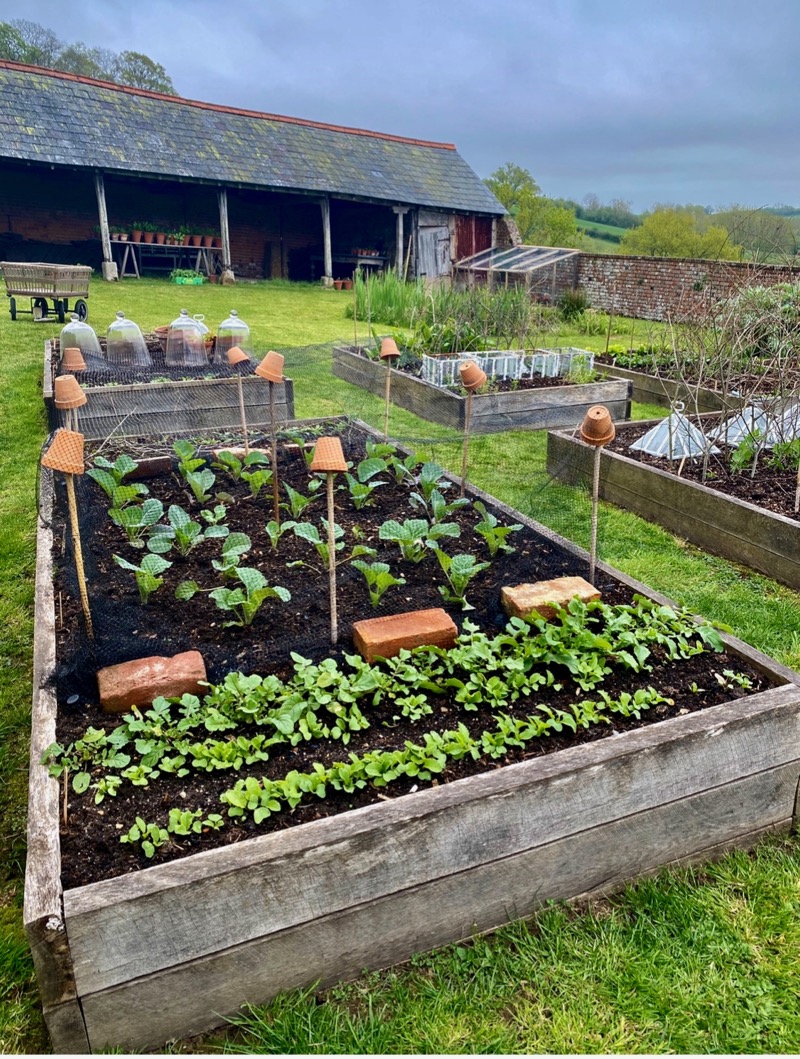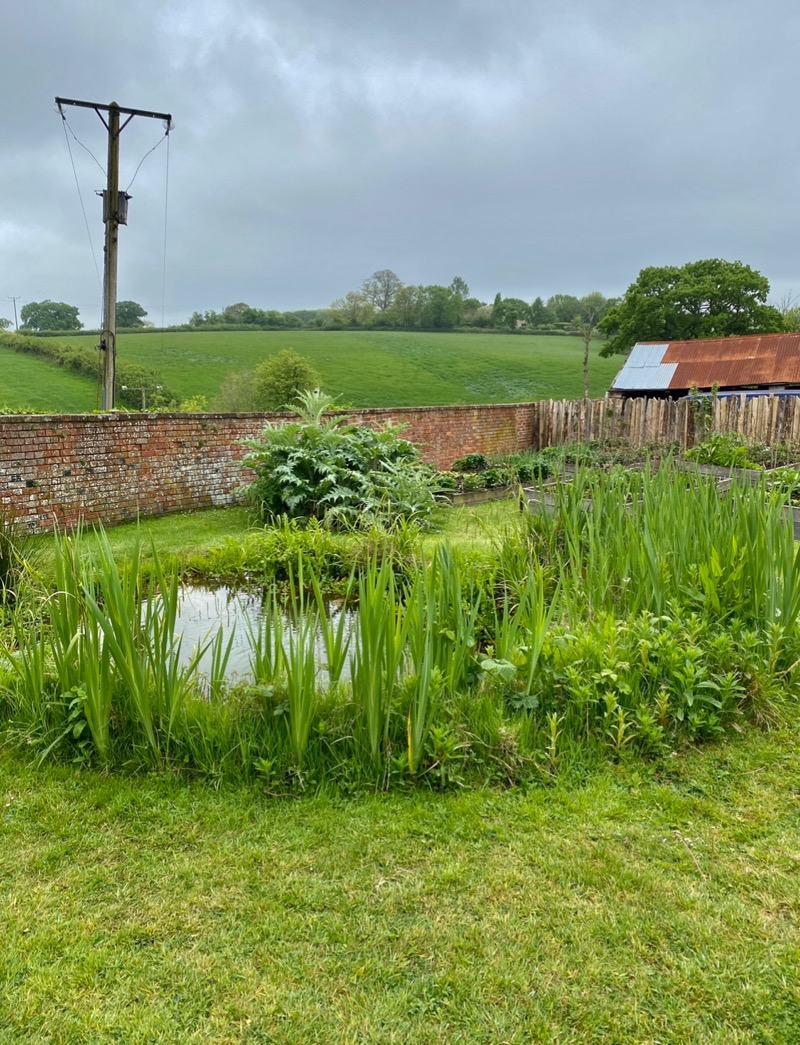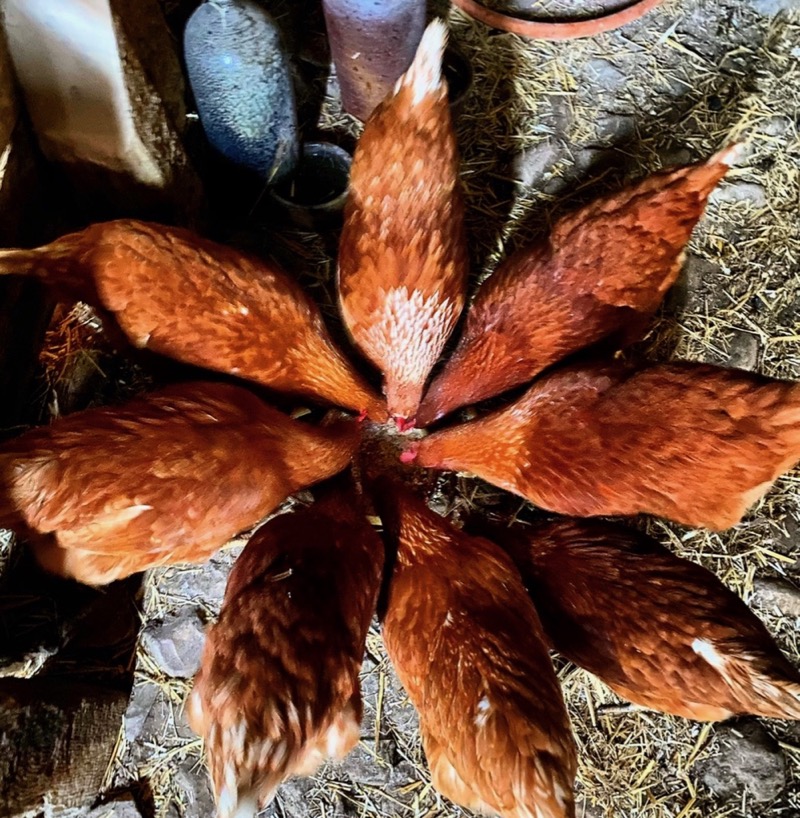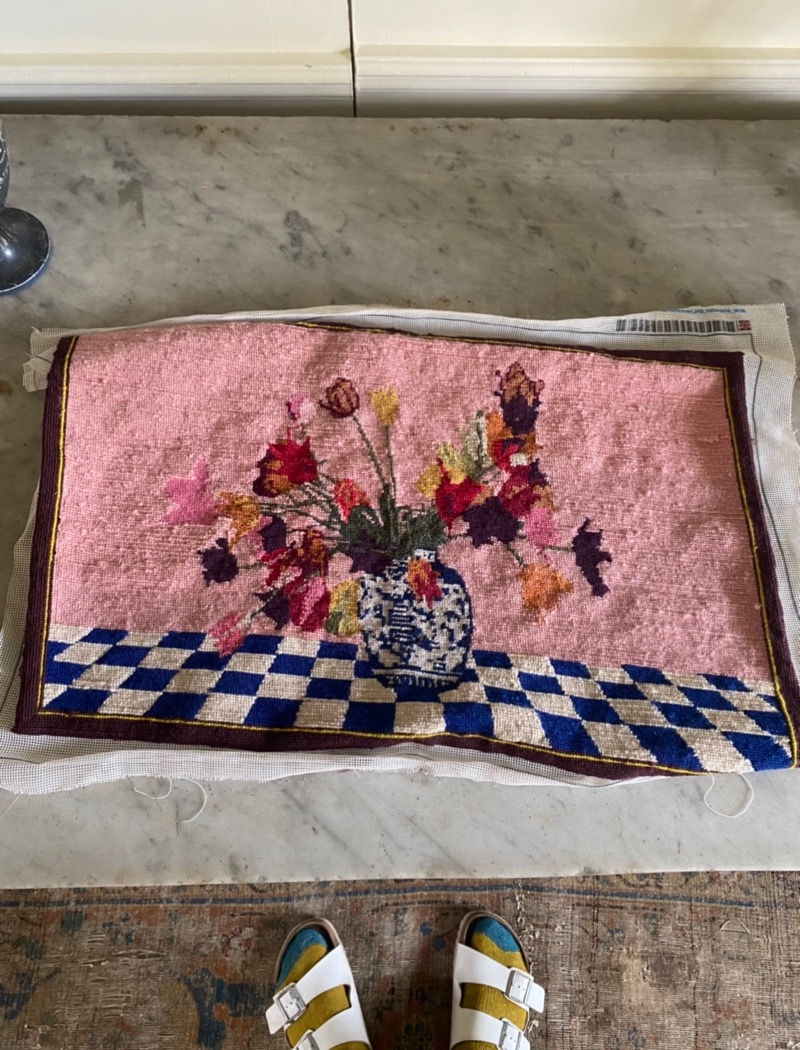 Grateful thanks to Jasper Conran,
All photographs and text copyright Jasper Conran.
www.jasperconran.com
I found my house in Stockwell 20 years ago. It's an early Victoria terraced house second from the end, with steps up to the apple green front door and a ground floor bay window on metal stilts.
All photography by www.bozgagovski.com
Thanks to Gavin, Boz, Darren
The bibleobritishtaste has asked what it is that one does turning to a new place and re-using all the leftovers for the fourth time in a lifetime .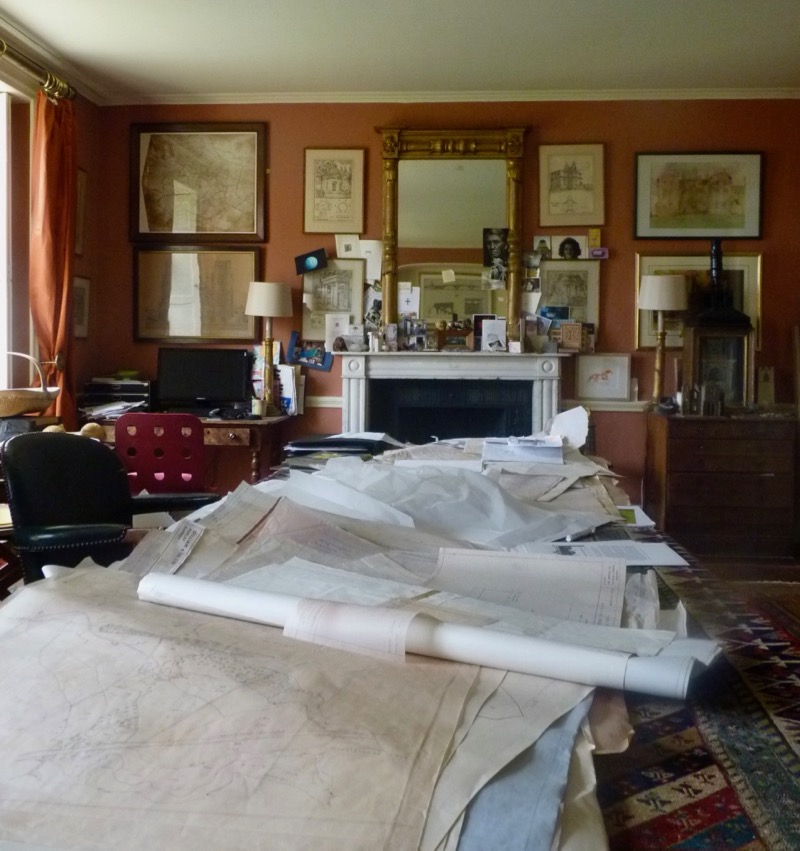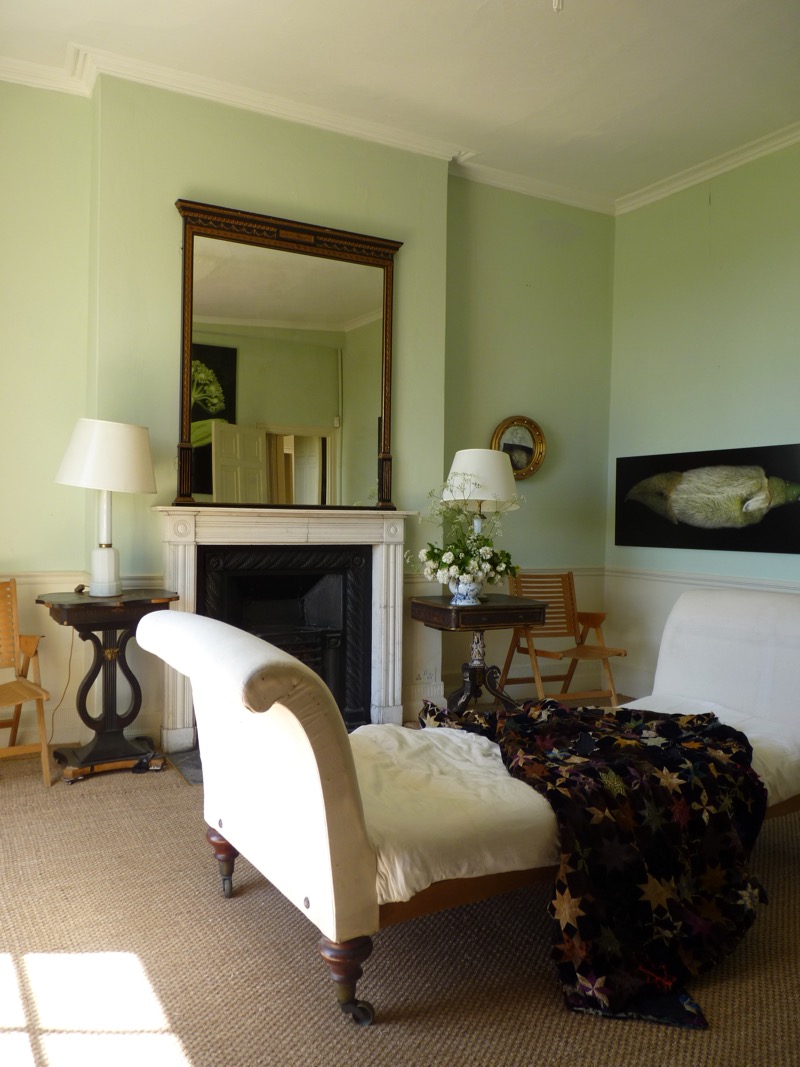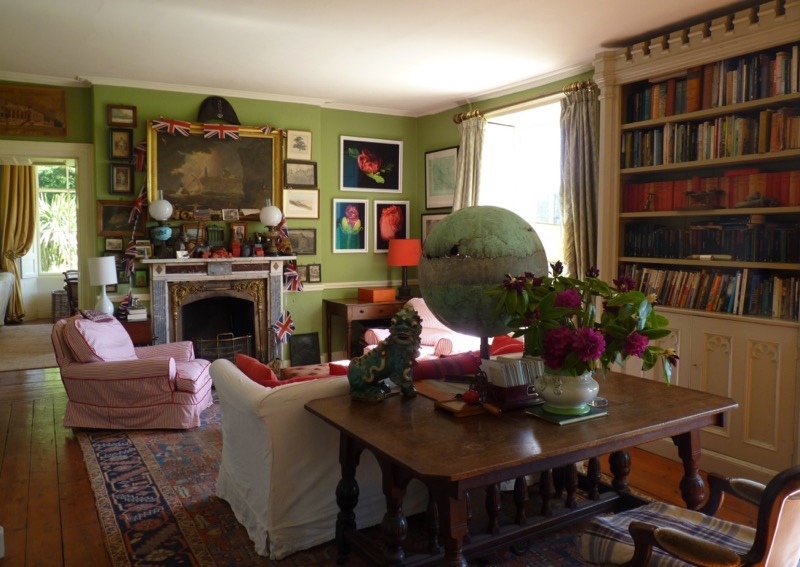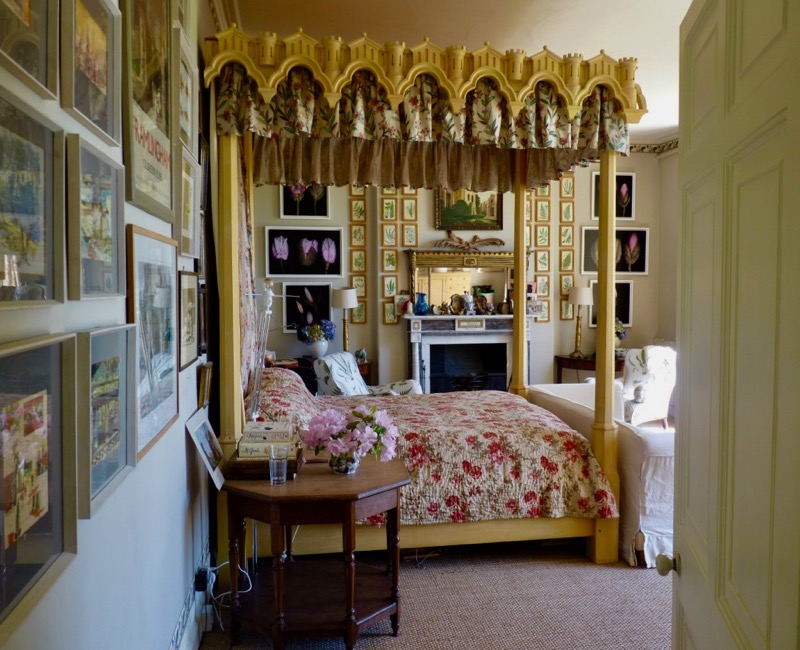 Bannermandesign.com
Isabel Bannerman is the author of Landscape of Dreams,(2016) and Scent Magic (Pimpernel Press, 2019

[All photographs copyright Isabel and Julian Bannerman/bibleofbritishtaste. Excerpts and links may be used, provided that full and clear credit is given, with appropriate and specific direction to the original content.]
I started trailing the designer Susanna White because of a lamp shade. It was a tall cone printed with 'Hunters,' the dashing repeat design of a man and woman on horseback drawn by her grandmother Joan Evelyn Thomson – aka J.E.T. 'Hunters' is entirely distinctive and remains my strong favourite among the stand out patterns that launched Whiteworks in 2017 – Susanna's design partnership with her husband John – now operating from a jewel box of a little showroom on a corner of London's Pimlico Road.
Joan Evelyn Thomson studied at art schools in Paris and Vienna in the 30s, modelled for the fashion house Worth and then fell in with the Bloomsbury Group, posing for her artist-friend Edward Wolfe who was working for the Omega Workshop. Post-war she produced these patterns of startling originality for the silk and textile supremo Zika Ascher, whose stable of artist-designers included Matisse, Cecil Beaton, Ivon Hitchens and Henry Moore. She counted Ravilious and Graham Green among her friends, married more than once, hung out with the Beatles and the Maharishi and took up Transcendental Meditation. Her designs were forgotten until Susanna found them in an old folio in a chest of drawers in her father's house in 2014.
Susanna brought her experience in interior design to develop the JET collection of wallpapers and fabrics and makes beautiful use of them in the house in Gloucestershire that she built with her husband. It's based on a 'provincial merchant with ideas above station and no pocket to match and no below stairs servicing conceits…. and a house called Honnington that is a marvel,' she says. It's still a work in progress, unpatinated. But, 'the best thing was that a friend bought her aged Mother with Alzheimer's, who wandered round the garden saying she had 'been here before'.'
For the bibleofbritishtaste she writes about Living with her Design Heroes, the makers and artists she constantly refers to herself. ' I like the premise that Syrie Maugham had painted everything white and the new wave pushed in with pattern and chintz. It struck a chord.,' she wrote to me. 'For all the talk about pattern and colour, people are still feeling super attached to grey and mushroom tones – I remember reading in a magazine that a room had been painted in 38 different shades of white… '
~ NOW READ ON ~
By Susanna White.
For the last 10 years John and I have been building a house and a garden. We knocked down a 1970's prefabricated building and replaced it with a classical, one room thick, neo-Georgian dolls house with the surprise blessing of the local planners. It is not everyone's cup of tea but it has been a complete privilege to draw on the influence of Design Heroes, while experiencing the endless choices and accidents that make up our house, not least the influence of the makers and robust interpretation on their part in producing a house from an C18th pattern book with (scant) broadband and C21st trimmings. A multitude of influences have contributed to create our interior and I have with great difficulty chosen to focus on a significant few, who I think are anchors to the whole.
MARTHE ARMITAGE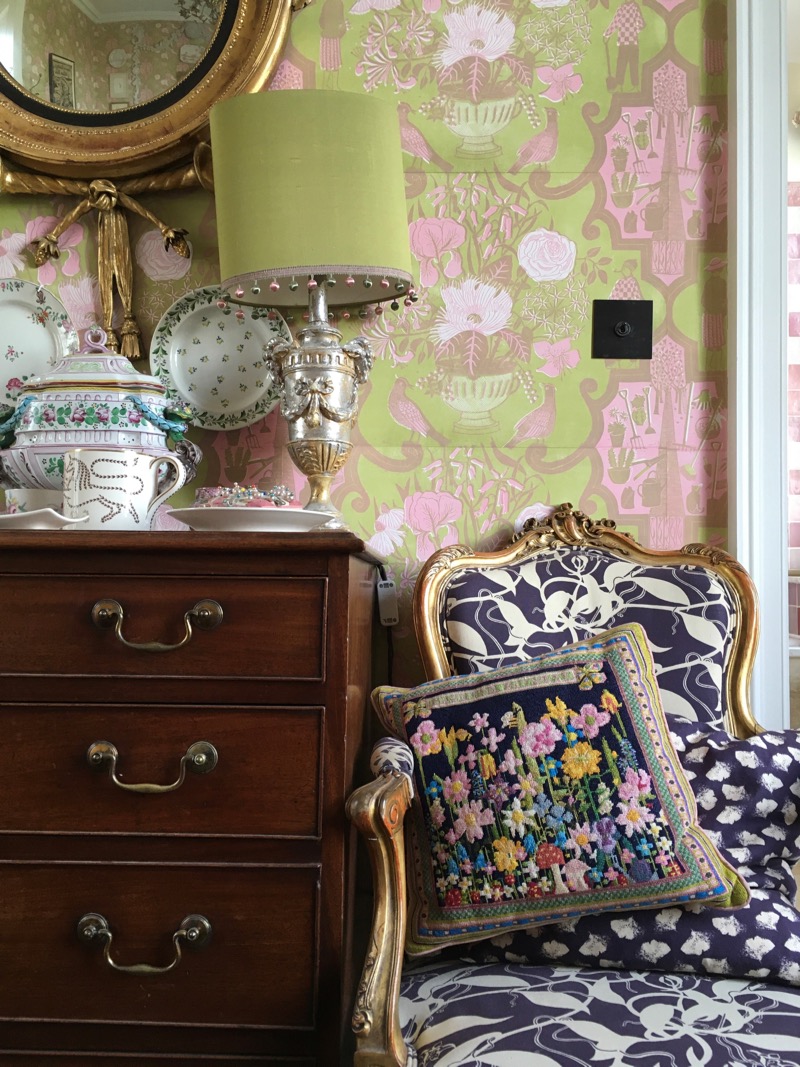 I love to imagine some intrigued expert scraping away layers of history hundreds of years hence and being rewarded finally with fragments of the original papers. What a privilege and what a responsibility – Marthe Armitage was an obvious must.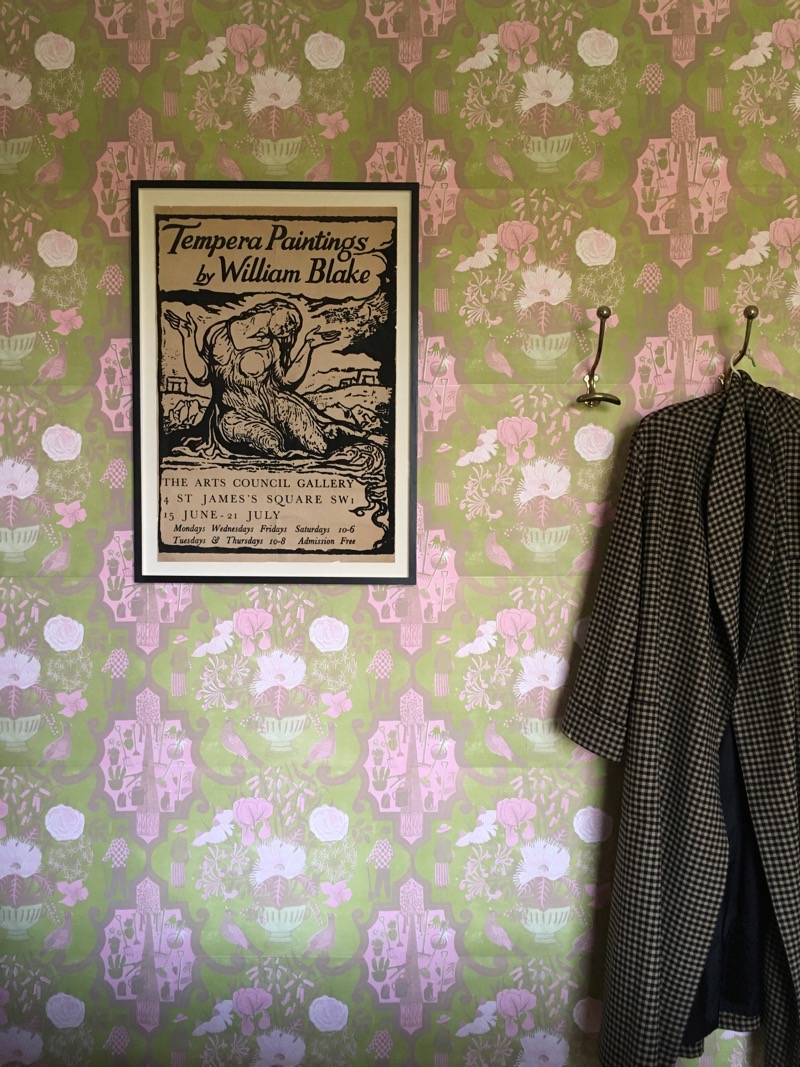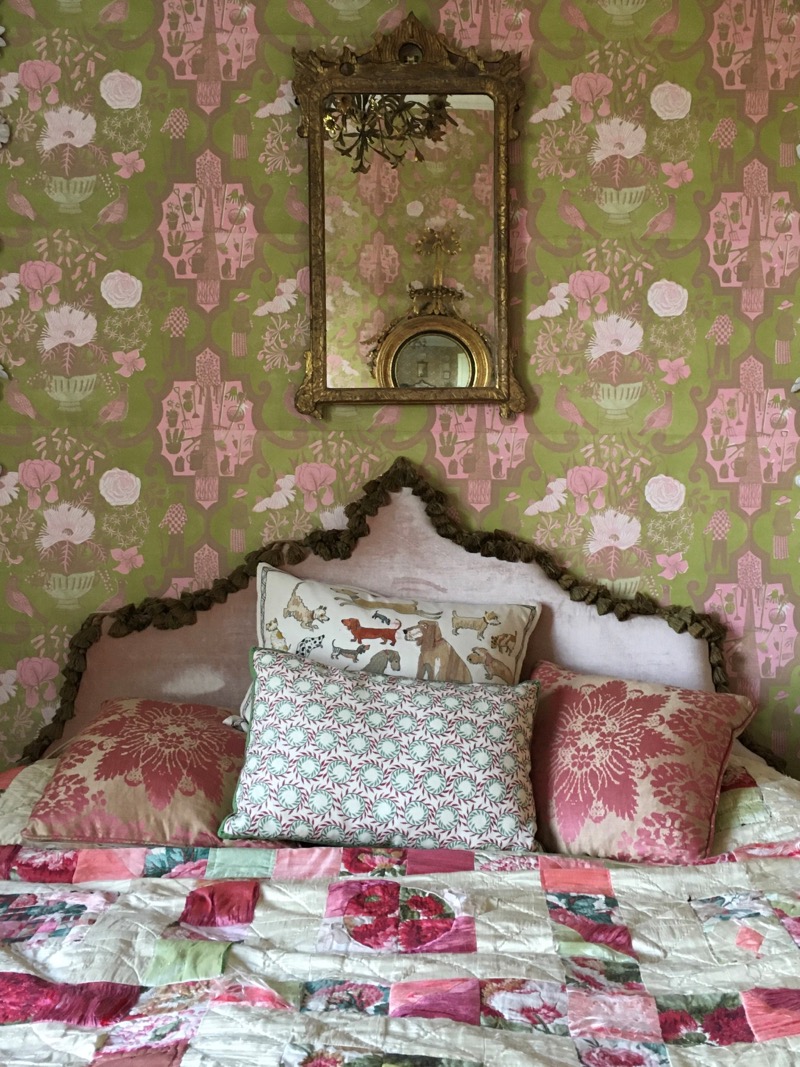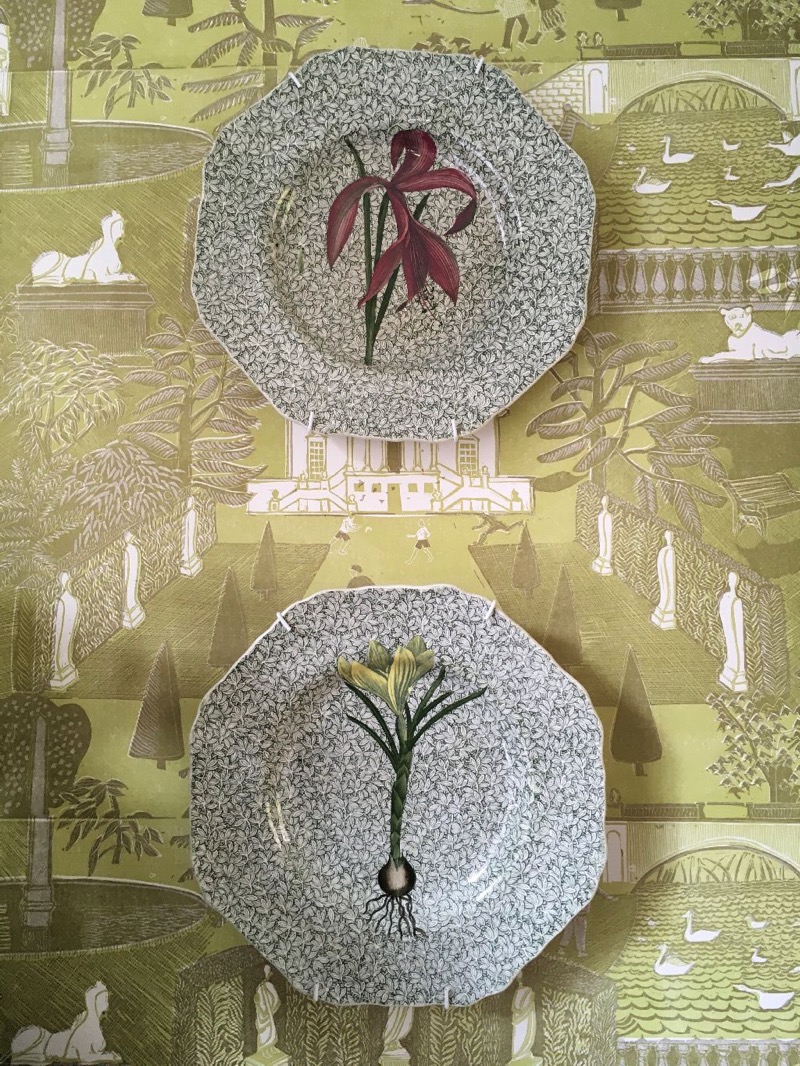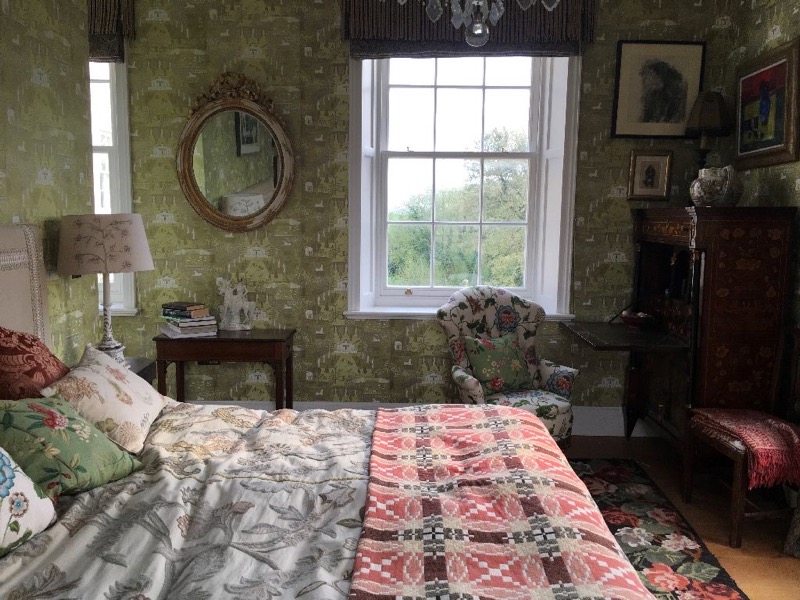 Guest bedroom in Marthe Armitage wallpaper, Chiswick House in green.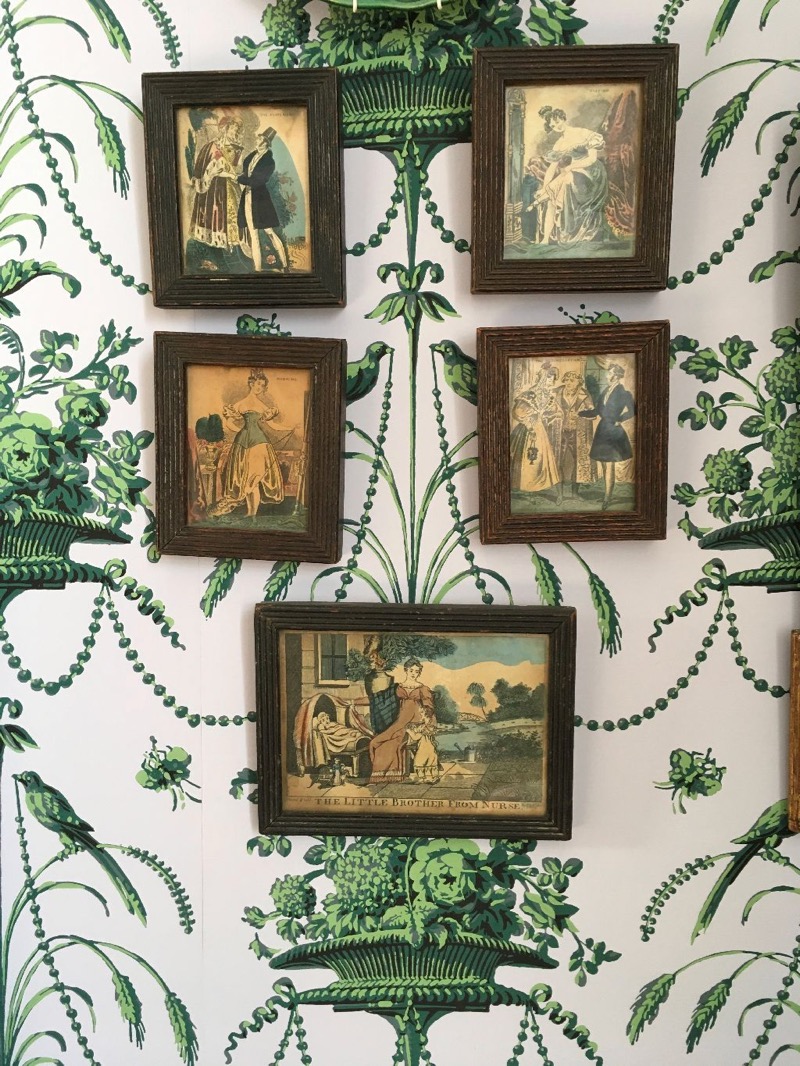 ADELPHI PARAKEETS AND PEARLS
Marthe was (and still is) represented by Hamilton Weston and it was here that I accidentally bumped into Adelphi's work, whom HW were also representing at the time.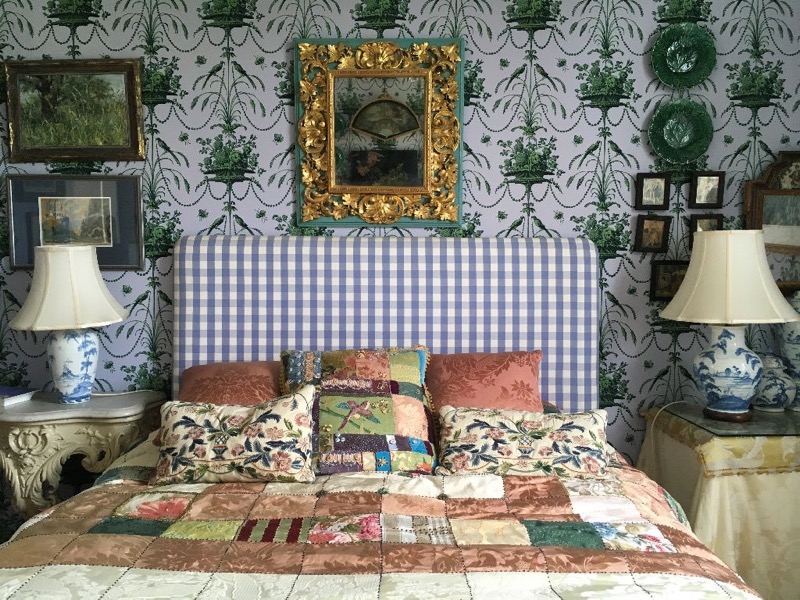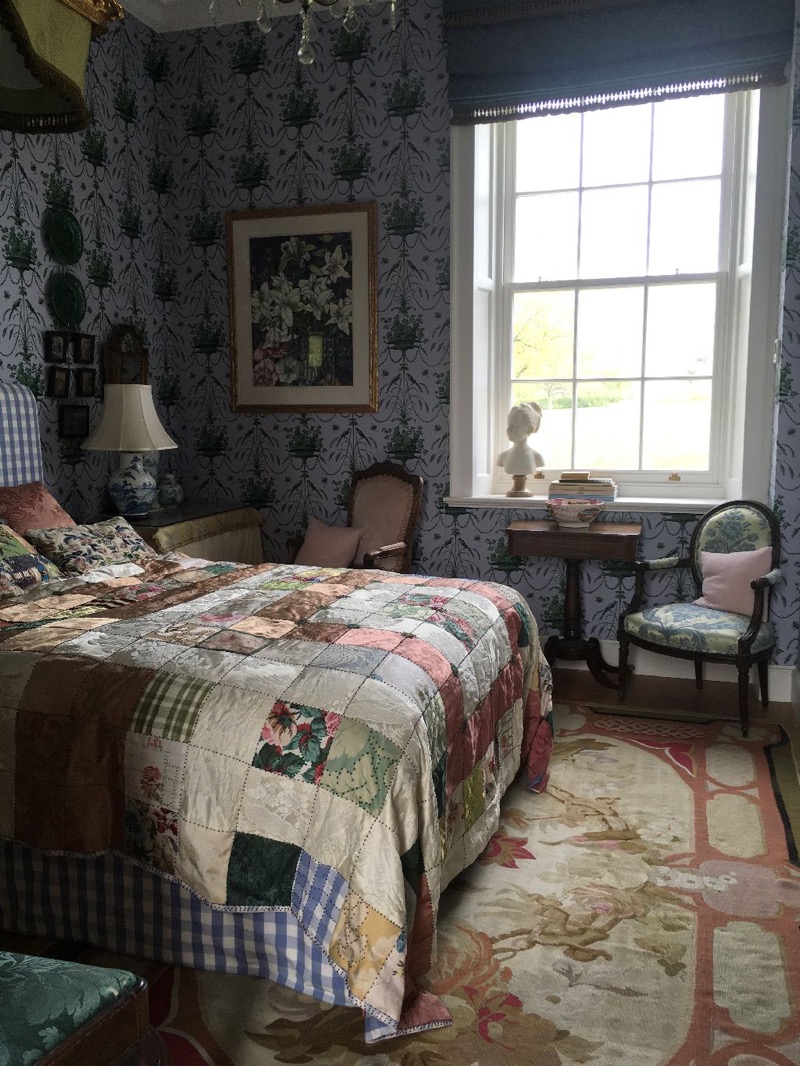 I love our 'Parakeets and Pearls" an C18th French design in a custom Parma-Violet colour, almost more than life itself. I was so excited to find the paper hung in the latest Woodhouse dining room in the recent film adaptation of "Emma" in the original salmon pink and green document colours complimented by heavy swagged curtains dripping with fine passementerie.
JET AND EDWARD WOLFE
As we built the house, Jet's designs were still lying undiscovered in a drawer, it was unimaginable then that we would be pasting the designs of this singular Grandmother onto walls.
Teddy Wolfe, was Jet's great mucker, a rather flamboyant RA who had worked with Duncan Grant in The Omega workshop and been billeted with Jet and her first husband in Dorset during the war with his aged Mother, and his work features throughout the house.
Wolfe painted Jet many times with and without clothes on. We recently found this rather odd drawing of her by Wolfe in a dusty South London auction house, she, reposed in middle age with sturdy shoes, tweed skirt and no top on.
AUBUSSON
My Mother would have described our motley collection of Aubussons as "going-home," splitting, threadbare and stained.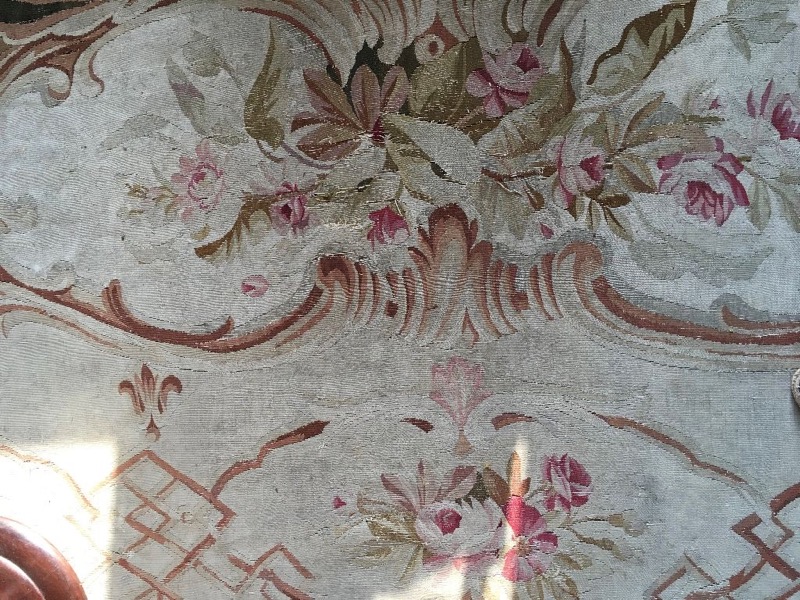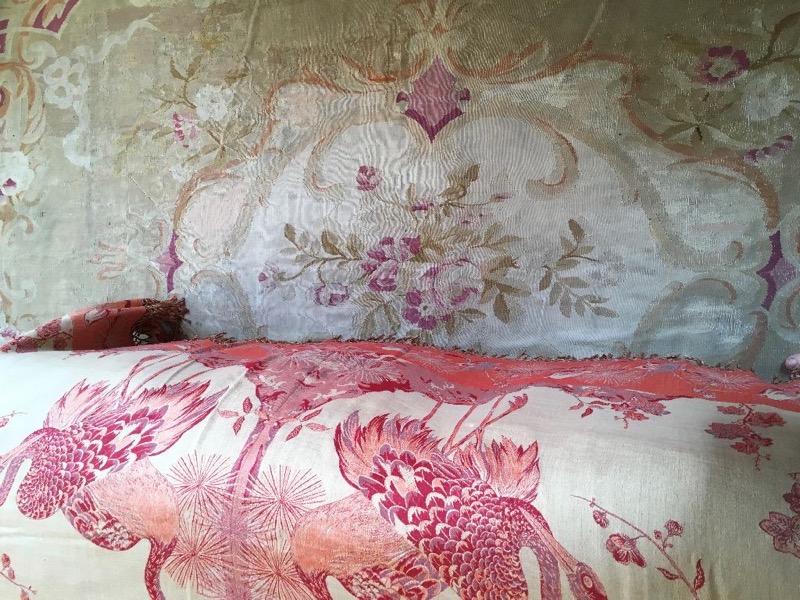 The big one in the drawing room with faded, browning, blousy blooms came from a house in Norfolk by way of friend and Independent Art Adviser, Charles Bingham-Newland. It was reported that the modest proceeds were deployed to help restoration of "the good one". Muddy dogs naturally gravitate towards this canine friendly floor cloth and wine and coffee is regularly spilt without guilt or remorse
BEATON AND SPRY
Some of the elements of the house are period, found in strange reclamation yards. Since the outside is made of stone, we wanted fireplaces of wood.
Nick Gifford-Meade, then in Pimlico had the shelf of a chimney piece carved with a favourite motif of basket of flowers, around which we built our drawing room fireplace and was rumoured to have belonged to Cecil Beaton. Years later we found a photograph recording the chimney piece in Beaton's bedroom at Redditch.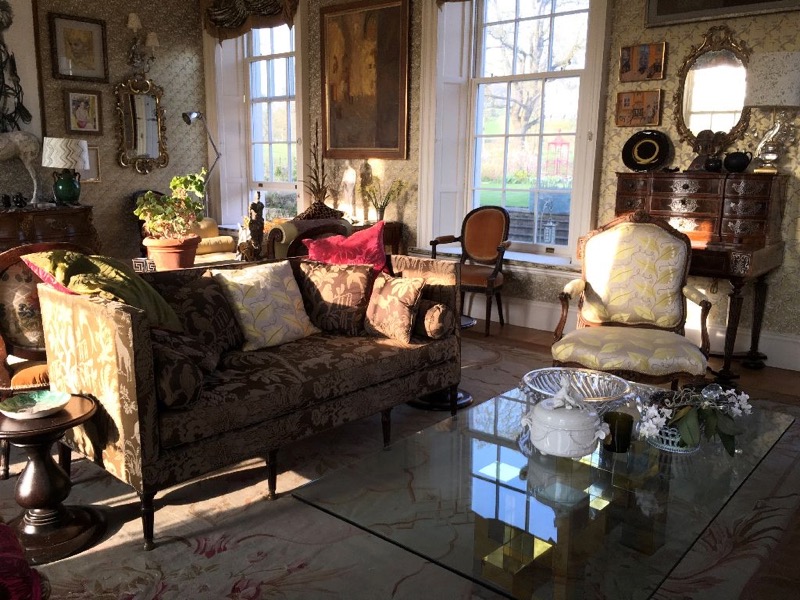 At certain times of the year, the late West light directly illuminates the treasured carved surface and hits the ghost of his careless fingerprint left.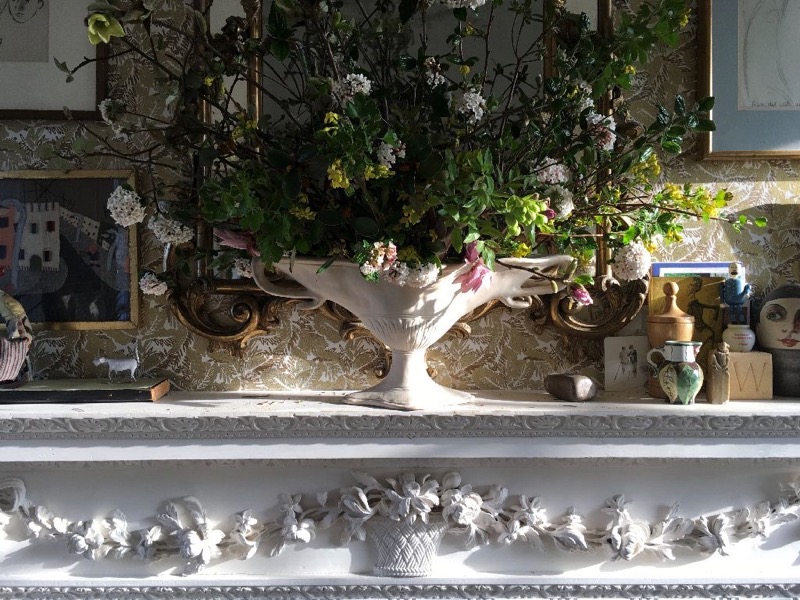 Above the C18th century version of a basket of flowers is often a C20th version by Constance Spry, a comparatively shrewish, 'hands on hip' shape of vessel demanding notice, spilling over with seasonal clippings from the garden.
DIANA REYNELL
Grotto expert, Diana Reynell made the chandelier in the dining room.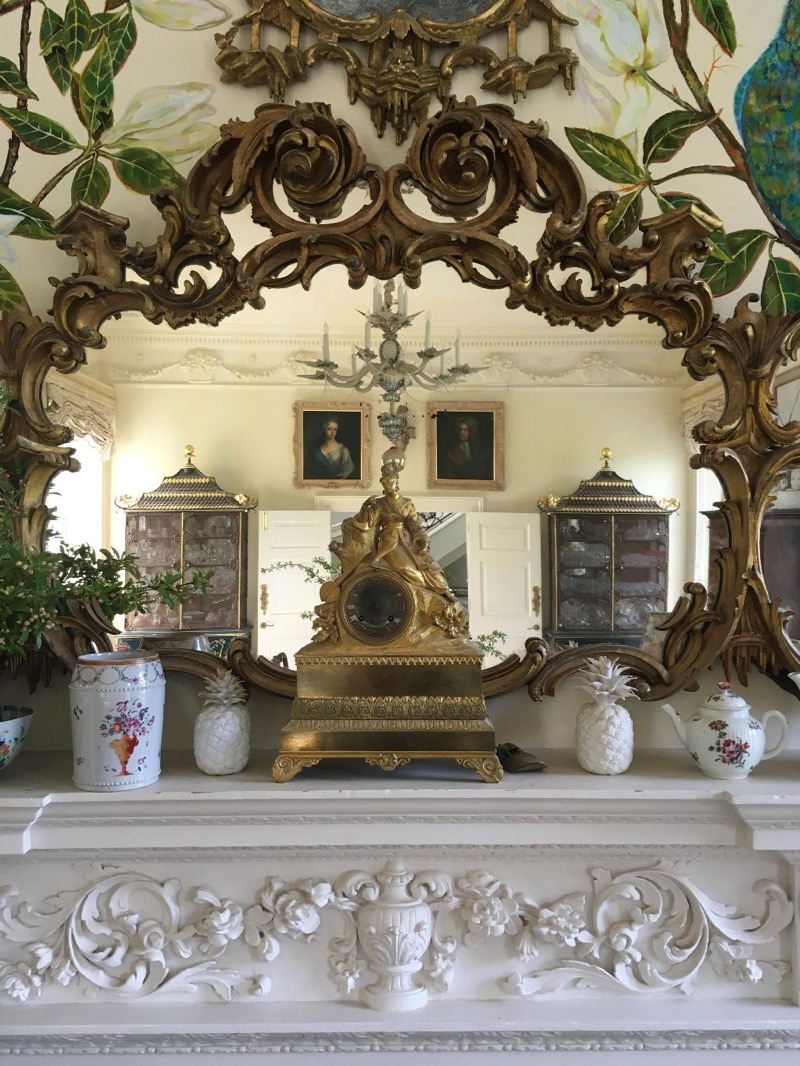 So we cohabit with these Design Heroes of ours – friendly presences who dispel some of the loneliness during this period of enforced introspection – focussing on a few, making a chain of memories, of times, people and skills, that root us into our strange new situation. Thank goodness we do not live in an uber cool, perfectly chic, award winning monastic space, as that would send me to the madhouse just now.
All thanks to Susanna (who wrote this) and John White of Whiteworks Group. The Jet Collection is online and at JET and Co, 20A Pimlico Road, Belgravia.
[All photographs copyright Whiteworks/bibleofbritishtaste. Excerpts and links may be used, provided that full and clear credit is given, with appropriate and specific direction to the original content.]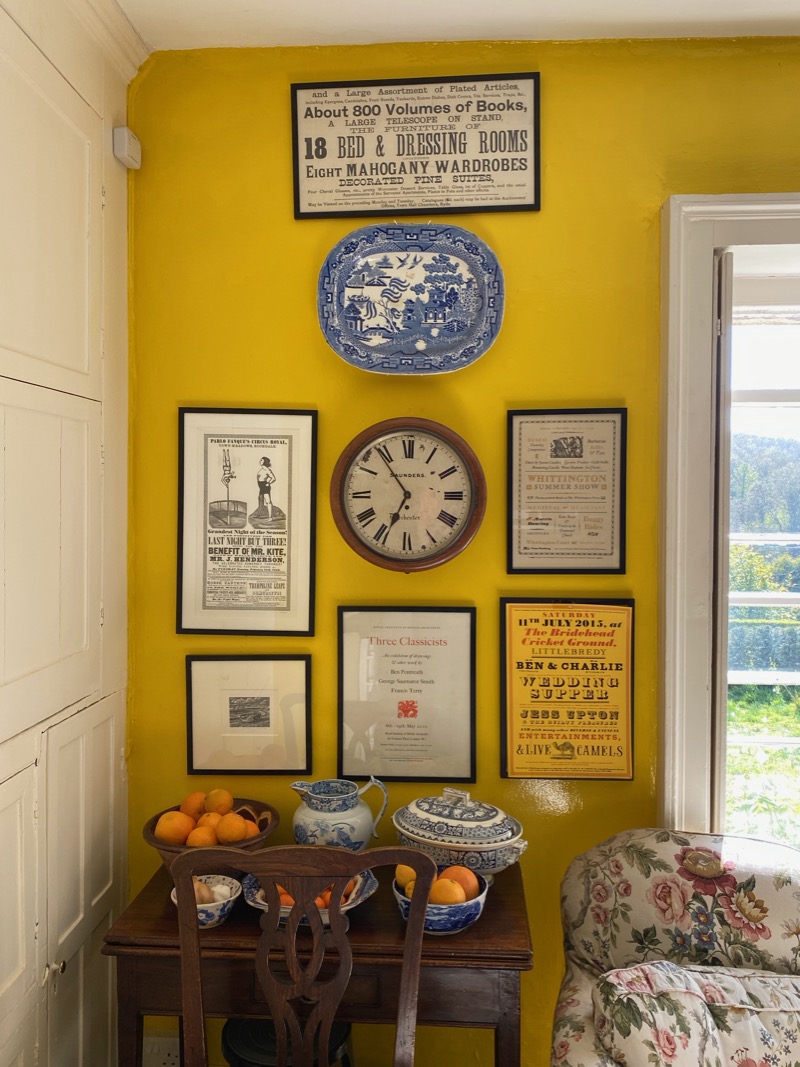 It's four weeks now since we've been here, down in Dorset. I'd say a couple of weeks ago the house got very tidy indeed. Everyone in the country, housebound and feeling helpless, went on a massive spring clean. We were no exception. It was a distraction to fear and sadness; in the world of an invisible killer it felt like a sensible defence.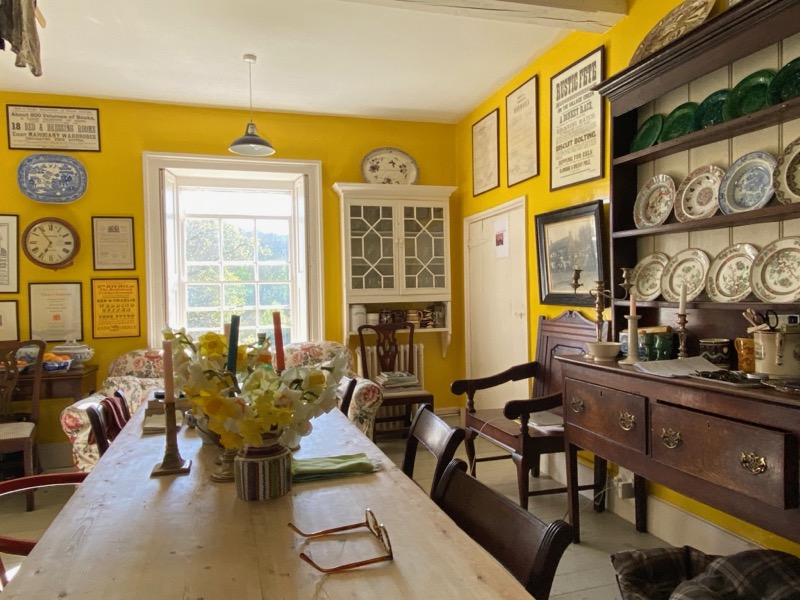 But I'm glad to say that two weeks on, we've calmed down a bit, and are realising that our cleaning lady Anne's view of dust (that if you carry on dusting the dust carries on coming back) has pretty powerful logic to it. So now the house has that nice gentle relaxed feeling to it of it being lived in for weeks and weeks in a row for the first time, literally, in nearly two decades. My predecessors at the Old Parsonage were hardly ever here except in the holidays; we're here almost every week, but in normally in London for some of that time too. A house takes on a different feel when it is permanently occupied. A couple of years ago we came down here for a month in the summer, a record that will be overtaken this week. And how strange our flat in London must feel, shut up, curtains drawn, deserted, empty; at the top of an empty building in an empty Square…
So there is something idyllic in the lockdown situation, yet which makes one feel a bit guilty too… guilty for being surrounded by wide green open spaces where we walk every day, guilty for not really being touched by the sense of chaos, or indeed, hell on earth, that we know that some people and some families are going through. Guilty at being in a tiny backwater in a quiet part of Dorset in what must feel like the most beautiful warm spring in years.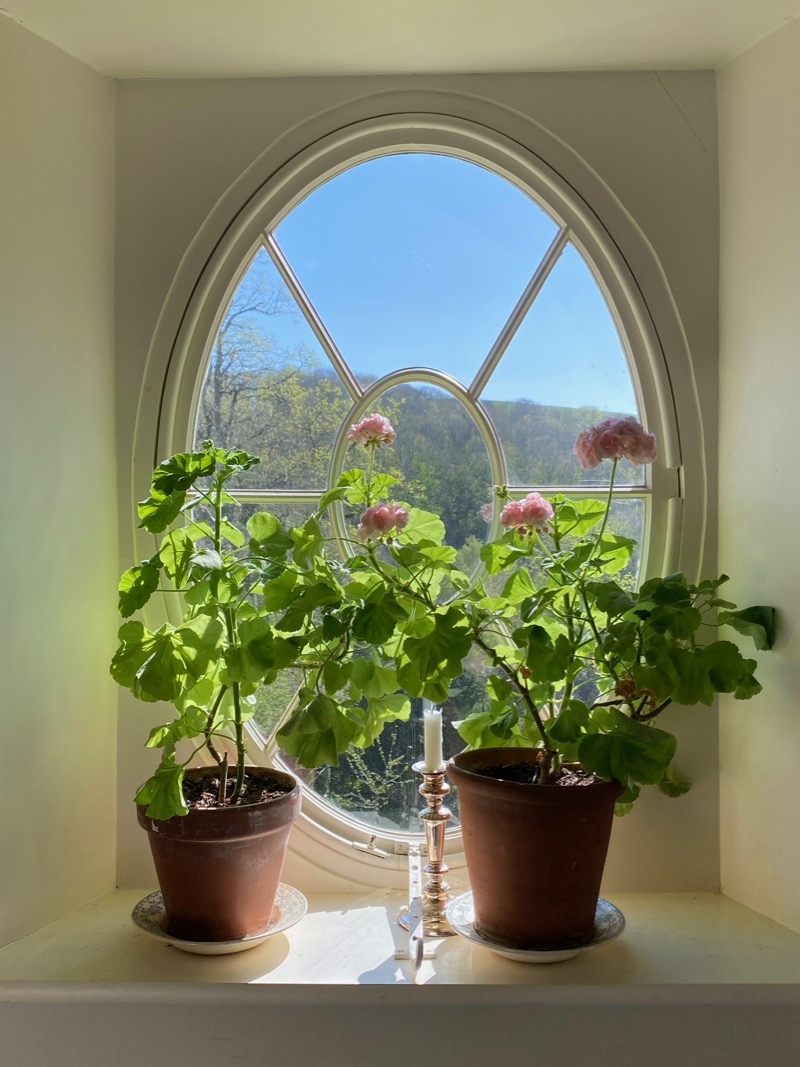 Curiously too the days have been hurtling by; we start with a long walk, early; breakfast, then I start work – a half-hour lunch and then sometimes I've been emerging at 7 or 8 in the evening, before starting again. So Easter – four days off, with nothing happening – has been strangely needed and yet almost listless, empty, senseless by comparison. Charlie has been working incredibly hard in the garden, and getting his chickens in, and incubating a dozen runner duck and chicken eggs which are due to hatch in ten days. We've been going to bed strangely early, sleeping either incredibly soundly or having fretful, fitful nights depending on the pull of the moon and night fears and worries. Either way, the dawn chorus and our early walk has been a huge restorer.
Today, I've taken a few photographs of the Parsonage on an astonishingly bright afternoon – the air is clear, the sun is brilliant, the wind is cold – to just show a few of the rooms here. I've lived here now since 2008; five years ago, Charlie and I were married, and the house became ours not mine. So much nicer that way. Twelve years is a long time in one building, in a way; long enough for walls to get faded where you haven't had pictures hanging; for rugs and furniture to bleach to paleness if they are too close to the huge south-facing windows where the sun streams in all day long. I like that.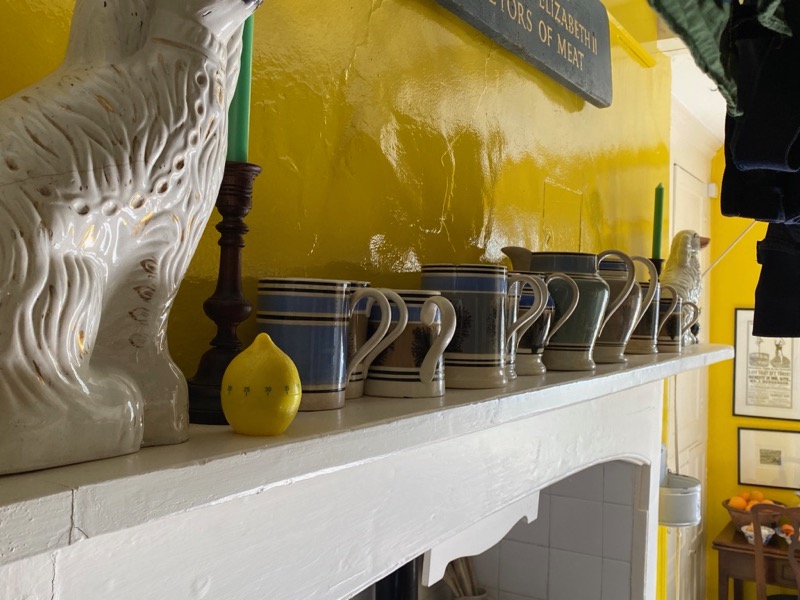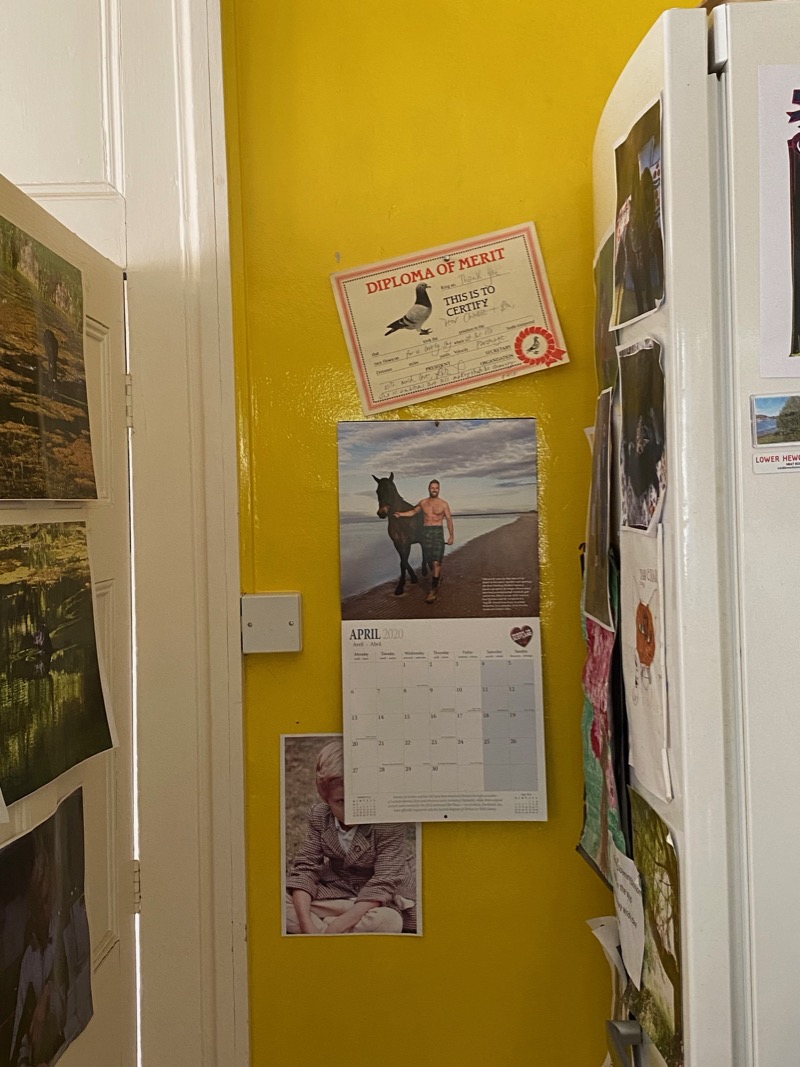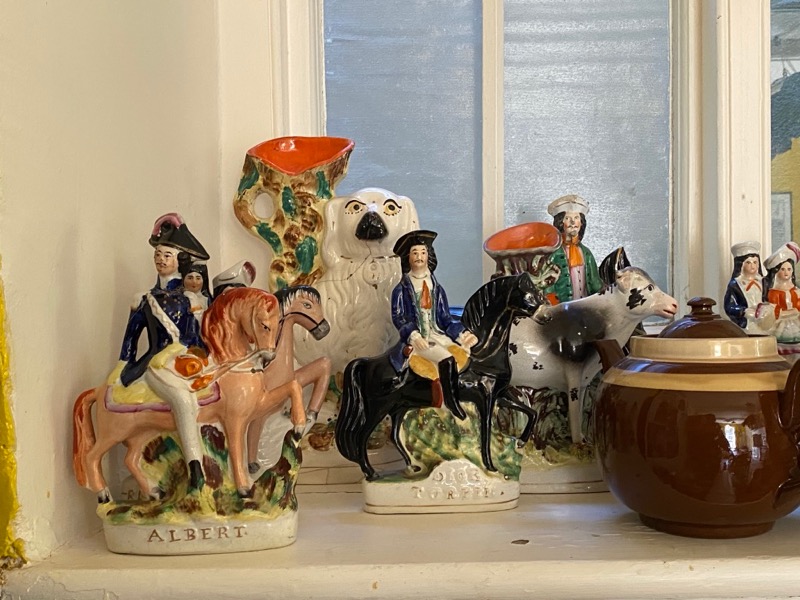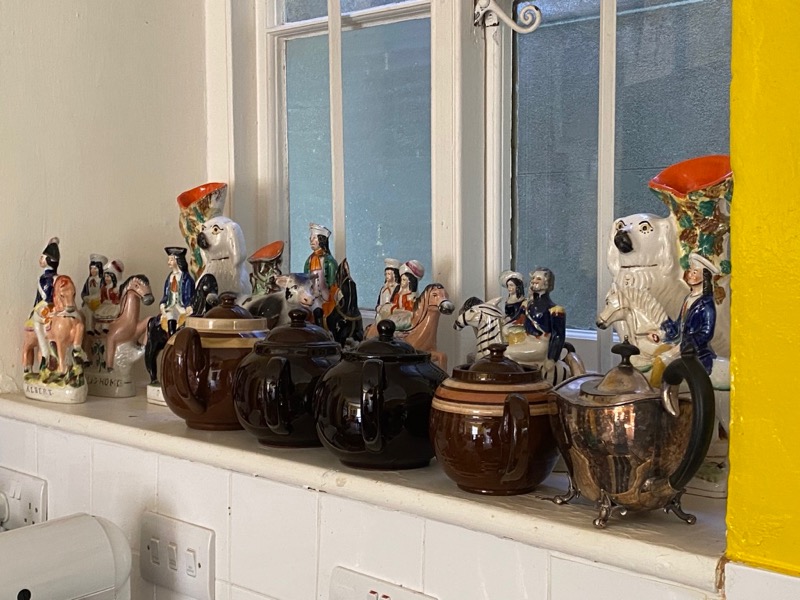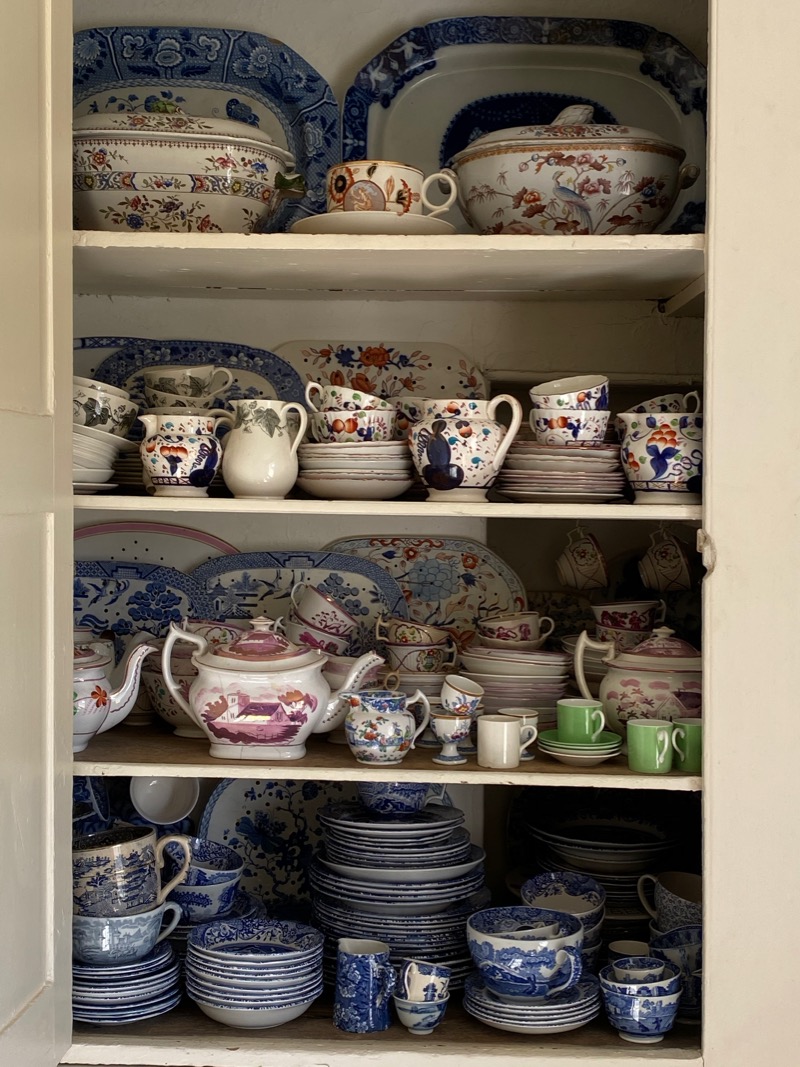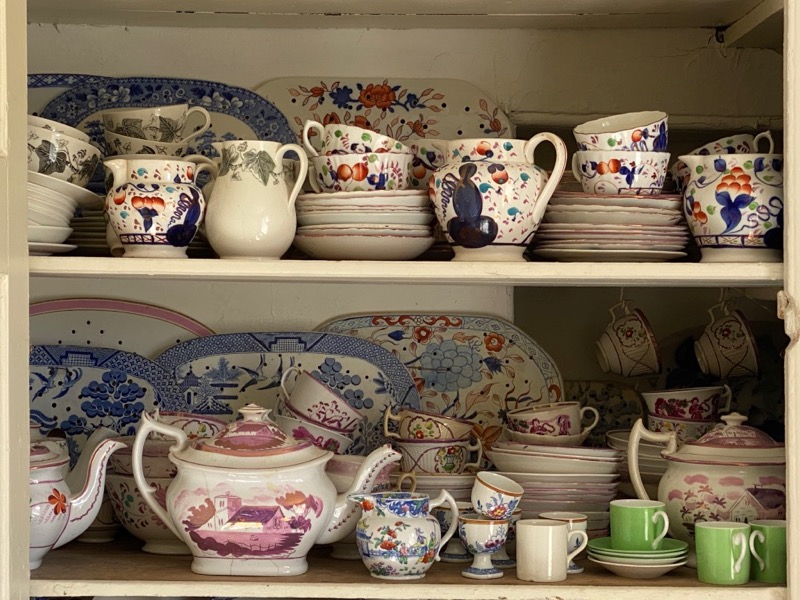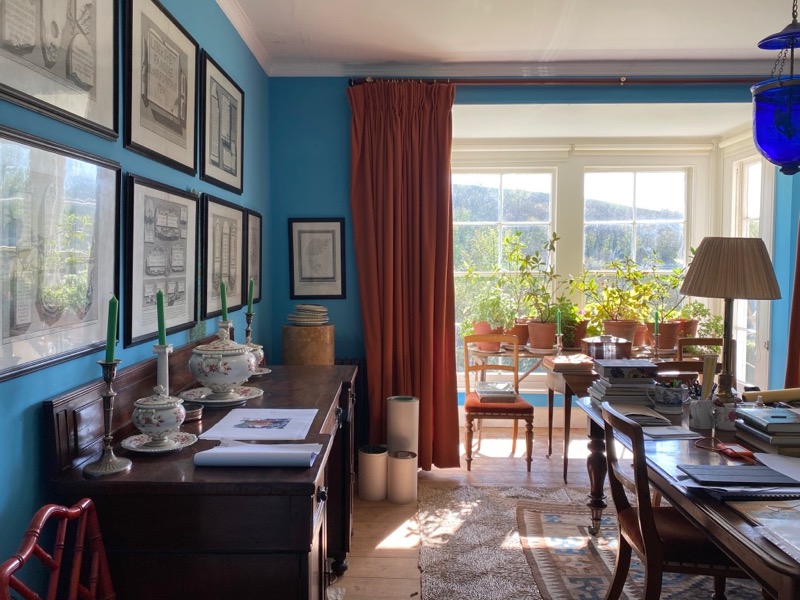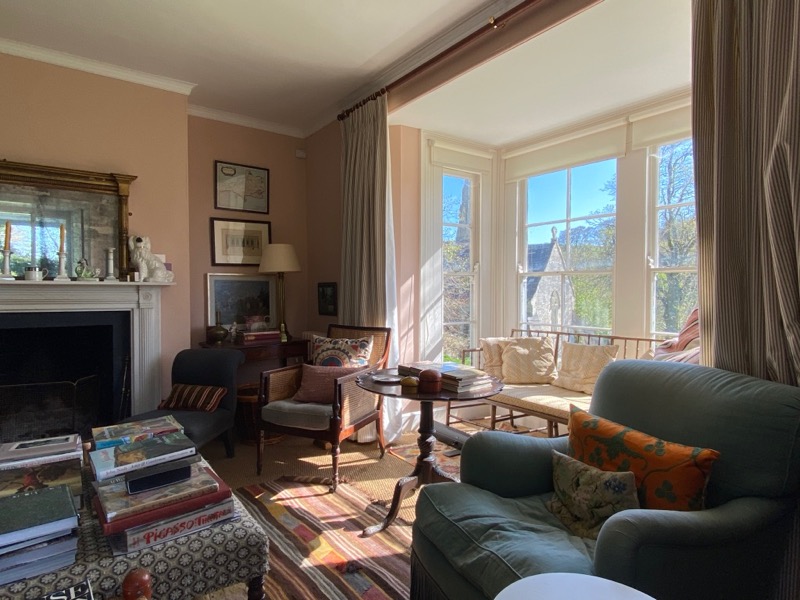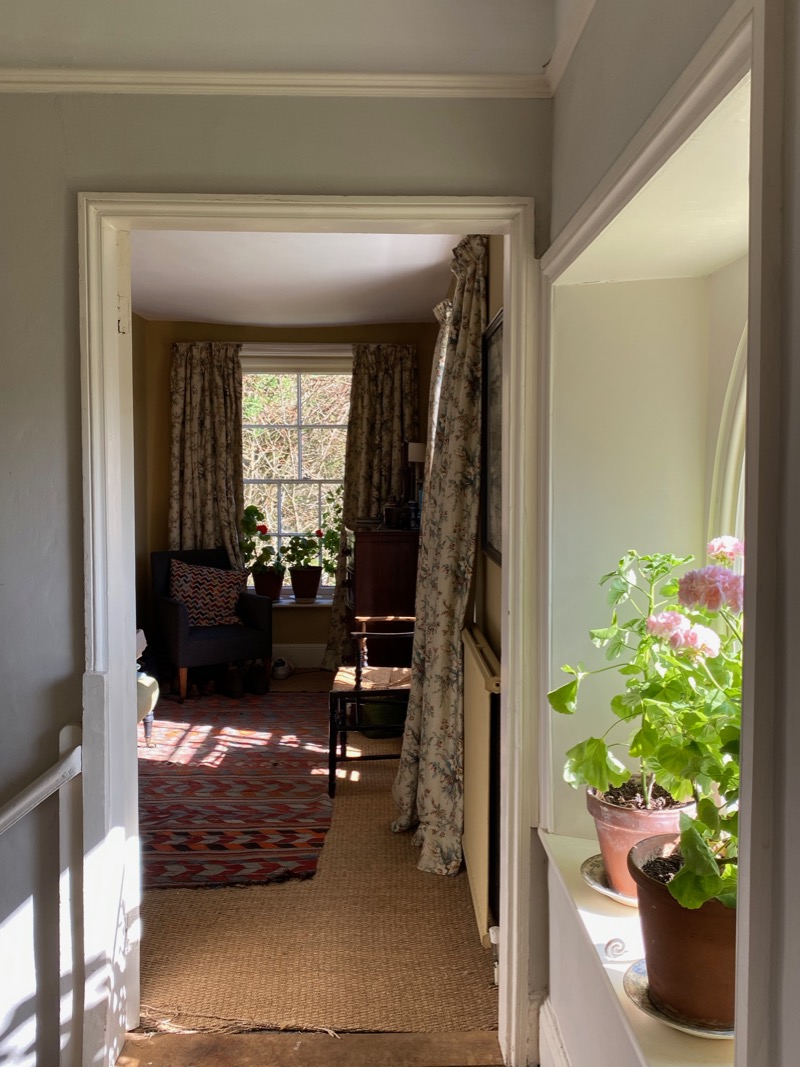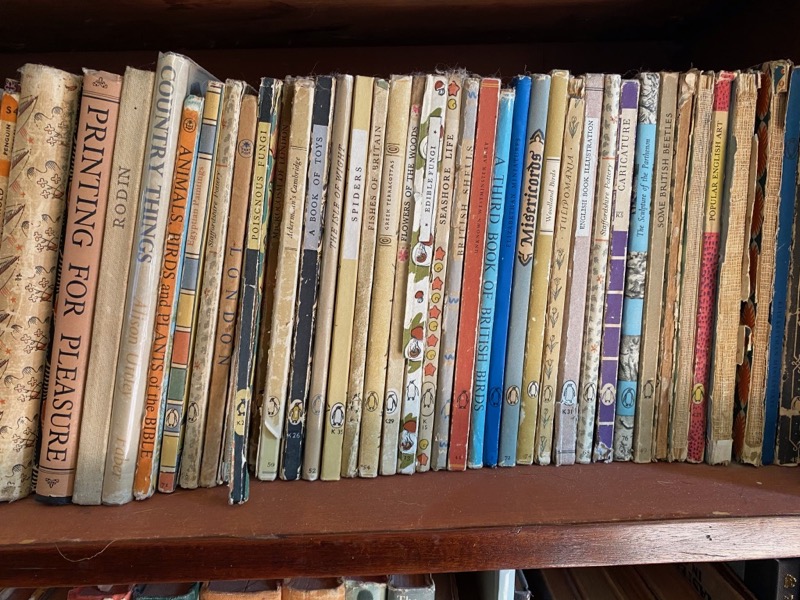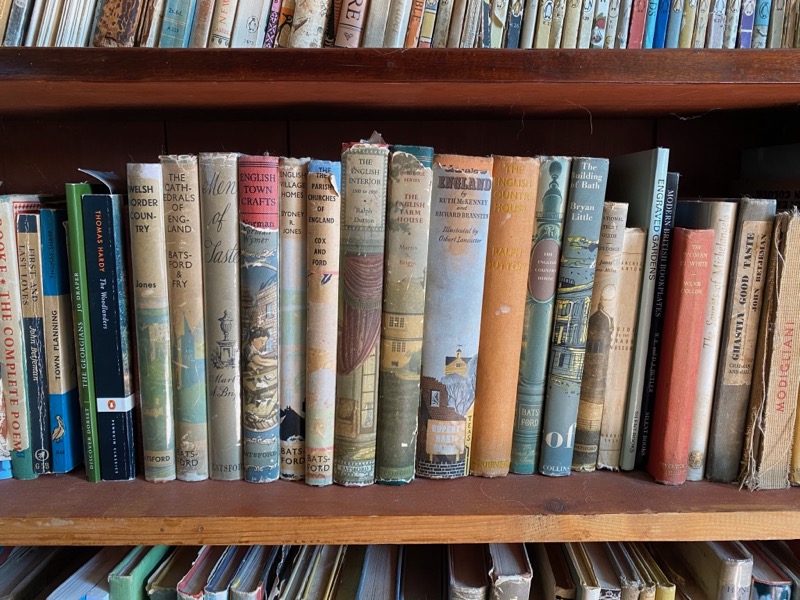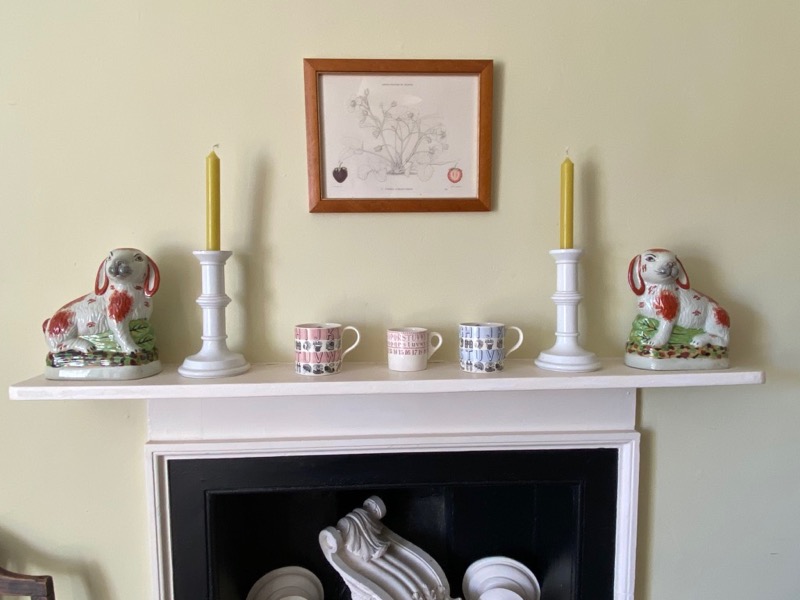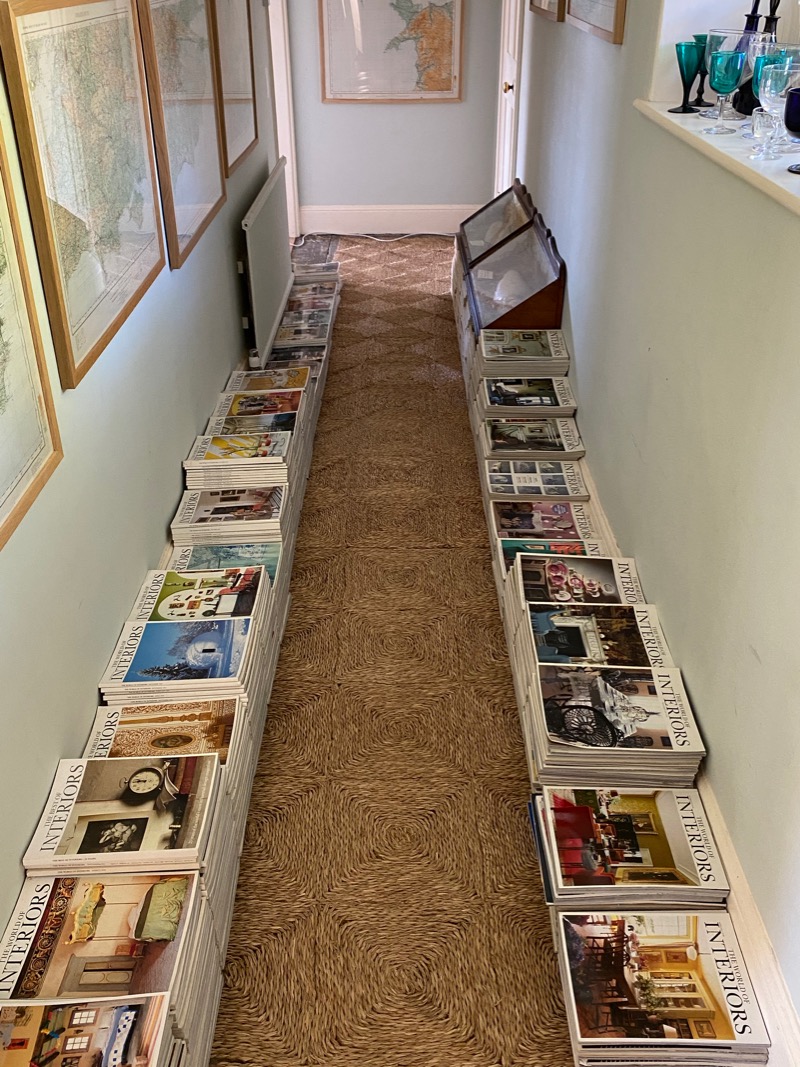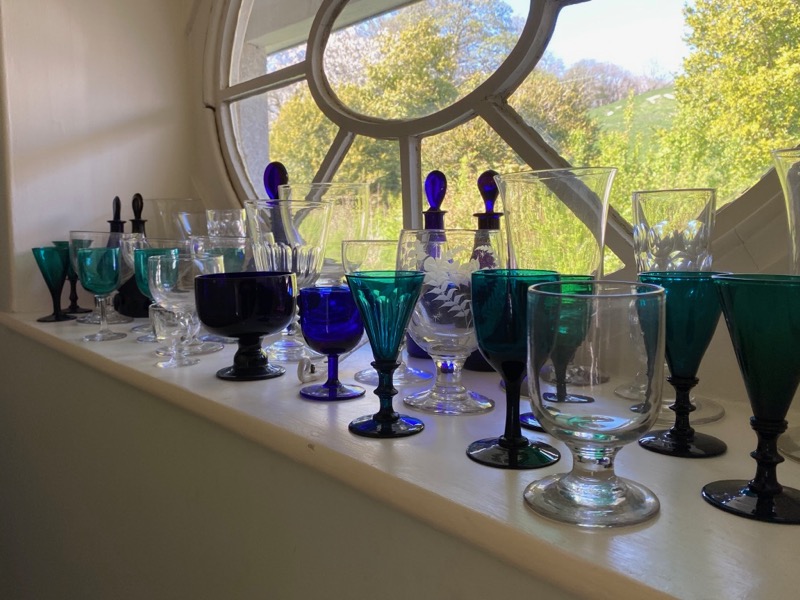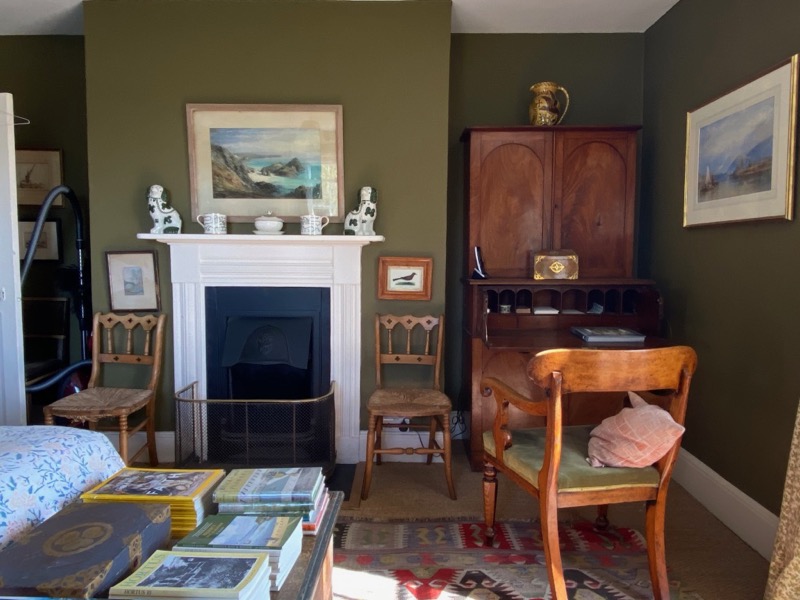 There are two paintings by my Cornish ancestor, Richard Thomas Pentreath – the one above the fireplace Charlie and I found at Portobello.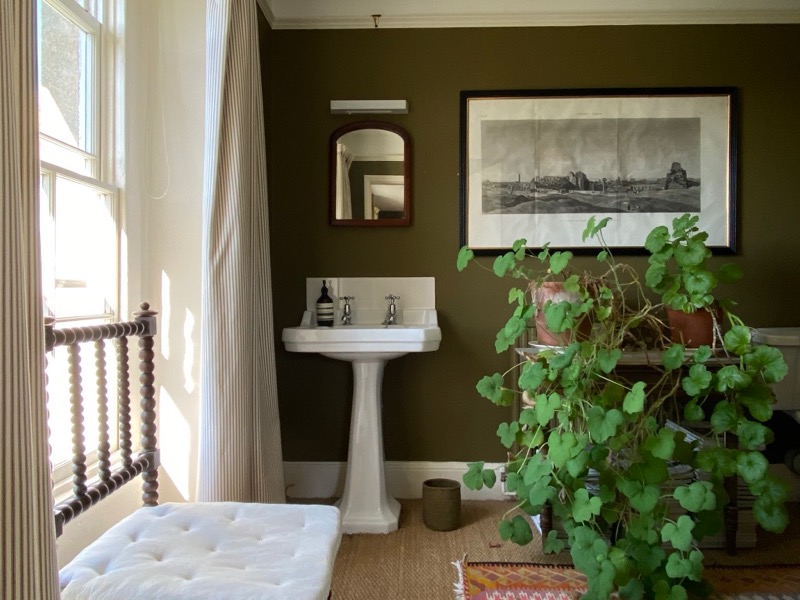 Well, I've gone a bit mad really with harvest mugs. I think we'll redecorate this bathroom soon, it needs to be a bit more fun, like the gloss yellow walls that we decided to paint the kitchen a couple of years ago.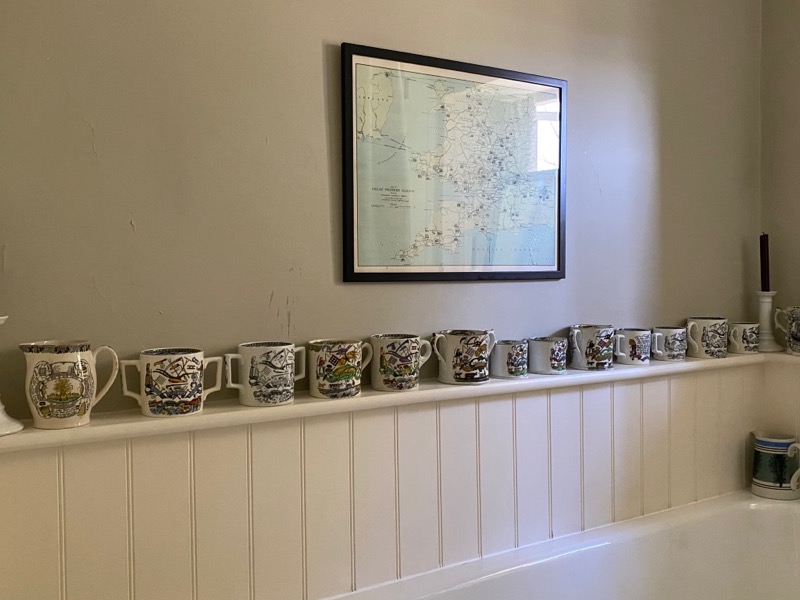 Years and years ago, when I was about 8, my best friend lived in the old Parsonage. It's a house I've literally known since the 70s. This room was his playroom. We spent hours in here. For a while I had it set up as an office. It was a beautiful room but the internet and phone line didn't work there at all so I gave it up. It became a store and then a few years ago Charlie turned it into his flower room.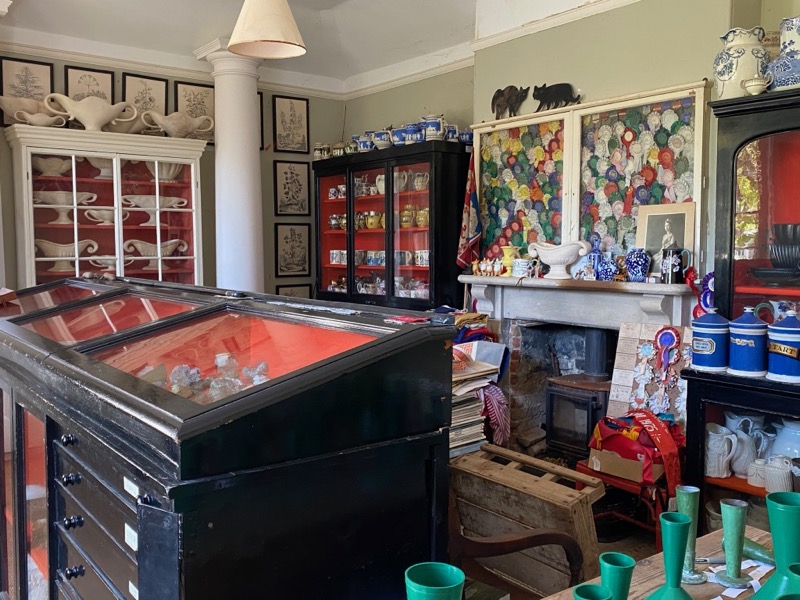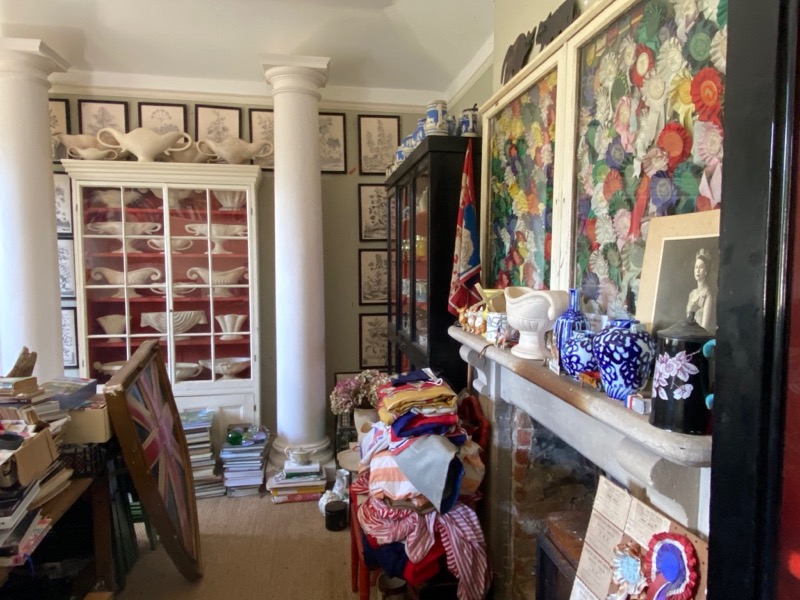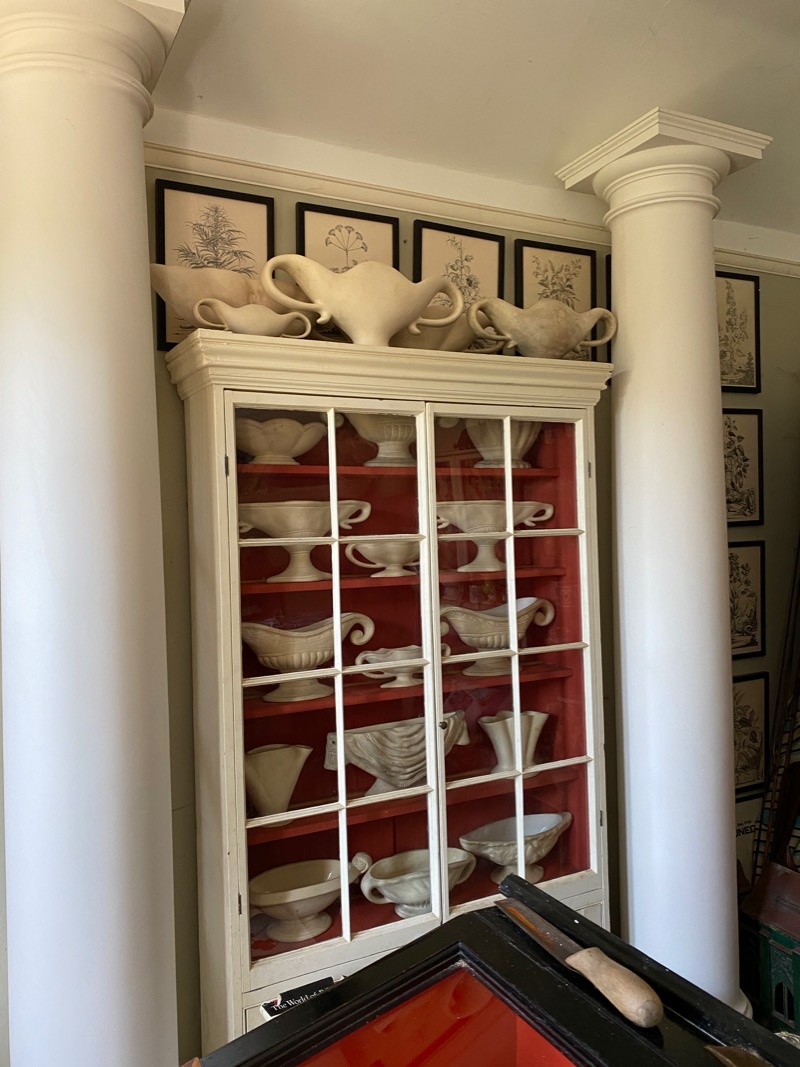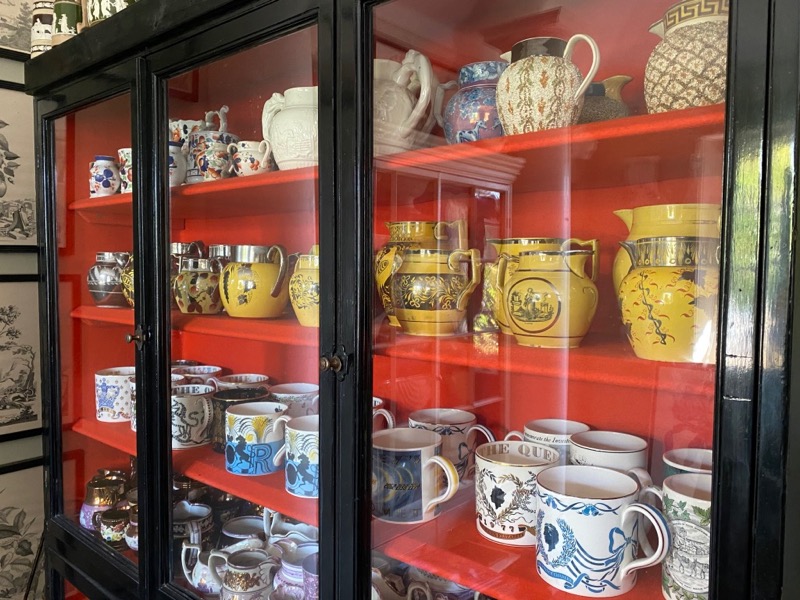 [All photographs copyright Ben Pentreath/bibleofbritishtaste. Excerpts and links may be used, provided that full and clear credit is given, with appropriate and specific direction to the original content.]