Bridie was sent to England by a family friend, the pop musician Alanna Currie who had made the same journey of discovery herself in 1977. Bridie's first job was in the tiny branch of the parfumier Penhaligon in Brook Street – 'I never got sick of the smells.' Alanna had told her to keep open-minded – don't second guess anyone, you never know who's going to walk through the door. Next she apprenticed herself to Roberta Gordon-Smith and by 2001-2 she was doing decorative finishes, 'drag-rolling Kensington houses from basement to attic in oatmeal colour.' She set up on her own by 2003, and got a job with Maisie Rowe and Thomas Heatherwick, hand-brush-painting the Georgian house they were restoring in Kings Cross from top to bottom. For Thomas's 35th birthday party she had cast him a little waxed ebonised plinth. And someone came in and said, 'Who made this!?' I said, 'I did!' And we went outside for a cigarette. [This was the Heatherwick's friend Ben Pentreath, newly arrived back from a stint working in New York.] And we kept in touch, he called in at my house in Columbia Road and always wanted to see what I was making there. One day I was painting Will Smalley's Rugby Street bathroom silver – which it still is – and Ben came in and said – 'I've got this SHOP! Do you want to run it?"
'My grandmother Janet was English, from Sunderland, one of seven siblings, her five brothers were riveters working at the docks. Then the war cane and my grandmother joined the W.A.F. She spent 18 months living under canvas in Grovsenor Square in London, the staff at Selfridges would donate them gloves and they were given the use of the washrooms at Claridge's Hotel… she dated lots of soldiers and then she met my grandfather Atholl who was serving in the R.N.Z.A.F.
There's a saying in New Zealand – because we're so far away from the world but wanting to be at the centre of it – 'You can make anything out of a piece of 4 by 2 wood and a bit of no. 8 wire.' There were no imports, you had to engineer it yourself. My father built our house and made all our furniture. he was a glazier, so he figured out how to make mirror balls – and he died installing the mirror ball at our local skating rink. My dad had a copy of the 'The Complete Book of Self-Sufficiency, The Classic Guide for Realists and Dreamers, by John Seymour, published in 1976. I've got a copy too.'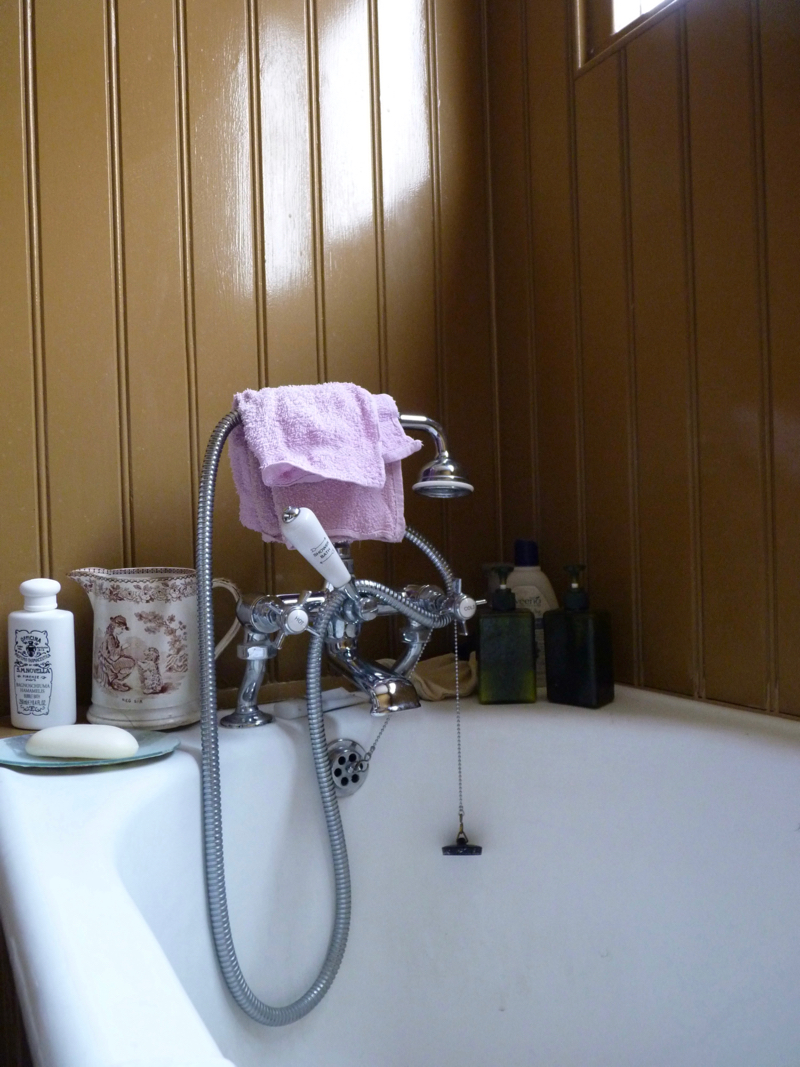 'Colour – in any shape or form – is my absolute joy and love. All the wall of my house are white and I almost feel like a minimalist. But I always get such a RUSH – when I come into this house! I want to stop people in their tracks and show them something they've never seen before, make them dive in. You look at one thing and it leads you on to another thing and tells you a story. When my brother first visited me here from NZ, he stepped into my sitting room and said, I feel as if my eyes are swimming!
In the shop, I want the people who come in to look from object to object, eyes constantly in motion, like a butterfly alighting on flower after flower, never at rest.'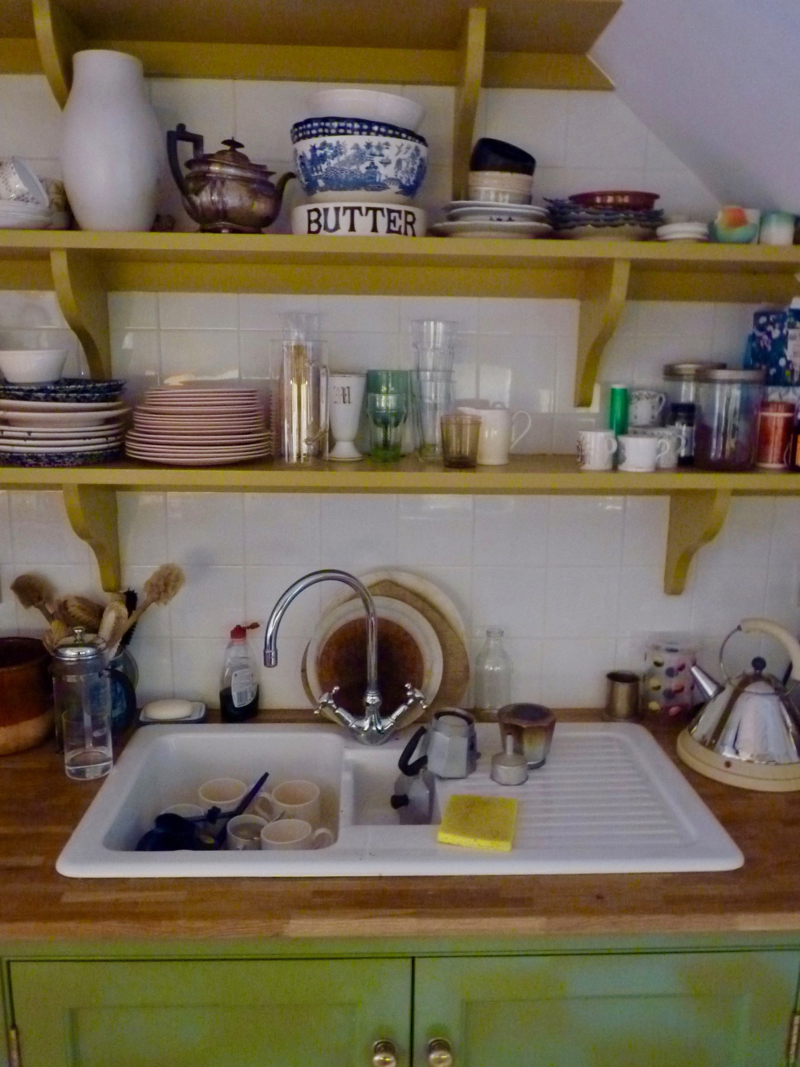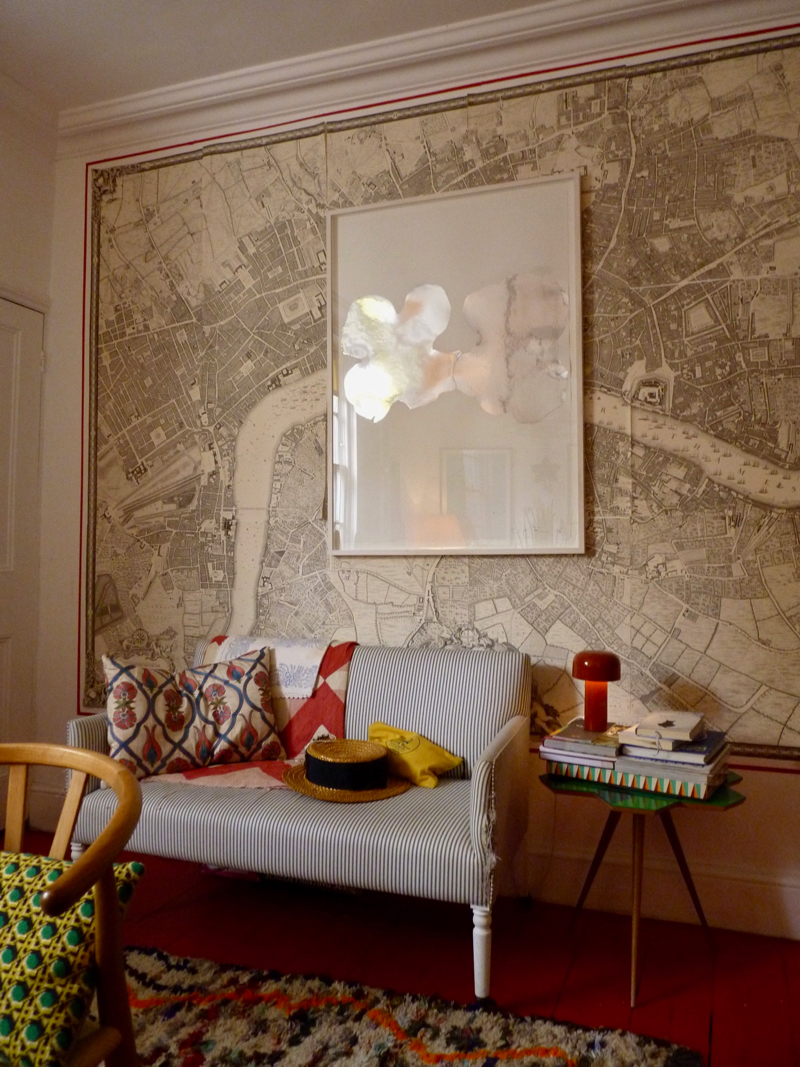 Very grateful thanks and tons of love to the talented Bridie Hall.
Bridie's designs are for sale at Pentreath and Hall, Goods and Furnishings
All photographs copyright bibleofbritishtaste. Excerpts may be used as long as clear links are supplied back to the original authors and content.