Everyone helped with everything, loading the delivery vans with garments, then piling into the pub  – the Aleppo Arms – at the end of a big production run. There were staff football matches with factory girls playing shop girls and the works canteen served healthy roasts and vegetables – Laura banned chips. 'We respected them, they respected us. There was no us and them.'
The four Ashley children gradually took up key roles and responsibilities. Jane, the eldest, became the company fashion photographer, her brother Nick worked as design director; these are their stories.
IN GOOD COMPANY, 1977  – by JANE ASHLEY
The company my parents, Laura and Bernard Ashley first set up in 1954 was called Ashley Mountney –  both their surnames, reflecting their equal contribution and talent in design and business. When we relocated to Montgomery and started the factory in Carno in 1962  – and the company became Laura Ashley Ltd –  they were in very good company. The opportunities for employment there were few and the clever and creative local people who came to work for us put their heart and soul into it.
I believe this ensured the company's success. My parents built on this solid foundation and as the company grew those who worked in the shops and design studios were just as integral: in Wales, there was Meirion, Phil, Brian and Emlyn, in London, Lynda, Jaqui [Smale], Antonia,and  Moira.
We loved growing up and going to school in mid Wales in this warm, close community. It was an honour and privilege to be part of it, in this place and at this time. The Welsh culture of music and verse was very strong and inspiring. the landscape of mountains and mists. My parents' plans and dreams for their company grew, business was discussed at every meal time and from an early age we were encouraged to put forward our opinions; I am sure we were very precocious! From about the age of 14 when my mum was making dresses I would sit in on the design meetings, by 18 I was the target audience for the clothes.
In 1973 my parents sold their Welsh longhouse near Carno and bought Rhydoldog, a country house half an hour's drive south. It had many more rooms and so the wallpapers and home furnishings began.
The downside, as anyone knows who has built a business from scratch, is the stress my parents were under, mainly because the company hadn't been financially secure up until then and they had always found it hard to get backing for their work. As children we were encouraged to contribute creatively and put forward our own ideas, sometimes we were caught in the crossfire and we learned to rise above it. There were some difficult, draining times, but as the company became successful the joy of the results of their hard work and creativity lifted us all up. This pot pouri of effort and shared purpose won us the Queens Award for Industry in 1977. How proud we were when it was presented in the factory canteen in Carno and we all ended the evening singing in the Aleppo Arms.
1977, then, seemed to me to be a pivotal year for Laura Ashley Ltd. I had been working as the in-house fashion photographer/art director for 5 years, developing ideas with my mother for campaigns based on our shared love of early black and white photos of Welsh life. Between spring 1976 and the winter of '77 the business was powering forwards and for 8 months I found myself in the forefront of what was arguably the most interesting design movement then. I was at a London art school and knew many of the emerging punk musicians. I went back and forth from the factory to the Roxy Club and took experimental fashion photos in both. I was inspired by their music and style, I didn't want to miss what was happening in London or at the factory, so I spent that year rushing between both places. I was thrilled to be in the middle of two of Britain's style eras! Very conflicting styles, of course, but the energy in the Carno factory easily matched that in the Roxy Club.
Later photo shoots were inspired by our discussions about artistic circles in history, like the Pre Raphaelite movement, and the Bloomsbury Group.
Budgets were always tight or non existent in the early years and so I would use friends and family as models.
In
1983, me and mum and Nick were working together. 'For a few years I'd been reading about the Bloomburys, their life and work. Nick went down to Charleston and talked to Angelica Garnett. We licensed The Bloomsbury Collection in 1984, 'West Wind' and 'Daphne & Apollo' two of Duncan Grant 's designs were in production in 1985 as well as other patterns.
I was lucky to have grown up behind the scenes of a British brand. It was like being in the cockpit of Concorde as it took off. My parents never imagined they would have such success. One old friend from their younger days came to visit and said my mother seemed almost apologetic at the success of Laura Ashley!
They are on record as crediting their employees in this success. A great part of my parents' skill sets was to hire people with potential and then to give them free reign to fulfill it.
So they were – literally –  in good company.
Text by Jane Ashley, 2021. From 1995-2020 Jane Ashley ran The Ashley Family Foundation, the charitable foundation set up by the family after her mother Laura's death in 1985, a role now taken on by her sister Emma Shuckburgh, her cousin and her son.
NICK ASHLEY, ON LAURA ASHLEY
At the end of WW2 my mother went to Italy and noticed a lot of young ladies wearing large bright printed cotton scarves, on the head, or as a wrap at the beach. She thought this was a nice way to cheer up the drab demob outfits back home.
On her return she set about printing some scarves of her own, her friends liked them and my father got roped into screen printing these scarves on the kitchen table, then hanging them up to dry all over the flat. My father took a suitcase full to Harrods, sold them , and by the time he had walked back to his flat ( it was not close but he could not afford the bus fare) the phone was ringing for some more.
They expanded into home products, oven gloves, aprons, tea towels, all fresh cotton with simple screen printed motifs in limited colours. This was the early Fifties and most of the shops were full of nylon clothes and bright primary colours, so the Ashley's cottons and natural colours came as a fresh , slightly nostalgic reminder of a gentler past. My parents had no money at all at the time, but what little they had went into buying fabric, dyestuff and screens. They did not even " waste" money on accommodation, as children, we were housed in two ex army " pup" tents at a camp site by a river, we loved it, blissfully unaware that we were technically a homeless family.
For the next twenty years my mother designed, my father printed, my uncle helped with the printing, my grandmother helped with the sewing.
My older sister had a
camera thrust into her hands and set off with myself and a bunch of pals to create the black and white revivalist style photos that explained "the look" which was tied into a certain lifestyle, a very simple life, mainly in the country, with healthy food and hand made clothes, that could also be worn in town… with rolls of furnishing fabric that could be turned into curtains and bed covers, in fact anything that required lots of printed fabric, as this was all produced in-house in our own factories in Wales.
My mother was highly influenced by her travels abroad as a teenager ( she had volunteered into the Special Overseas Envoy aged nineteen, and worked as an armed de-coder based from a safe house near Brussels). In her spare time she snooped on farmhouses and Chateaux, the simple but elegant fabrics and furniture, the crisp linen and the sparkling glass, everything that made for an immaculate home, but of course it was all quite expensive, so the opportunity was there to make the same products, but at a lower price. She thought it would be nice to sell elegant chintz fabrics, or simple "peasant" prints all at low prices, so that anyone could be an interior designer, no restrictions, this tied in with the D.I.Y boom in the Seventies, and then it really took off.
My father then realised that he was only one step away from designing,making, distributing and selling all under one roof, in other words, a vertically integrated company. This brought the prices right down, and the profits right up. No middlemen, this meant that the customer could manage to afford fabrics and clothes that were previously only available to wealthy people, now everyone could live like Royalty, and they did. On a global basis, we were opening shops and factories at a crazy rate: in one week we opened seven shops, then continued until we had five hundred worldwide. My older brother got press-ganged into expanding into the American market, this was a fabulously successful venture, my younger teenage sister contributed by designing a teenage collection for her and her pals, then her pals pals.
My mother's design philosophy was very simple: more dash than cash. Everyone has style, she used to say, if exposed to nice things, it costs nothing to research, and most things can be home made… even for a castle.
My mother was not interested in fashion or ephemeral things,she had a deep love of costume and dressing up, so when forced by the customers to make "fashion" she used costume designers and makers to put the collections together. The result was cotton ball gowns for five pounds each. Young girls were buying these by the armful for parties, events or just because the sun came out. The mothers then followed suit in the same styles made shorter for daywear. Everything on sale in our shops was printed and sewn in our thirteen factories in Wales, most of the sewing was done by women who until that point had not had much opportunity to earn an income, so it was very empowering for them to earn their own money and spend it on … anything they wanted.
The massive expansion carried on until 1985 when my mother lost her life in an unfortunate accident, that was the end of it.
Nick Ashley, 2020.
Nick Ashley continued to work in fashion, with Dunhill, Tod's and Private White V.C.
POSTSCRIPT: BIBLE OF BRITISH TASTE WRITES –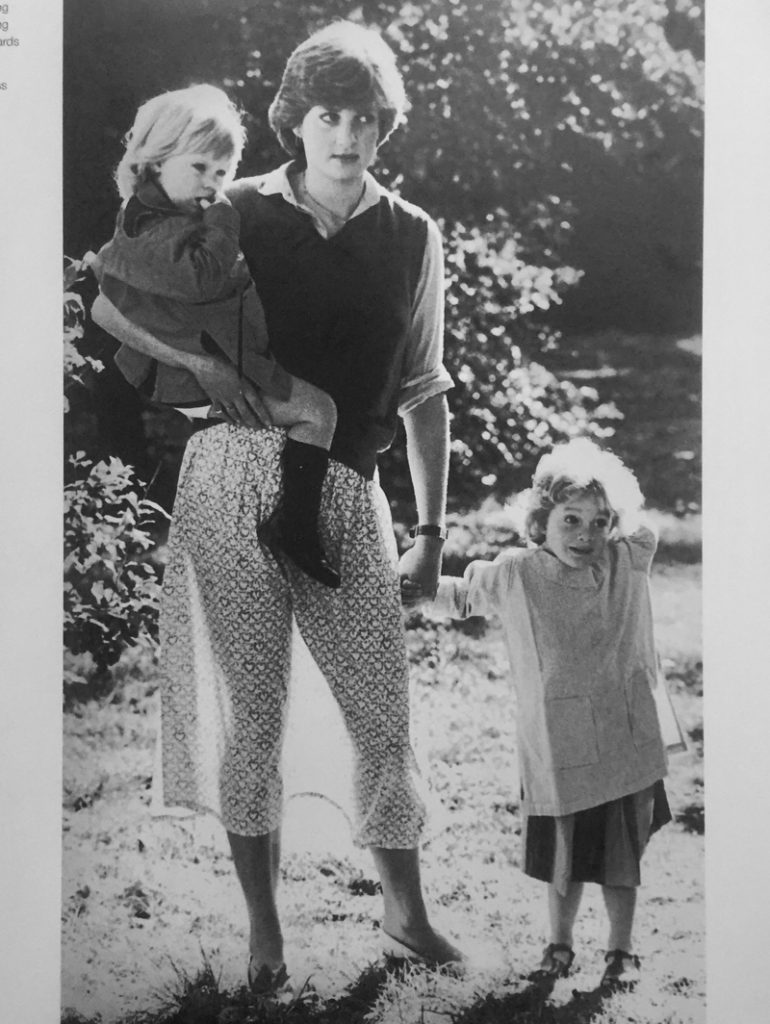 In the 70's my big sisters 'got' Laura Ashley. They're wearing it in our family photos of the time, one in a tie-front tobacco-coloured velvet smock, another in floor-length ruffled-bridal-white cotton. By the 80s, Sloane Rangers were customers.  Princess Diana  – then a nursery school nanny – was in diaphanous Ashley-sprigs for her famous press call and there were  the beginnings of taffeta meringue ball gowns for dressing up. By the time I grew up the fashion brand's moment was passing and I never wore it. But these clothes left their lasting impression.
The 90s rejected retro patterns and colour for modern Minimalism – when Tony Blair replaced John Major as Prime Minister the Daily Express headline was: "Downing Street chucks out its chintz".
But Laura Ashley was and still should be a BELOVED BRITISH BRAND ! Five or six years ago and slightly ahead of the curve  I wrote about Ashley for a series in Country Life magazine called Great British Taste-Makers. Now 'Cottage-core' and the trade in vintage Ashley is flying  and high fashion has been producing Ashley rip-offs for the past 18 months. My friend Zita trawls ebay for Ashley's Colefax-chintzy curtains, which, she says, are still absurdly cheap.
Chloe, Gucci, and Shrimps have all made Ashley look-alike  'Prairie dresses" named for the children's books about an American pioneering family  by  Laura Ingalls Wilder. The groovier young style their mother's vintage Ashley as workwear;  their mother's friends  suddenly get nostalgic for old frocks pushed to the back of wardrobes or bundled into the attic. My daughter has  her aunties' old Ashley and a fabulous mushroom-corduroy cape that she was given two summers ago by Solveig Stone (of Compton Marbling), who put her bridesmaids in Ashley for her wedding back then. The shoppers of the 70s and 80s craved Victoriana and we're back there now  – but with our consciousnesses raised – I hope.
Last year the 67-year-old brand was bought by an asset acquisition and investment company,  Gordon Brothers, along with its archives and related intellectual property  –  the invaluable back catalogue of vintage Ashley and all the document textiles that Laura Ashley so diligently collected and used as her design sources, including hundreds of antique quilts, amazing pieces of folk art from the 19th and 20th centuries whose individual scraps she mined for pattern repeats.
The British multinational Next has been awarded the deal to relaunch the Ashley brand and a flagship store in the Westfield Centre is planned. Which sounds so '2020' and counter-intuitive now? If Laura Ashley were instead resuscitated as a company practicing its founder's thrifty values, recycling  and reworking its classic designs and patterns sustainably in British workshops, I think that would be a really good news story. But I don't think it will happen.
With very grateful thanks to Jane Ashley, Nick Ashley, Cath Kidston, Isabel Bannermen and,  Martin Wood author of the excellent survey and source book, Laura Ashley, ( Frances Lincoln 2009).