Saturday January 5th. This was the scene at the Church of St. Silas in Kentish Town yesterday evening, where the Christmas Crib was being reordered for the feast of the Epiphany today, when the three Magi complete their journey.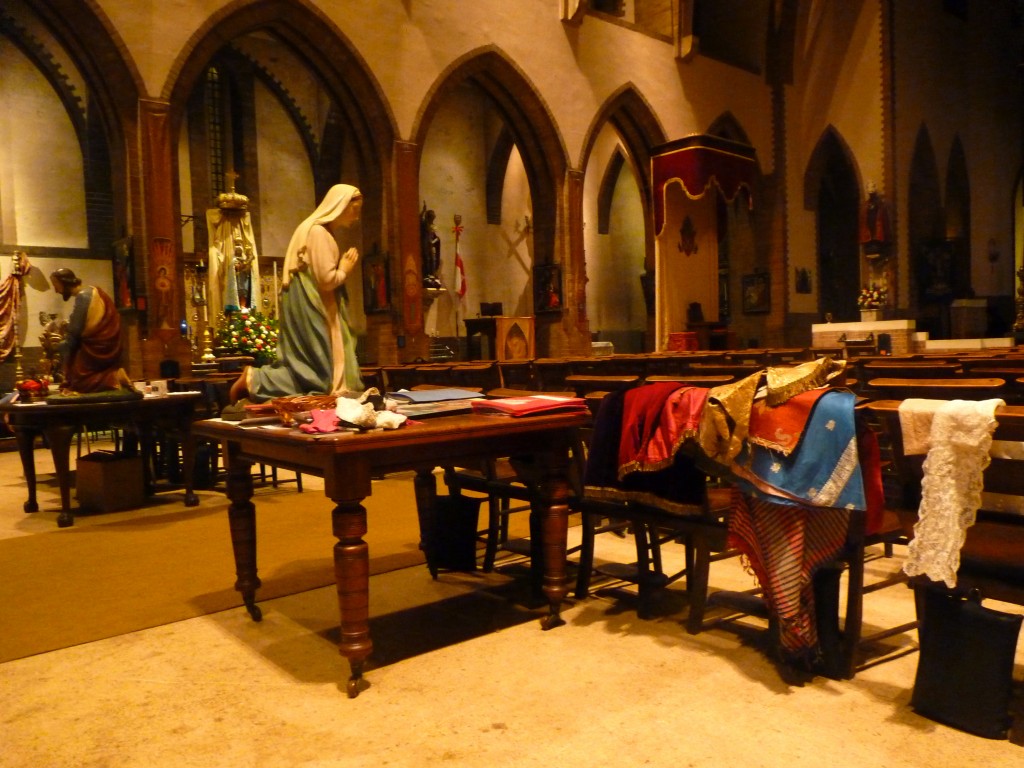 The Three Kings were bought by the congregation here who collected farthings throughout the Second World War in order to pay for them; they are wooden and hand carved, of finer and older craftsmanship than the plaster statues of the Holy Family. Father Graeme tried dressing them up in copes, but they were too big and 'not quite grand enough,' so some sumptuous robes – seen folded here – were made for them about fifteen years ago.
Having arrived at the house where the Holy Family are now lodged – the stable birthplace having been exchanged for more conventional lodgings – the Three King's tableau remains in place until Candlemass on February 2nd; 'so I become slightly more manic about this one being right, because you're saddled with it for much longer,' says Father Graeme, 'but let's not overdo it!'
'Could you put away your animals,' he asks Anne, and the Christmas Eve stable-scene is entirely dismantled, ox, ass, shepherds, straw and the infant Christ going back into storage.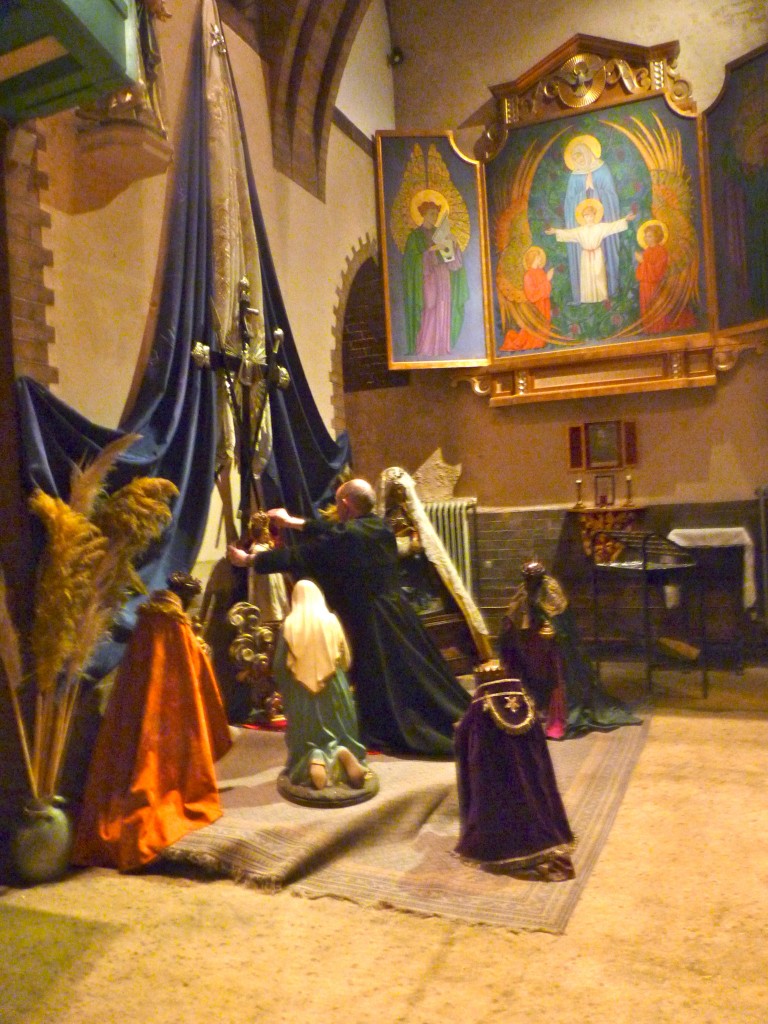 At this stage you may think it all looks much the same as the Christmas Eve crib scene. But while the rather dusty pampas grass remains in situ, the no-longer baby Jesus is represented by a figure of the Infant of Prague ( being dressed here), who stands on a gilded exposition throne. Saint Joseph has acquired a tall gilt crown,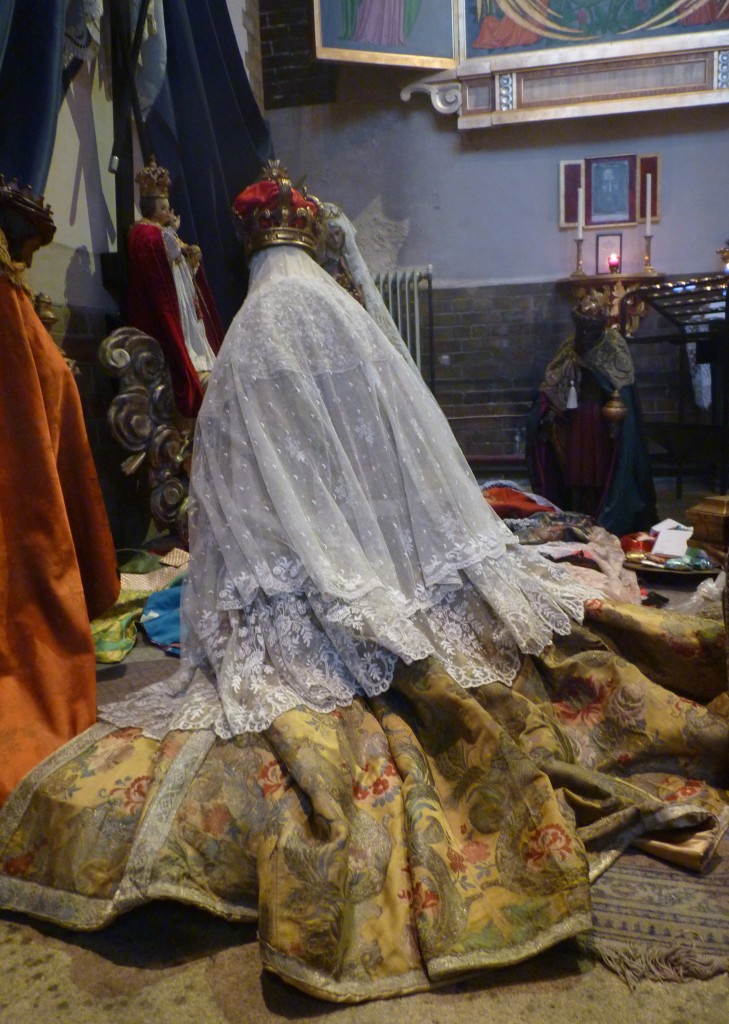 and Our Lady is robed in an eighteenth century French cope woven with gold and silver metal thread work with a collar-line cut to accommodate the powdered wig that its original owner would habitually have worn. It takes a long time to arrange their costumes properly, because 'natural folds are the most difficult to come by.'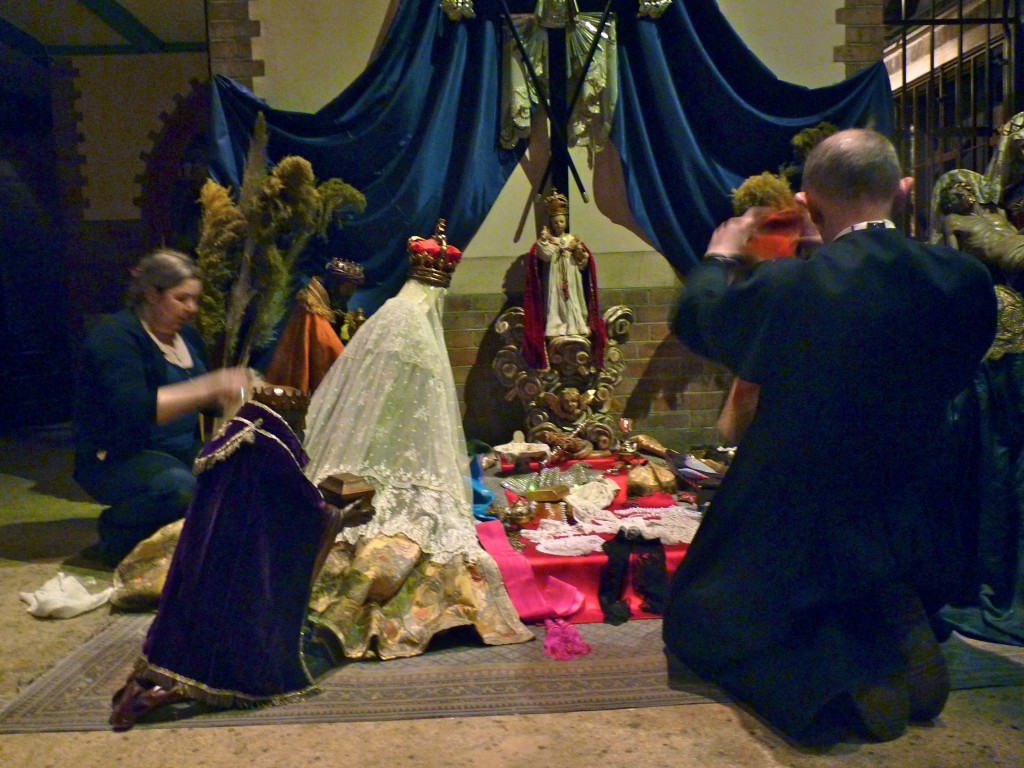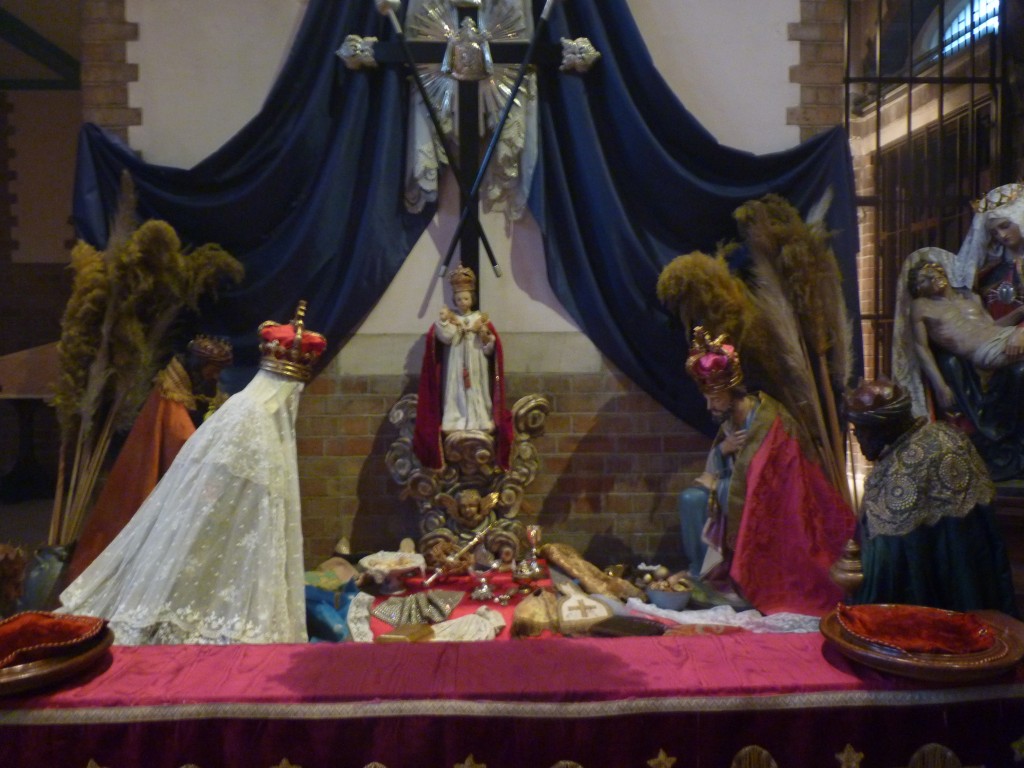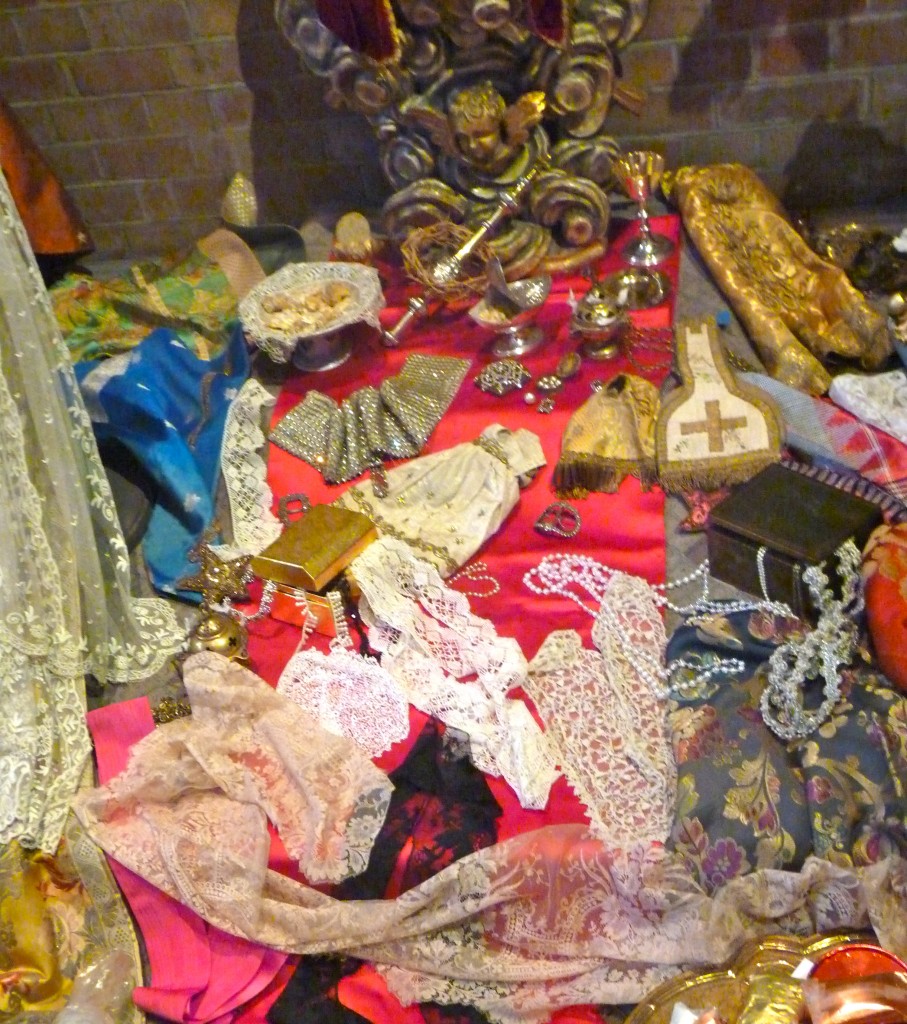 The final touch are the glittering piles of jewels (costume), cloth of gold, lace and precious gifts arranged with offerings of frankincense and myrrh in a shower at the Holy Infant's feet. But there is a yet more serious side to these symbolic offerings, for today the congregation and Sunday School's frankincense and myrrh is accompanied by gifts of money given to the charity Shuktara, which provides a home for young people who have been abandoned on the streets of Calcutta.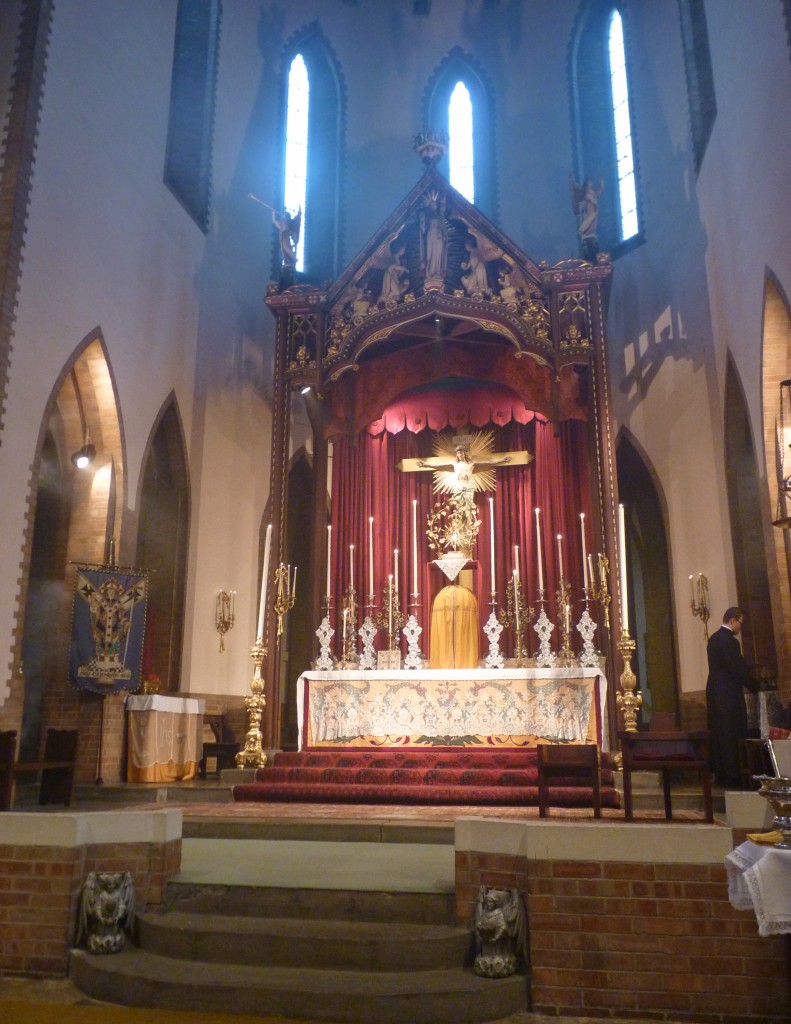 The Church of St. Silas has been 'high' since it was built in 1912. Charles Williams (contemporary and friend of C.S. Lewis and a much better writer) worshipped here, and the poet T. S. Eliot came to Father Frank Lacy Hillier, vicar from 1930 to 1963 , to make his regular confession.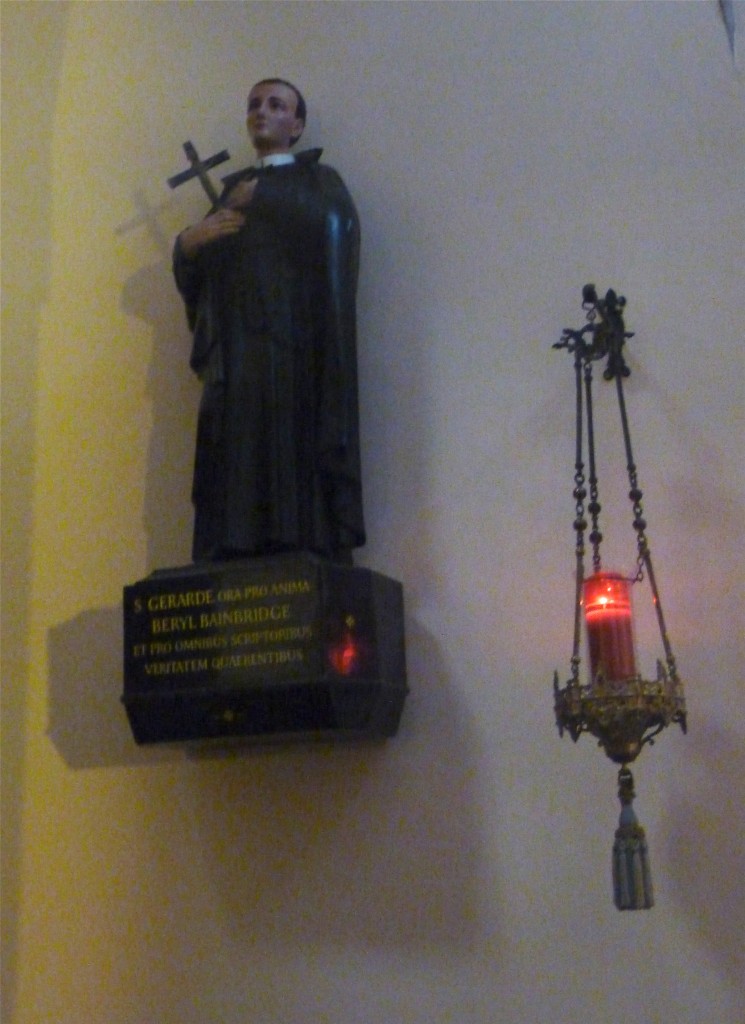 The latest writer to be associated with the church is Beryl Bainbridge, a Roman Catholic and long time resident of Camden Town. Although she was not a parishioner a decade or so ago she gave a huge ornamental corbel-bracket studded with angels and cherub's heads (which she called 'dead babies') which she had rescued, damaged, from a Liverpool church repository, to Father Graeme. It had been one of the many ornaments filling up the rooms of her terraced house, along with a stuffed water buffalo that blocked the front door and hallway; now it carries up St. Norbert in triumph on the church's north aisle wall. Her statue of Saint Gerard was bequeathed to the church on her death and placed in the Lady Chapel. The Latin inscription which Father Graeme has set under it reads : S. GERARDE ORA PRO ANIMA BERYL BAINBRIDGE ET PRO OMNIBUS SCRIPTORIBUS VERITATEM QUAERENTIBUS. Saint Gerard, Pray for the soul of Beryl Bainbridge and for all writers who seek the truth.

[All images : copyright bibleofbritishtaste.com ]