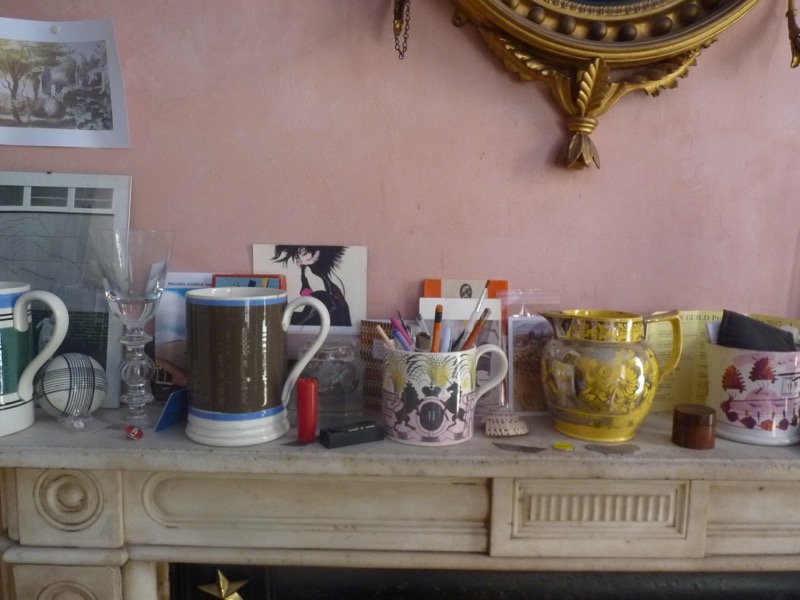 'I was aware there were a number of houses up for sale all at once around here. I was standing on the other side of the street one morning and someone in the doorway came over and said, do you want to look around? So I did. Part of my imagining of it was that, because there was a shop on the ground floor, that'd be rather fun. We exchanged contracts on April Fool's day in 1983. It was uninhabitable, that's why it was cheap.'
The elegant fender behind them came from a compost heap in Trengwainton in Cornwall. 'I had a brief to do a picture of all the National Trust properties in Devon and Cornwall. I was doing pictures of Gunnera or something. When we drove in my eye was caught by that pattern of mesh against grass clippings. Susanna went and rang the doorbell and they didn't want it.'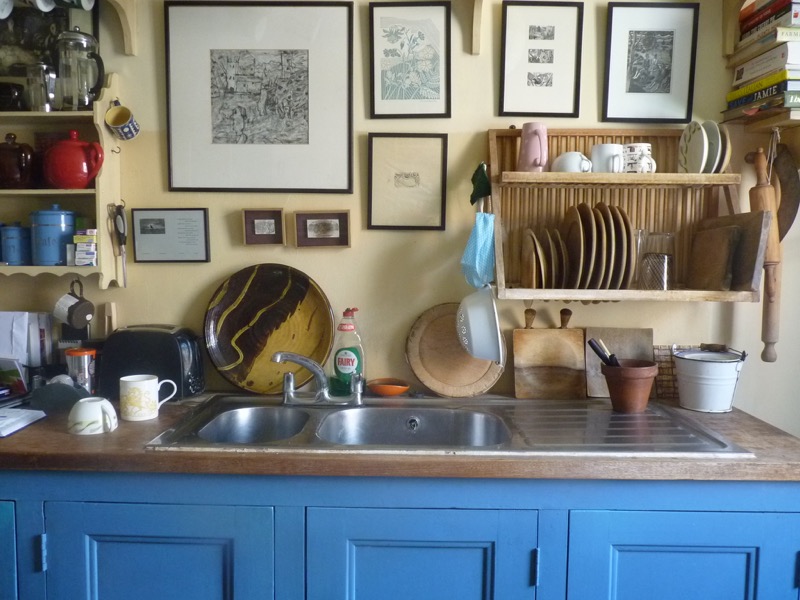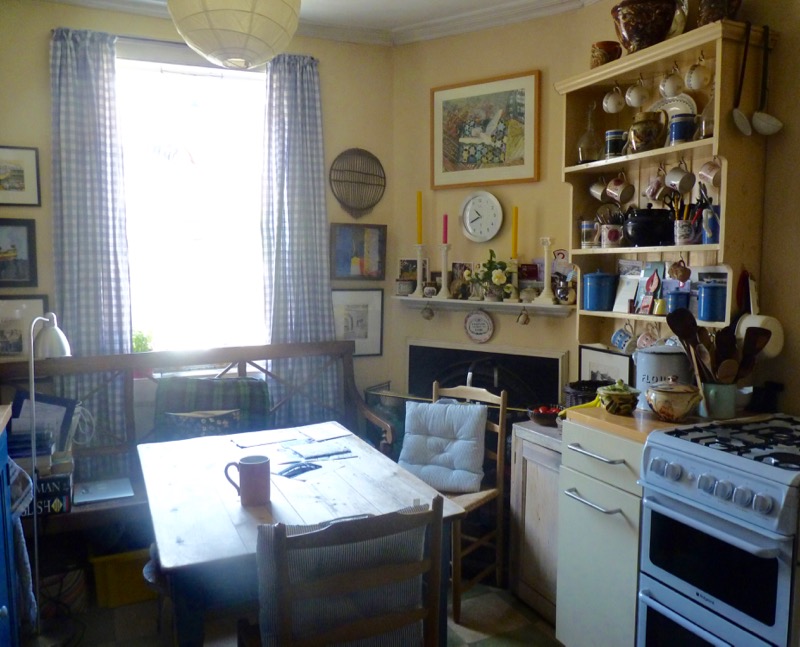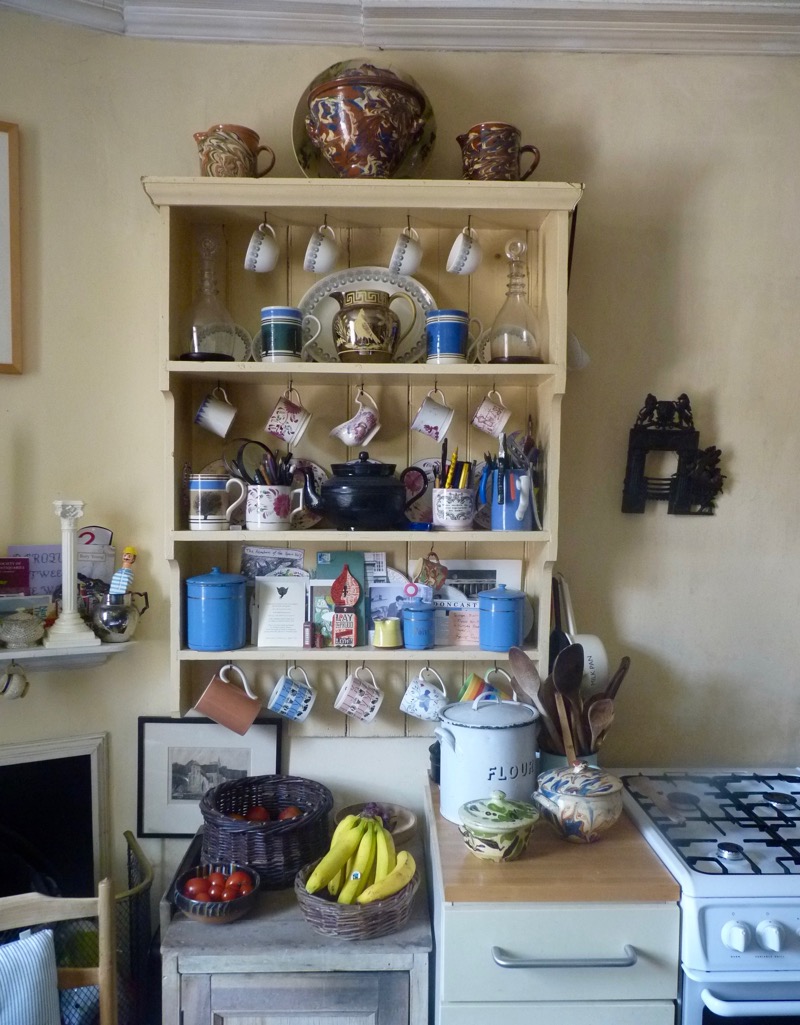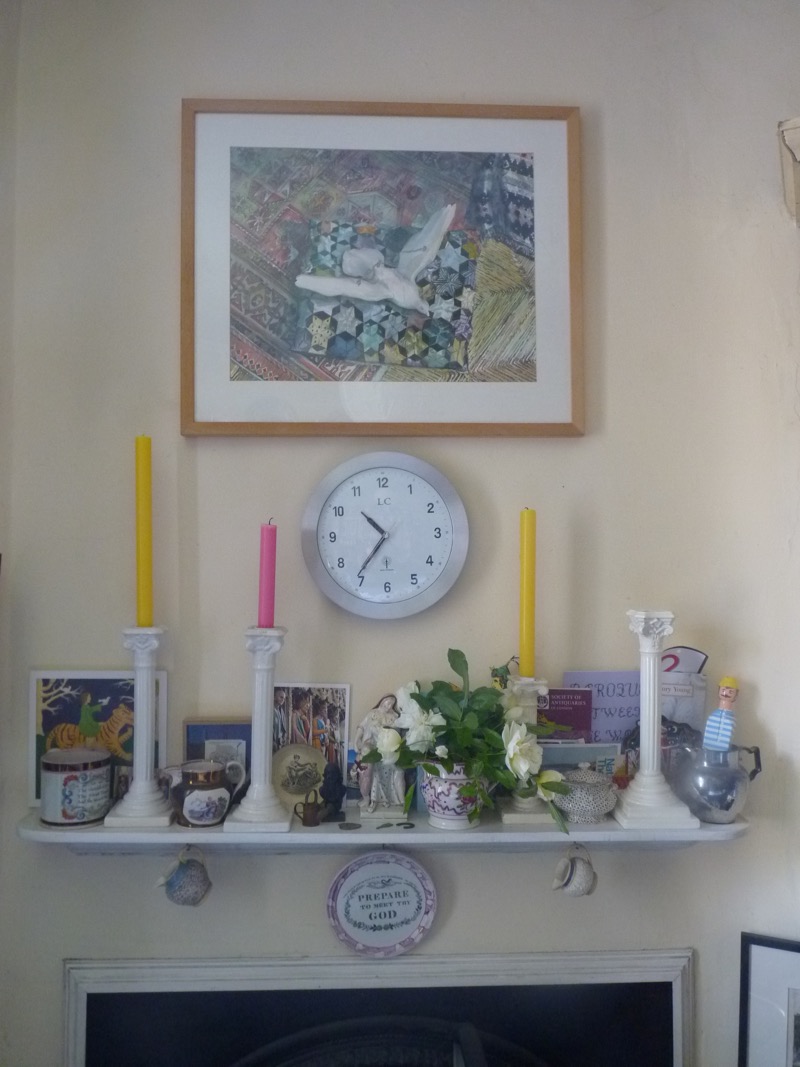 Eric Ravilious: Artist and Designer, was published by Alan Powers in 2013. 'With Ravilious, there was the pottery but it was very hard to see the watercolours anywhere. I knew them through books. Because I was painting watercolours I was very interested in what he said about his painting technique. Then in 1982 there was the ceramics exhibition put on by Richard Dennis and I bought one piece. The machine was cranking up. I remember saying, in ten years time the Great Bardfield artists will have replaced the Bloomsbury Group. When I said it, it sounded preposterous but now it isn't. Ravilious has got a greater interiority than Bawden, I think. But we're as interested in the gossip, now, as we are in the art.'
'Enid Marx and Miss Lambert kept house together and they had a creative relationship. Whether they were a couple, it's hard to untangle that.'
'That print is a George Braque, bought for 20 francs in 1973 at the Foundation Maeght in Venice. The chimneypiece was also painted brown. The grate came from Charles Brooking. For a while we had an extra pair of paneled double doors out of a skip but they went off to Blackheath to the house of a man who worked in the local camera shop.'
'We don't really do bedrooms in this house very much.'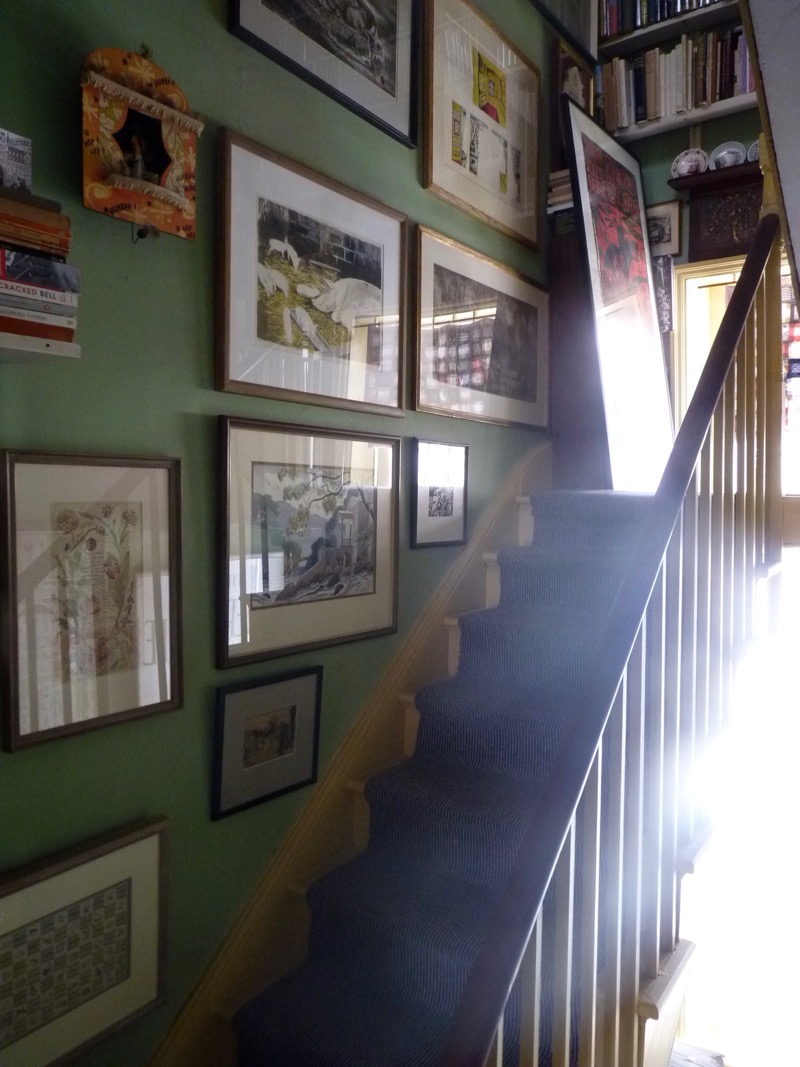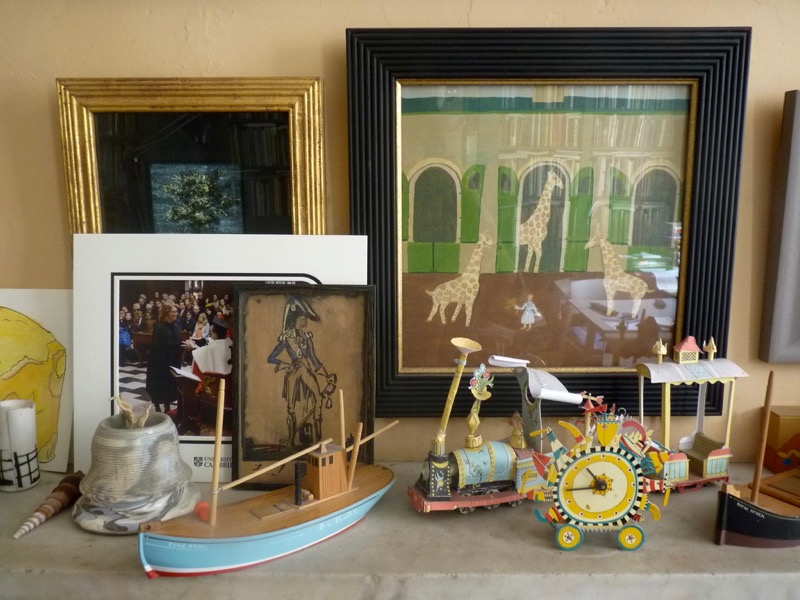 Suzanne Cooper (1916-1992) is a so-called 'lost' painter who has just been 'rediscovered,' an affliction particularly common among female artists working between the wars that is only just beginning to be remedied. Her children grew up in a house hung with her pictures but their mother barely mentioned her past career in art. One of them is the publisher Dan Franklin who is married to writer Lucy Hughes-Hallett. Three years ago Lucy spotted another of her late mother in law's paintings hanging beside works by Christopher Wood and Alfred Wallis in the National Gallery of New Zealand and found that it had been donated by the art patron Lucy Carrington-Wertheim, in whose London gallery Suzanne Cooper used to show.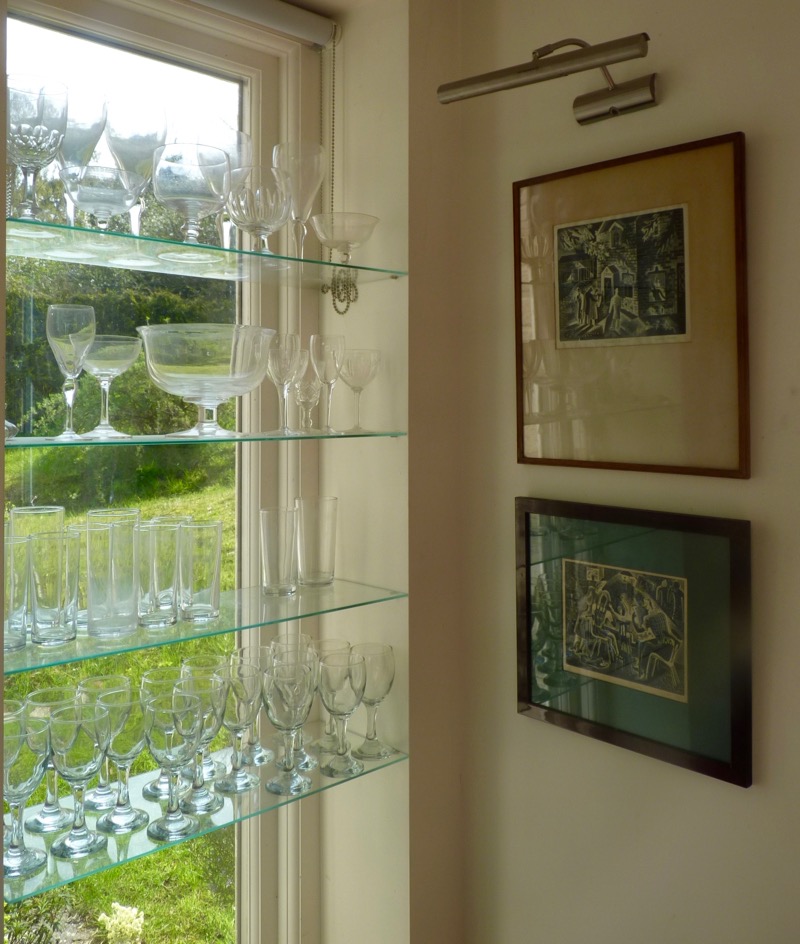 Suzanne Cooper was such a talented woodblock engraver that her tutor Iain Macnab inscribed a copy of his book on wood engraving to her with the words, 'From one woodpecker to another.' Eleven of her blocks survive from the 1930s (two of her blockprints are hanging here). They are currently on show with her oil paintings at : The Printroom Studio, Yew Tree Farm, Sweffling, Saxmundham IP17 2BU, until July 15 2018. A new limited edition set of her prints has been printed from the original blocks and is for sale www.printroom.studio
Very many thanks to Alan and Susanna Powers, Dan Franklin and Lucy Hughes-Hallett.
All photographs copyright bibleofbritishtaste.
Excerpts and links may be used, provided that full and clear credit is given to bibleofbritishtaste, with appropriate and specific direction to the original content.